In a bid to continue upgrading their connected car portfolio, Ford will start offering Amazon Alexa hands-free in-car communication to their vehicles, starting with over 700,000 models of the F-150 pickup, the Bronco, the Edge and Super Duty in 2021. By 2028, Ford says they should have this tech in over 33 million of their vehicles. With the trucks, this is important because many of the features that come as part of what they're calling the "Power Up" program are tied into fleet management apps, and fleets are often made up of trucks just like the Super Duty models.
Power Up adds over-the-air (OTA) update capability to their vehicles, which they say will reduce trips to the mechanic or dealer for upgrades that can be done remotely.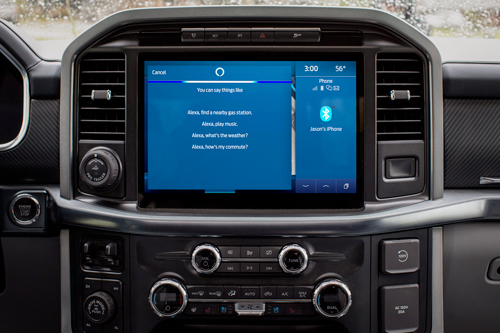 "What's interesting about this capability is that we can update the vast majority of all software modules on the vehicle," said Alex Purdy, head of business operations for Ford Enterprise Connectivity. "What that means is that the features are almost limitless when it only requires a software update." Used to be you'd have to drive your vehicle to the shop to get a systems check, and pay a labour and possibly parts fee; not anymore, as there are 110 of these modules on higher end models, and they can all be "repaired" via OTAs. This means that Ford is part of a group of only a handful of OEMs that can do more than just update your infotainment systems via OTAs.
Already, over 100,000 Ford F-150 pickups and Mustang Mach-E crossovers in North America have the tech, but that will be expanding to millions more over the next few years.
If you're worried that one day you'll be in a rush as you jump into your car, only to have to wait for updates before you set off , Ford says you needn't be; updates can be scheduled well in advance for more convenient times, such as overnight. While you're charging your Mach-E, perhaps.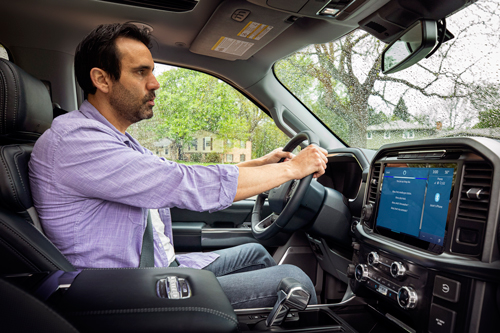 As far as Alexa goes: we've seen it in Ford products before (and, as it happens, General Motors products as well), back in 2017. Back then, however, a smartphone app was required to make use of the service. This new version is much more seamless as it is "baked in" to the vehicles, so all of its features can start to be activated as soon as you step into the vehicle whether you have the app on your phone or not. In addition to that, everything Alexa can do — from operating your navigation system to turning the lights off in your smart home — is voice-activated; there's no need to press any buttons. If you prefer to use Apple CarPlay for your navigation, for example, the gauge cluster can now display turn-by-turn directions through Apple Maps. For those with a more "creative" or "abstract" mindset, there's even a paint app that turns your infotainment display into a blank canvas.
"Voice is a technology that removes the friction in many ways and minimizes distraction," said Ned Curic, vice president of Alexa Automotive. "It's friction-free access to the latest knowledge that Alexa brings to a vehicle. In-vehicle voice experiences in cars should be on par to what we do today in smart homes."
It goes the other way as well; since the FordPass app is still supported, you can lock your car doors or turn off its lights from wherever you happen to be outside of your car at the time.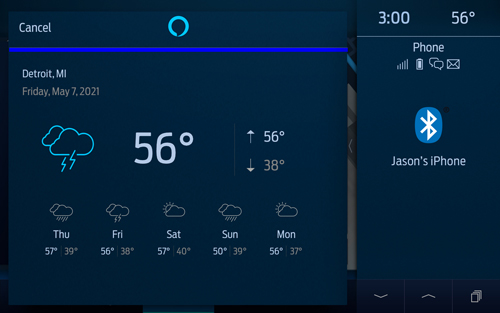 "One of the reasons we created Alexa for the car is because customers did ask for it," said Curic. "So we created embedded software that sort of naturally works in vehicles."
Customers will get three years of service when they first add Alexa to their vehicles – the tech can be "retrofitted" to any vehicle that uses the latest SYNC4 infotainment interface – so no extra data plans are required.