The highly tragic disaster that plunged much of Houston, Texas, underwater may have undesirable consequences for Canadians, particularly those in the market for a used vehicle.
A "company insider" shared with me a concern being discussed in automotive boardrooms across Canada. The rising waters in Texas, and elsewhere in the US, have flooded many automotive dealerships and car lots, resulting in a huge volume of water-damaged vehicles open to the salvage market.
Unfortunately, shysters low on scruples will take advantage of the misfortune by buying newish vehicles for nothing more than salvage value. They'll clean the mud and debris from these vehicles and their interiors. Once made operational, many of these vehicles will be destined to Canada to be sold to unsuspecting Canadian customers.
A vehicle that has sustained flood-damage may never be as reliable or functional as a non-flood-damaged vehicle. It'll likely be plagued with ongoing electrical problems and possible engine malfunctions. Safety can become an issue if certain control modules have been affected.
In the end, a flood-damaged vehicle will have little to no warranty coverage and little resale value. As one can imagine, automobile manufacturers do not want to see these compromised vehicles falling into the hands of customers.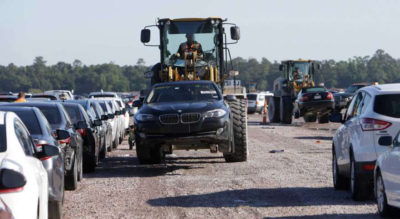 So how does a prospective purchaser inoculate themselves from the horror of a flood-damaged vehicle?
Price can be a red flag. As the adage goes, "if it's too good to be true, it probably is." A smoking hot deal from an under-established seller is the most obvious tip-off. A thorough inspection of the vehicle in question may also provide evidence of water damage.
Dampness under the carpeting or beneath the trunk liner should be questioned. How do these surfaces smell? Is there any sign of rust on the metal tracks beneath the seats? How about traces of mud in cracks and crevices where there shouldn't be?
A trustworthy mechanic can certainly be of great value when it comes to inspecting the mechanical components, such as the engine and transmission.  Probably the best advice to be shared is this: be certain of the vehicle's origin.
Was it brought in from the US? If so, when and from where? Any reputable, trustworthy dealership will provide all of the pertinent background information on a car, and stand behind its veracity; if not, close your wallet and move on.
As in most facets of life, it's better to be safe than sorry. The used car market in Canada is huge, and despite the anticipated influx of salvaged flood vehicles, there are many good, safe deals to be had. Know your source.
http://www.wcpo.com/money/consumer/dont-waste-your-money/flood-car-test-could-you-spot-a-flooded-car