Electrification. It's the latest buzzword in the automotive industry, and it seems like it's here to stay. But it's not so commonplace in the motorcycling world. There is a number of bike makers, including KTM, Triumph, and Yamaha, that have recently revealed electric concept motorcycles, and some, like Zero, and Vancouver-based Damon Motors, specialize exclusively in electron-powered two wheelers. Until this year, Harley-Davidson and Vespa were the only major manufacturers of gasoline-powered two wheelers to offer electric-only production models. The Motor Company offers a bona fide electric motorcycle via the LiveWire sub-brand, while the Italian scooter maker offers the Elettrica scooter, which is really more of a small urban runabout.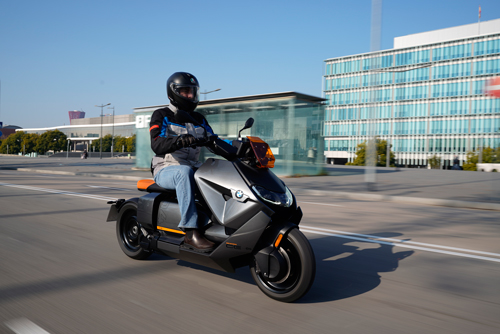 However, we now have a new electric bike coming from Germany. BMW becomes only the third motorcycle maker to offer an electric two-wheeler alongside its gasoline-powered models in Canada. The 2022 BMW CE 04 is a full-sized electric scooter, with performance that is comparable to scooters in the 400 cc category — it is what the 04 in its name signifies. We got an opportunity to ride one in the streets of Barcelona, Spain, where it proved to be a very capable and quiet commuter.
When you first set eyes on the CE 04, you immediately know it's a different kind of two-wheeler. It looks more like it belongs on a science-fiction movie set rather than in your garage. It doesn't look sleek or sporty, but is rather boxy, long, and utilitarian. It has a long, 1,675-mm wheelbase (110 mm longer than the gas-powered BMW C400GT scooter), and a low seat, at just 780 mm.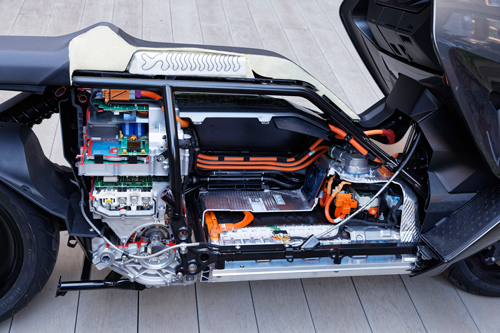 Beneath the bodywork is a tubular steel frame that houses the battery, electronics, and electric motor. A conventional 35-mm fork, and a single, preload-adjustable shock comprise the suspension. Wheels are 15 inches in diameter, which is on the large side for a scooter and makes the ride smoother when the roads get rough. The CE 04 uses a BMW-built, 31 kW (42 hp), 148-volt, liquid-cooled electric motor, which has a proven track record, having been sourced from BMW's automotive side; it's essentially one-third of the same electric motor that is used in BMW's iX and i4 electric cars.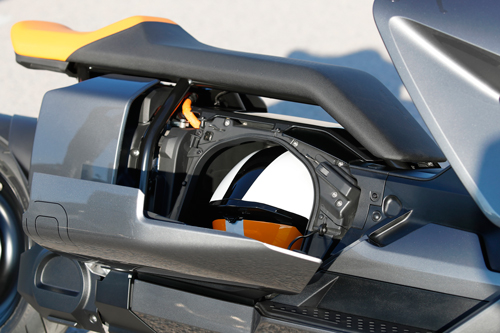 Likewise, the 8.9-kWh lithium-ion battery is derived from the iX and i4, its 40-cell module equaling one of 11 battery modules that make up the battery in those cars. Even though the battery and electric motor take up a lot of space in the chassis, there's nonetheless a storage compartment under the seat, accessible by flipping down the right-hand body panel. It's not a huge compartment, though it can hold a full-face helmet. If more storage space is needed, BMW offers an optional 30-litre top case and luggage rack.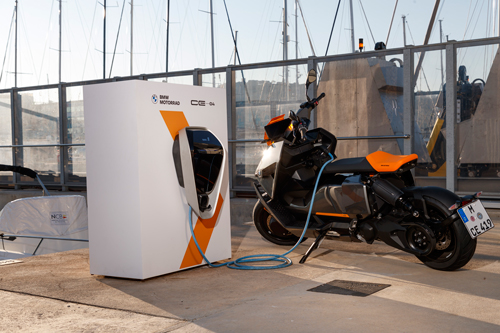 The CE 04 comes standard with an incorporated Level 1 charger, which plugs into any 120-volt household outlet. It can charge the battery from empty to 100 per cent in approximately six hours. This differs from BMW's claim of 4.2 hours, as that claim refers to European standard current of 230 volts AC, as opposed to North America's 120 volts. An optional, factory-installed quick charger permits a Level 2 (240 volts AC) charging time of about 1.5 hours. Unlike the LiveWire, the BMW has no provisions for Level 3 DC quick charging. It utilizes an industry-standard J1772 charging plug.
Claimed weight is 231 kg, which is 17 kilos heavier than the C400GT. However, because of the low-mounted battery, the CE 04 has a very low centre of gravity, which makes it nimbler than its long wheelbase would suggest. ABS and traction control are standard, with lean-sensing ABS and TC available as part of the optional Dynamic package. Also standard is a 10.25-inch colour TFT screen and LED lighting. A lockable, water-tight and fan-cooled phone storage compartment with USB-C port is located in the left inner fairing, and the CE 04 has a reverse gear, allowing you to back up at a walking pace at the push of a button to help get you into a tight parking spot.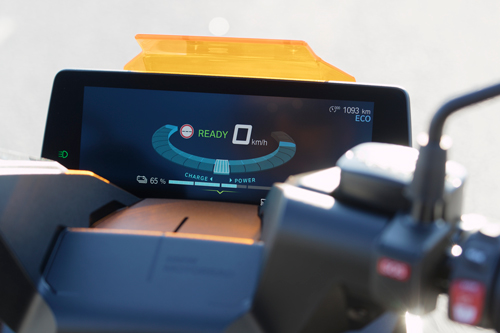 There are three standard ride modes — Eco, Rain, and Road — and an optional Dynamic mode. Each mode sets throttle response and regenerative braking accordingly. Dynamic mode, for instance, has the most aggressive throttle and regen settings. Our test bikes were equipped with this optional ride mode, and it was my preferred mode — the CE 04 pulls from a stop with arm-stretching force. Using a specification not often seen in motorcycling, BMW claims the CE 04 can go from zero to 50 km/h 2.6 seconds. After numerous (and highly addictive) full-throttle launches from traffic lights, I understand its significance — it'll easily pull away from almost any car and most motorcycles from a stop. Power does taper off after about 80 km/h, but up to that point it is much quicker than its gas-powered C400GT stable mate. And while BMW claims a top speed of 120 km/h, I saw 130 km/h on the highway. The high regen braking in Dynamic mode also made the brakes redundant; I rode around town almost exclusively by using only the throttle to go and stop.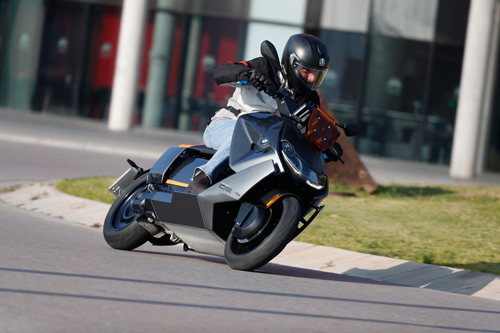 The CE 04 feels refined and handles with surefooted stability. And, of course, it's silent and completely vibration-free. The long wheelbase does cause it to run wide in tighter turns, requiring a firm push on the inside handlebar, but its low centre of gravity makes turning transitions easy. As mentioned earlier, the CE 04 accelerates much harder than its claimed 45.7 lb.-ft. of torque would lead you to believe, but that's because its electric motor delivers all of that torque as soon as it begins to spin.
Under ideal conditions, the CE 04 has a range of 130 km in the city on a full charge. Unlike gasoline-powered vehicles, electric vehicles get better range in the city due to the regenerative power stored during braking or decelerating. The claimed range is quite accurate, as I covered 61 kilometres within Barcelona, with 44 per cent battery power (about 45 km of range) remaining at the end of the ride. And I did not make any attempts to ride conservatively.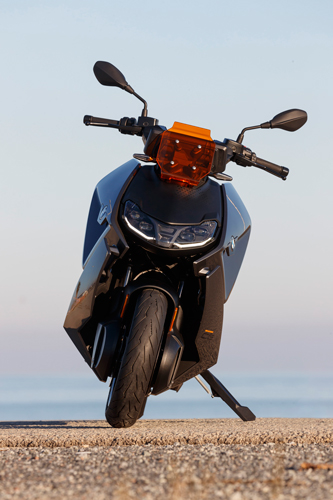 Electric motorcycles are a bit of a conundrum in North America. Compared to European riders, North Americans use motorcycles primarily for leisure — Canadians even less so due to our long winters. Another hurdle is that electric motorcycles are not really practical for weekend rides with friends, primarily because of their limited range and the time it takes to recharge the battery. While your buddies can fill up at any gas station in a matter of minutes when on a Sunday ride, you'll have to wait a couple of hours at a charging station while your battery tops up.
Unlike bikes from Zero, Damon Motors and LiveWire, which are marketed as motorcycles, to motorcyclists, BMW is offering the CE04 as a mobility solution for someone living in or near a city, and is looking for an efficient, emissions-free option for commuting or running errands. As such, the CE 04 makes more sense, as does, perhaps, its $15,000 starting price. While that's steep by scooter standards — BMW's own C400GT starts at $8,995 — it's not outrageous by electric bike standards. Zero, which specializes in electric motorcycles, offers a variety of models, ranging in price from $12,595 to $29,295, with most of the models coming in at above $15,000. The LiveWire One? It's still listed at $37,250 in Canada. Like other electric motorcycles in its price range, however, the CE 04 is eligible for a $2,000 government rebate in BC, Yukon and Quebec. It comes with BMW's standard three-year warranty, and five years on the battery of it drops below 70 percent capacity.
If you intend to use the CE 04 primarily for leisurely rides, it won't deliver what you expect. It is fun to ride, powerful and silent, but you'll be taking an extended lunch break while it charges up, as your friends ride away on their ICE-powered bikes. And frankly, there is a multitude of motorcycles that can fulfil the urge to ride for less than $15k. If, however, you want to reduce your carbon footprint by commuting fume-free during the riding season, the CE 04 provides the ideal entry point to electron-propelled mobility.