BMW knew that to be able to compete in the cruiser class, they needed a big motor. Despite recent struggles, Harley-Davidson owns that market and their smallest V-Twin displaces 1,742cc (107 cubic inches). Since its latest rebirth under Polaris, Indian has claimed a small chunk of this lucrative niche too, thanks to its grunty 1,811cc mill.
So, BMW went bigger than they ever have before.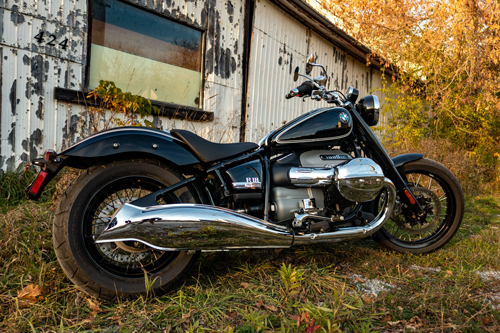 The 1,802cc, boxer-twin powering the 2021 BMW R18 is the largest engine the Motorrad has ever created. Unlike the slender V-Twins employed by the American competition, this Beemer boxer measures 900mm across. Each cylinder head has a circumference of 815mm. That means the motor alone is three-quarters the width of a Mk1 Mini Cooper and each of its jugs occupies more space than a regulation NBA basketball: it's absolutely huge.
This is both a blessing and a curse.
The Blessing
The 2021 BMW R18 is the first cruiser to wear a Roundel. Despite thoughts and marketing efforts to the contrary, Bond's 1997 R1200C didn't actually count. According to BMW, that was a standard motorcycle, not a cruiser, equipped with an engine that was too small to compete in that specific segment.
Clearly this isn't the case with the R18.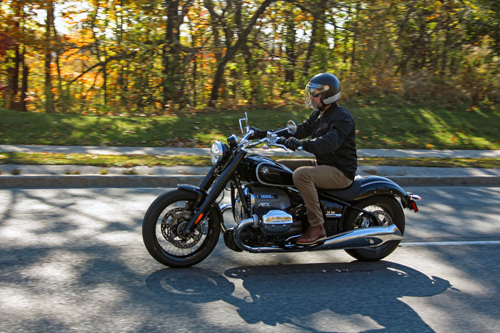 The R18 draws inspiration from BMW's classically styled 1936 R5. It isn't an outright copy or continuation effort. Where the R5 was an elegant solution to transportation, the R18 is a low, long and large bike: a style statement that is proportional to its monster engine and exudes the relaxed attitude a cruiser rider expects.
Built entirely around that behemoth power plant, I think it's a looker. Whether it's the shapely tailfin exhaust pipes, the exposed and chromed driveshaft, the shapely, pinstriped tank or indeed that motor, something about it will draw you in quicker than the first verse of Tiny Dancer. It's not delicate enough to be considered pretty nor quite rugged enough to be called handsome, the 2021 BMW R18 – especially in First Edition trim — exists in the aether between. It's big but has presence, in a good way.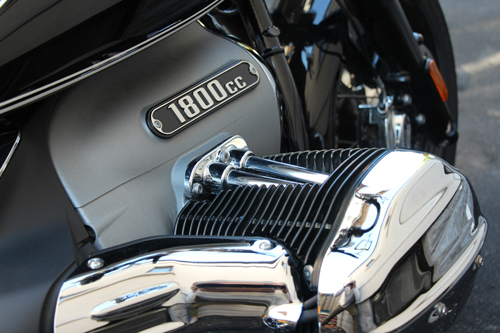 Fire up the R18 and it kicks to life with horizontal violence. At idle the entire bike shudders and the bars appear spastic. If you're parked on an incline at all, this movement will cause the R18 to roll away from you, should you not be perched on its 690mm tall seat. With each twist of the grip, the bike shudders again to its left with added gusto. This is just how transverse-mounted motors behave and while some find it off-putting, I dig the extra dollop of character it adds.
The view from behind its wide, swept back, bars is minimal. All cabling and wiring has been neatly and expertly tucked away. Master cylinders are chromed to match the bars and statements of "Berlin Built" greet everywhere. A singular, round gauge equipped with an analogue speedometer and a tiny, LCD rectangle communicates necessities. A digital rev counter can be toggled via buttons on the left side of the bar, as can your ride mode of choice (Rock/Roll/Rain). The right side cluster handles ignition and the activator for an excellent set of heated grips. I'd personally prefer that the analogue and digital displays were reversed, with the tach going old school with needle and indices, but I understand why BMW did this. You really don't need to worry much about rpm or which gear you're in.
That's because the R18 develops a tire-roasting 158Nm of torque at a mere 3,000 rpm. Between 2,000 and 4,000rpm, that twist never dips below 150Nm and peak power (67kW) arrives at 4,750rpm. So short-shifting is rewarded with copious amounts of forward momentum: just grab a gear and disappear. For most of my time on the R18, that 3k marker provided the smoothest operation and spinning above it cued my left foot. There was still ample power to pass, sure, but things did get a bit vibey with that faster spinning crank. In sixth gear, on the highway, it moves fast enough in that comfort zone that you need not worry.
The hydraulic clutch is smooth, light and the adjustable lever is well positioned. The cruiser faithful may not feel the same about the shifter (or rear brake) location but I prefer mid-mounted foot controls. Of course, with those enormous combustion chambers jutting out into your lane, there is no chance of fitting feet-forward units. That alone may make the R18 a non-starter for some.
The R18 features linked ABS braking with a twin set of BMW-branded, four-piston Brembos up front and a single version of the same in the rear. All discs are 300mm in size, which is a good thing, considering the R18 weighs 345kg (761-lbs).
Suspension is handled by a set of 49mm telescopic Showa forks up front and a Sachs rear shock. There is no adjustability or tunability here and travel is quite limited at 120mm and 90mm, respectively. This obviously delivers the low stance of the R18 but ride quality can and does suffer on broken pavement.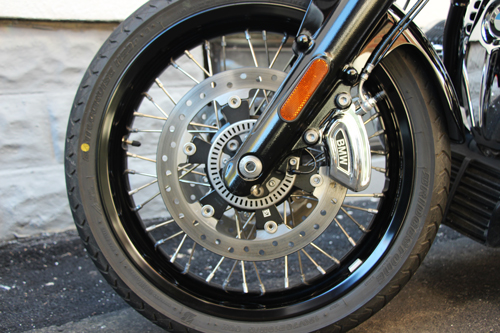 The Curse
The R18 crashes over potholes and the impact is transferred directly up your spine. This isn't unique to the big Beemer. All cruisers and similarly styled motorcycles suffer this fate to one degree or another, thanks to the clamshell ergonomics. On more than a few occasions with this one though, I was bounced up off of the seat, which can be concerning, especially at speed.
To avoid this kind of punishment, on most other bikes, I would simply manoeuvre around or between the bumps. And while that's not an impossible task on the R18, thanks to its size and weight, it can prove difficult. To match proportions to that motor, the R18 is 2,440mm from tip to tail. That's some 230mm longer than the Harley-Davidson Softail Slim it was built to target. The R18 also weighs 40kg more than that bike and has a wider rake and longer trail, too. So, it's no wonder BMW's cruiser is happiest when not being shoved about.
Lean the R18 into a corner or take an on-ramp at speed and the vehicles in your mirrors will be greeted with a show of sparks and the sounds of scraping steel. BMW hasn't shared the lean angle abilities of the R18 but its cornering-adaptive headlight is optimized for 25-degrees and I'd wager the feelers touch very close to that slant. While I would never argue that cruiser riders should need to drag knee, being able to lean to a drama-free 30-degrees would have been a nice touch here.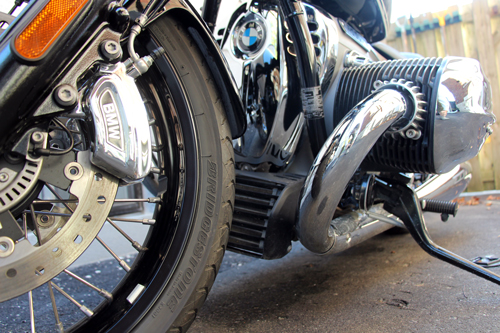 If you'd prefer to drop a gear and let the 9.6:1 compression ratio slow you down for that curve, you will quickly discover that the shifter and kickstand fight each other for space behind that thunderous jug. During downshifts I would consistently tap at the kickstand mount instead of the shifter, meaning the cog wasn't swapped and the engine braking I wanted just wasn't there.
Sadly, the front brakes are extremely vague, too. A mild pull on the lever doesn't really do anything and even with some added finger-flex, the R18 doesn't start to slow until panic's first spark ignites. Then the bike begins to draw to a halt but feedback from the lever isn't inspiring. Because of this and the fact that the brakes are linked, I basically stopped using the front brake lever and relied on my right foot and the ABS module, which isn't a practice I'd recommend to any rider.
I didn't even attempt to refuel the R18. Not because I'm cheap or feel privileged as a journalist, but because there's literally no clearance to insert the fuel nozzle into its 16l tank. I imagine refueling to be an exercise in strategically aiming pressurized petrol into a 3/4-inch hole. Heaven forbid you spray down that gorgeous tank with corrosive chemicals. If you live in California, where nozzles have those weird and annoying sheathes, filling up would need two very steady hands. I wish you luck.
The Conclusion
I'll grant you that not all of my issues with the R18 are a direct result of its engine. In fact, I absolutely love that motor. It's lumpy and lazy approach to speed is incredibly characterful. It grunts and convulses to an off-tempo beat that can't be ignored at idle and smoothes out incredibly well at speed. And it's a work of engineering art, no matter whether you ogle it from the saddle or the sidewalk.
My issue is this: Where Harley-Davidson's cruisers are constrained and compromised by the brand's need to abide by a longstanding heritage and arguably, the insistence of its core customers on never straying from its iconic past, BMW isn't. This begs me to wonder why the R18 isn't a better performing motorcycle. If anything, BMW's own heritage — one rooted in performance, engineering excellence and "ultimate" machines — was given a pillion's perch to what amounts to a styling statement. With nothing but a blank sheet before the designers and engineers (other than using a massive boxer twin engine), why choose to develop a beast so compromised?
A badge does not give a brand a pass. It represents a standard the brand must uphold. And when I see a Roundel, even if it's on a cruiser, I expect performance levels to lead that class. Which is something that the R18, sadly, doesn't do.
BMW Motorrad Canada
2021 BMW R18
Price: $20,895.00+ ($23,754.00 as tested)
Engine/transmission: 1,802cc, air/oil cooled boxer-twin with 6-speed manual with shaft drivel
Horsepower: 67kw (90ps)
Torque: 158 Nm
Fuel (capacity): Premium (16 L)
Weight: 345kg
Competitors: Harley-Davidson Softail Slim, Indian Vintage Dark Horse
Links: BMW Motorrad Canada