The Lamborghini Huracán Sterrato is the culmination of a series of one-off teases and concepts that Lamborghini has been dangling in front of enthusiasts for a few years – a high(er) riding, knobby-tired and off-road ready take on the car that's helped Lamborghini increase its market share by leaps and bounds over the last few years.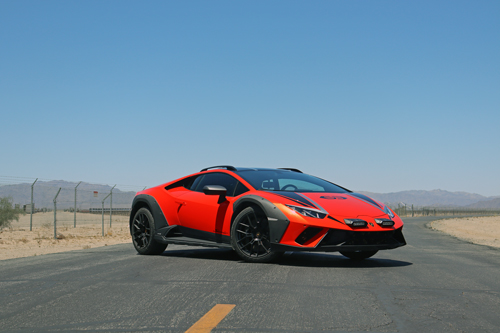 Of course, another vehicle that has been helping in that cause is the Urus SUV. Coupling the knowledge gained in developing that – much of the Urus' team pivoted to the Sterrato ("dirt road") — with a successful mid-engined supercar platform like the Huracán has culminated in a supercar-slash-buggy that has the chops to obliterate both the warm tarmac at the Chuckwalla raceway in central California, and the desert that surrounds it.
To enable it to do so, Lamborghini has engineered the suspension to provide 25 per cent more wheel travel up front and 35 per cent at the rear, softened the dampers and lengthened the springs and added underbody constriction. Now, you're looking at just under seven inches of ground clearance. Add a set of Bridgestone Dueler A/T tires wrapping special 19" wheels (and all surrounded by the requisite fender flares) and it points to the Sterrato being much more than smoke and mirrors.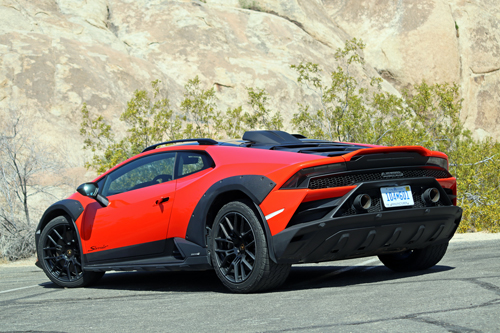 While you might think this means a whole lot more added weight, that only totals about 10 kilos, and there's a good reason why. You see, the Sterrato has been built not to conquer ultra-choppy off-road trails, but more fast fine gravel and sand. As a result, chief technical officer Rouven Mohr and his team didn't have to add a load of heavy chassis mods to make the Sterrato excel in its intended environment.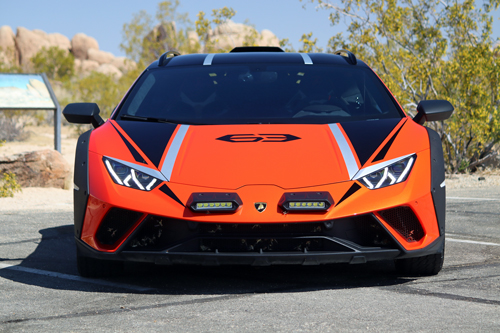 Power from the 5.2-litre V10 is rated at 602 horsepower and 413 pound-feet of torque, enough to have the Sterrato grab you and slam you into the seatback whether on the track or the trail, but this particular Lambo is about so much more than that.
We'll get to the juicy on- and off-road stuff in a minute. What you feel as soon as you set off in the Sterrato is a supercar that, thanks to a softer chassis setup, is much more usable on everyday roads. Speedbumps are more easily dispatched, while road imperfections (including potholes) and steep driveways aren't as much of a problem. Since Lamborghini worked so closely with Bridgestone, the tires aren't as loud as you may think considering their offroad-ready tread pattern. According to Bridgestone, they delivered a specifically-tweaked tire compound and precision sipes for more traction on the rougher stuff, as well as a W-rating and 270 km/h top speed – a first on a production car.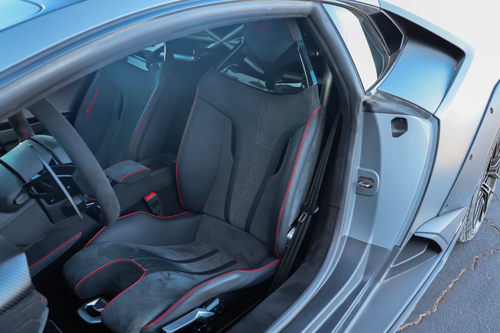 Lamborghini has recalibrated the perfectly-named Lamborghini Dinamica Veicolo system that decides which axle gets the most torque. They made it so that with lighter throttle inputs, more power is sent rearwards to get the tail swinging, then bumps it forwards to help control the drift.
In "sport", the Sterrato feels almost exactly like the EVO AWD version with which it's most closely linked. Power comes on absolutely immediately, the naturally-aspirated V10 sending the tach needles spinning 'round to the 8,500 RPM redline in a hurry. You have to be quick with the enormous shift paddles to stay on top of this thing – I will get away from you. It does all this with no shortage of drama – you could imagine (actually, you can't – not really) the banshee howl a natch asp V10 makes as it hollers its way to redline and forward progress is so fast (the 0-97 km/h sprint takes just 3.4 seconds) that you'd have no idea you were in something off-roady.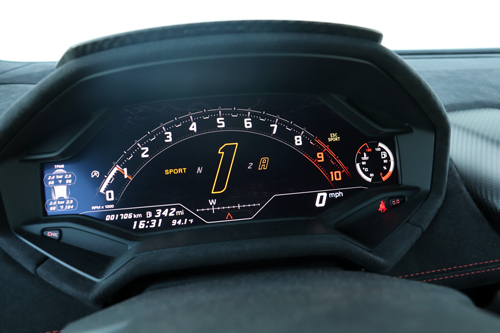 Transitioning from the tarmac to the dirt and flipping the wheel-mounted drive mode button to "rally", it's almost as if the car starts thinking for you and drifts start happening without you even realizing it, or having to drop gobs of opposite lock. The torque distribution is so precise that power is shuffled fore and aft, felt only as drifts continue to lengthen with very little extra effort.
Which is where the Sterrato differs from the offroad-ready Porsche 911 Dakar, a car it will inevitably be compared with. As we found out when we drove one, the Dakar is an absolute riot in the sand but compared to the Sterrato, it just feels more serious. Indeed, having won the Paris-Dakar Rally outright twice, the Porsche has a bit of a reputation to uphold: excelling in a vast array of off-road conditions. That's why when we tested that vehicle, we swapped the track for some slower, steeper off-roading and some more serious gravel, not to mention the sand dunes.
For its part, the Sterrato is a masterclass on just how far you can take the platform. It's a riot.
2024 Lamborghini Huracán Sterrato
Price as tested: $364,550.00
Configuration: mid-engine/All-wheel drive
Engine: 5.2-litre V10
Transmission: 7-speed dual-clutch automatic
Power: 602 horsepower/413 lb-ft of torque
Combined fuel economy ratings: 16.1 L/100 km
Warranty: 3 years 60,000 km
Website: Lamborghini