San Diego, CA – It's tough being the new kid. Trust me, I know. I spent the better part of my youth moving from school to school, not because I was a bad kid but because my mother was a teacher and moving for work. Showing up midway through the school year when everyone else is already comfortable with the workload, has friends, and knows the teachers and the school schedule while you have to hit the ground running. It's daunting.
So, I can only imagine what Vietnamese-based VinGroup has felt over the past few years as they bravely take on a segment in the automotive industry that's not only rife with competition but also heavily judged, watched, and often criticized: the electric vehicle.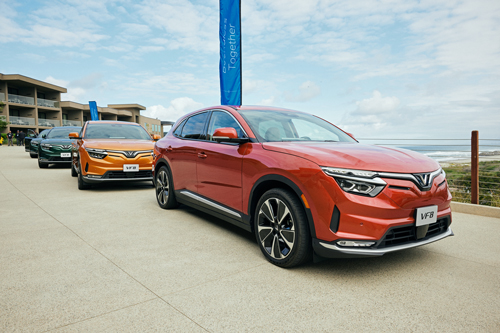 VinGroup, although celebrating 30 years in business overall, only began their adventure with the automobile 5 short years ago when VinFast was created in 2017 – and to think that they now have 4 fully fledged vehicles being produced in Vietnam is quite astounding. And they are all fully electric and considered a luxury brand that includes a premium mid-size SUV (VF 8), premium full-size SUV (VF 9), premium compact crossover (VF 6), and a premium crossover (VF 7).
While their vehicles are being sold and driven in Vietnam currently, they have yet to touch down on North American soil, yet they still have grand plans for their future here. The have erected storefronts across NA, with a projection of 28 showrooms across the USA and 10 in Canada by the end of 2023. As I write this, there is a large shipment of VF 8s headed for the coast of California so clients will be in their VinFast vehicles in the coming weeks; and the first Canadian customer from Nanaimo, BC will take delivery of their VF 8 scheduled by the end of June.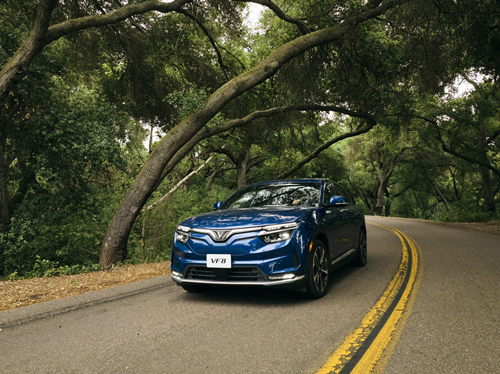 I'm all about supporting the new kid – being there to show them the ropes and help them learn the ins and outs of the classroom. And so, when I was handed the keys to a VinFast VF 8 Plus, I went into it with an open mind and a willingness to accept that this is a whole new ballgame for VinGroup, and they're tossing the ball around with pro-level players.
And you know what? They've been studying the rule book really, really well.
It's Got the Look: Looking the part is really the biggest battle to be won, as consumers buy with their eyes. VinGroup designers, working in collaboration with Pininfarina, cherry-picked the best bits and pieces from various models out there already and melted them all together into a mid-size SUV that's got enough of a modern edge to be trendy, without pushing it so far down the design rabbit hole that it will look outdated before the next generation refresh.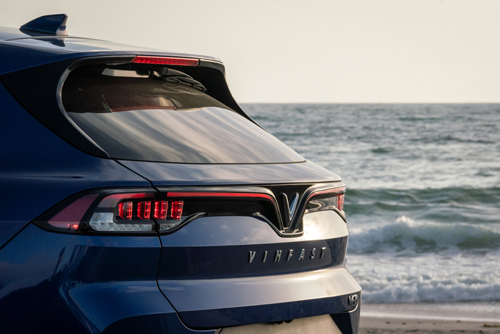 The shape is recognizable in all the right ways and ensures the interior has lots of space in the rear for all passengers and cargo. VinGroup ensured their V logo shape makes a statement up front, as well as on the rear. Speaking of the back, the taillights have a very Mach-E-esque look about them, but that's OK.
As is the case with EV design, aerodynamics play a huge role. However, VinGroup managed to avoid the bland one-piece look most EVs sport from the headlights down. While the front is largely solid, strategically placed air intakes and a clever symmetrical front grille avoids the usually dull look.
Exterior paint colour choices like Deep Ocean, Sunset Orange and Crimson Red will help the VF vehicles stand out from the crowd, even on busy suburban streets.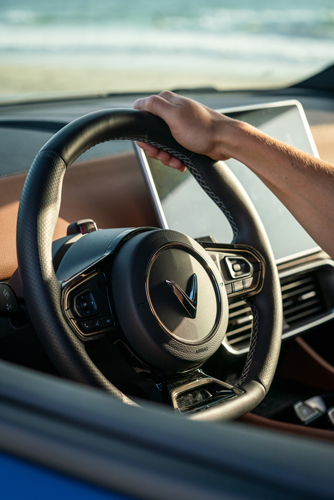 Inside, VinGroup designers focused on keeping the look minimalistic – in the right ways. There really is very little in terms of buttons and knobs, and even the USB ports are cleverly hidden. There is programmable ambient lighting available to set the desired mood, and a host of colour options are available for your vegan-leather seats so you can completely customize your VF 8 to suit your specific taste. While I will never fully get used to having an empty dash behind the steering wheel, the oversized 15.6" touchscreen ensures all necessary information is visible at all times to the driver and passengers. And there is a head-up display for the driver to give the illusion of a gauge cluster – and that can be customized offering up a few different colours for the digitally displayed information.
Let's Talk Tech: Now, about that screen. As lovely as it was in terms of size and visibility, it was also the only way to control almost everything – even the side mirror adjustments and the tilt and telescopic steering wheel. What would normally be a one-click process became a 4-menus-deep activity. As was the case with most of the car's features from lane-keep assist beeps to speed-limit warning bongs.
Of course, only having been in the car for a few hours is completely different from owning the vehicle. The learning curve can be steep, and a few hours is not enough time to get used to or comfortable with the vehicle's features and menus. However, for the most part onboard systems are intuitive and make sense – certain menus and features in the VF 8 just didn't add up for me, and I found myself more annoyed than impressed with it all – and longing for a physical button to press instead of an often laggy touchscreen.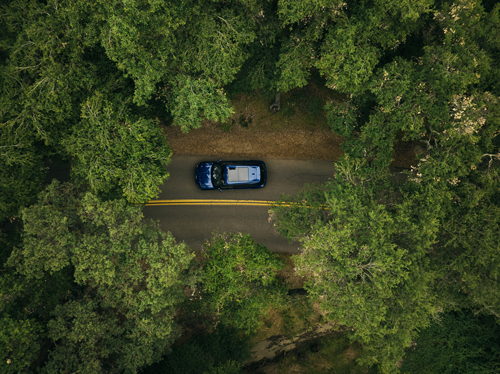 There is an available AI voice-activated system that works just like an Alexa assistant would; simply say "Hey VinFast" and she'll perk up and listen to whatever command you have. This can be anything from turning the radio down to programming a destination in the navigation. As an owner, learning her specific commands would definitely help in the user-friendliness of the entire system.
So How Does it Drive?: Ah, the ultimate question on everyone's minds: How does the VinFast VF 8 Plus feel on the road? Well, it feels exactly the way it should. No more, and no less.
I thought about this analysis quite a bit before deciding that, yes, that's precisely how I feel about it. This vehicle was designed to offer decent range (and I'll get to that in a moment), a premium feeling inside, and unparalleled customer service and product support. After driving around the San Diego area on the kinds of roads this vehicle will traverse during its lifetime (not off-road, not on a racetrack), it's clear that VinGroup wanted this car to be somewhat neutral.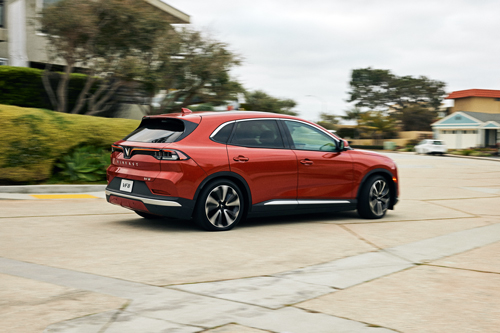 My first thought when I got into the VF 8 was how heavy it felt. From the weight of the doors to how it felt hunkered down on the road and in more spirited cornering. The dual-motor batteries most definitely have something to do with the weighted feeling, and I don't think that's a bad thing. The VF 8 felt solid, and steering was connected and not too floaty. Once I figured out how to deactivate the overly aggressive lane-keep assist, the VF 8 was a pleasure to pilot on the twistier Carlsbad region roadways.
There is, of course, a "sport" mode that can be engaged and while there are no paddle-shifters or exhaust note to enjoy, the more responsive throttle takes the performance level up a notch. The driver can also decide how aggressive (or not) he/she wants the regenerative breaking, and whether they want the VF 8 to behave like a gas-powered vehicle and "creep" forward when the brake is released instead of staying stationary until the throttle is depressed.
Visibility is good, save for the rear window which I felt to be a little too small for my liking. With the headrests up in the second row, as well, it definitely isn't the largest for this vehicle segment.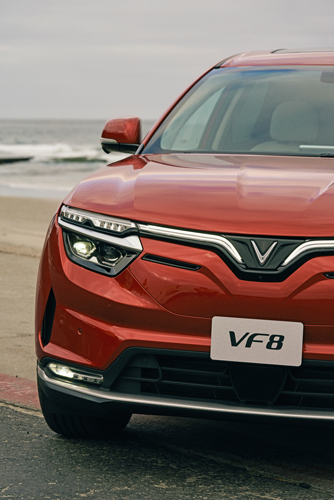 Goodbye Range Anxiety: VinGroup definitely ensured that the battery, one they build themselves in their own factories, is large enough to support the kind of range we Canadians crave in fully electric vehicles. The distances we travel tend to be greater than most, and with a charging infrastructure that still leaves much to be desired, the idea that an EV can last as long as a large tank of gas is appealing, for sure.
There are 2 versions of the VinFast VF 8 available, the Eco and the Plus. These offer different ranges and performance numbers.
The VF 8 Plus, which was the version I piloted in sunny California, offers up 391 km of range and over 400 horsepower. The VF 8 Eco offers larger range at 425 km, but the horsepower drops down to the 350s.
Charge times are quick, too, especially on a level 3 DC fast charger. Taking the VF 8 from 10%-70% on a DC Fast takes under 25 minutes. The vehicle can take up to 48 amps from a 240 volt system.
Truthfully, seeing larger performance numbers in EVs is rather underwhelming because, if you truly wanted to exploit those specs, your range would drop drastically rather defeating the purpose of having an EV altogether. And, honestly, the immediate power swell from a stop, or when asking the vehicle to go faster while on the go, is performance enough. Battery power is lag-free, which is the real beauty.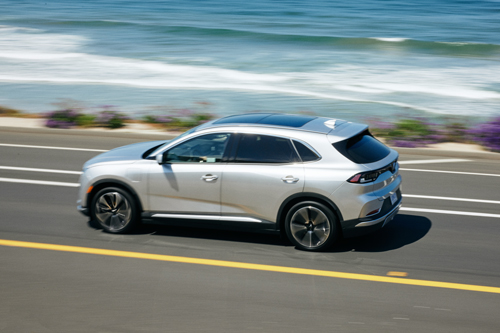 Becoming Part Of The VinFamily: What VinGroup have done here is offer up another option in a market segment that is steadily growing, albeit with increasingly more expensive options. Owning an EV in the long-run may be more cost-effective (especially with the price of gas these days), but the initial hit is quite steep. And while there continue to be provincial incentives to purchase green vehicles – Quebec still offering the highest with a combined rebate of $13,000 – they are still priced at the premium level.
The VinFast VF 8's starting price at under $53,600 will cause sticker shock to those looking for a vehicle with mid-size SUV interior space, without the gas engine. Being from Quebec myself, the $13k off would help, but still keeps the VF 8 in the premium monthly payment bracket. However, VinGroup has its own incentives to entice potential buyers, as well.
Those who were VinFirst adopters, as in some of the first to purchase a VinFast in North America, received a trip to Vietnam. Another program, the Vin Charge-Up Program, offers customers the choice between a home charge unit plus free installation or 3 years of unlimited outside-the-home charging across their country's EV network. Every VinFast vehicle sold offers 24/7 365-day-a-year roadside assistance, and that's good for 10 years. There is also a 10-year warranty on the battery (or up to 200,000km).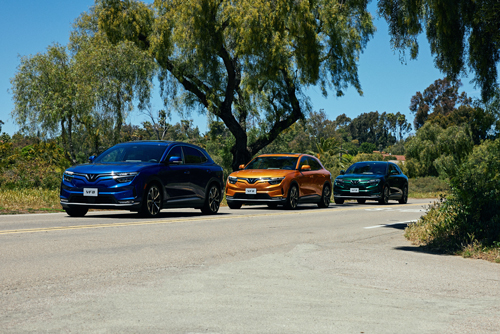 How Will The New Kid Stack Up?: VinGroup really did its research. It's clear they understood the important issues when it came to designing and engineering an electric vehicle. They studied the competition, looked at where they could improve or at least offer something a little bit different, and they created a vehicle that is unique enough to stand apart from the crowd, without being so different it will scare potential buyers away.
If nothing else, it will give those who crave a somewhat niche product the opportunity to say they purchased a car designed, engineered, and built in Vietnam.