Not twenty-four hours ago Valérie Limoges was standing atop a podium under a near cloudless sky, being showered with Champagne. She had just finished third in the final Sentra Cup race at Circuit Mont Tremblant and, in doing so, secured the overall championship in the series, becoming the first female racer to take home such honours in Canadian Road Racing. But now…  well, now she's trying to keep mesh and metal from ending up in the armco by painting a racing line for a handful of us journalists to follow. She's behind the wheel of Nissan's new Z and so are we. Oh, and it's absolutely pissing out.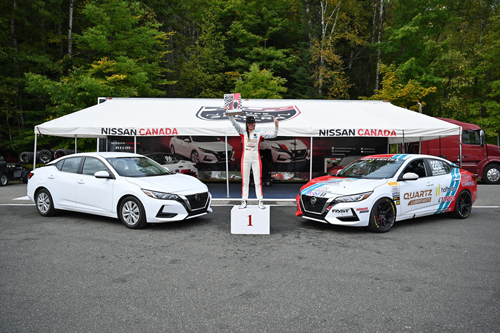 The day before, while Valérie was mentally and physically preparing for the flag to drop and the battle that would ensue, Vicarious' west-coast wheelman Dan Heyman and I met up at Montreal's Dorval airport to pick up a six-speed manual Ikazuchi Yellow Performance model of said Z.
Exterior: Ours is one of about a dozen new Z's sitting under the valet canopy. Within the mix of Boulder Grey and Gun Metallic, the Yellow stands out the most but I think the sole Seiran Blue model looks the finest. Its tinge highlights the various styling callbacks that permeate this Z most effectively in my eyes – the shapely silhouette, the LED headlight surrounds and the 80's era taillight treatment – and best hides its most glaring misstep.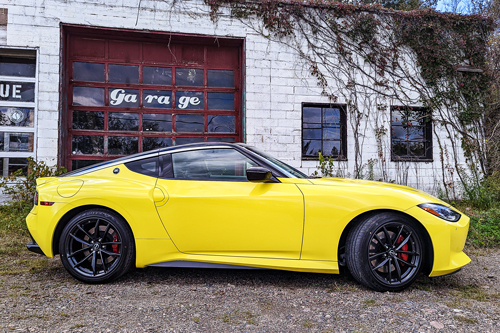 The old protrusions on the 370 Z disrupted the aero and were admittedly a touch unsightly, so the new Z has door handles that are designed as a flush mount component. This aids in not only the visuals but airflow management too. Except that their construction uses a double mount – one that houses the electronics and a second that acts as the handle itself – and it creates an unnecessary busy-ness that, compared to the overall design, feels a bit phoned-in.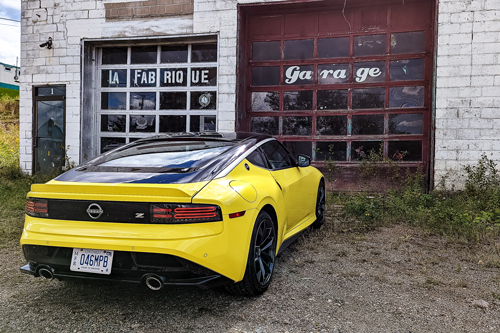 Regardless, the new Z is a looker. In any shade it appears as a watercolour painting of a car. The smooth lines and shapely bulges stand out and flow without need of an overall outline. The soft creases create an interesting dance floor for lighting. The mix of old and new combine in a clean and simple form that works in a way that makes it stand out today and I think will age quite well, too.
Interior: With a gentle tug on the inner portion of that unsightly handle the frameless glass lowers and the driver is greeted by a focused cockpit. Seating is a bit on the tight side. At 183 cm I had some room to spare but not much. My own first generation BRZ is surprisingly more ample despite being smaller overall and boasting what somehow passes as rear seats.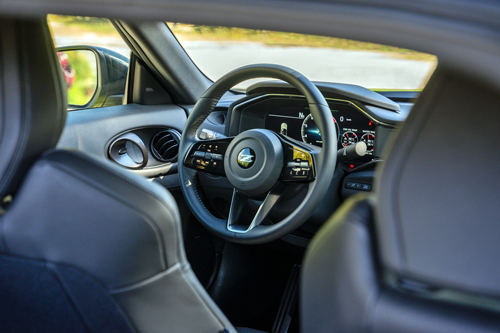 Fiddling with the power seats and tilt/telescopic steering (a new feature, btw), I find my comfort zone. The top of the tiller does block some information (just my speed, nothing important) from the TFT dash, but a large tach sits front and centre where I want it. Visibility is a bit compromised, even by sportscar standards, but the mirrors are large and well positioned and there is blind spot detection baked in too.
Overall the cabin is a nice place to spend time. There is a good mix of analog and digital control. I could probably do without the three gauge pods atop the dash – tradition be damned, the information they yield isn't all that consequential anymore – but I adore the arm that extends and angles the seatbelt. It's such a simple and elegant fix for an actual annoyance. My hats off to the team behind it.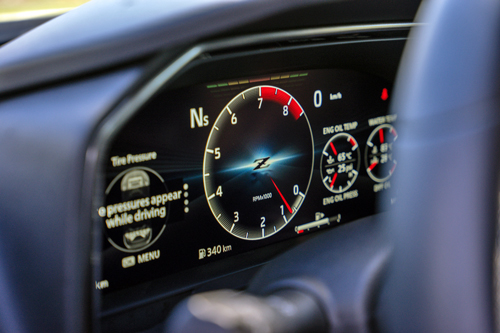 Powertrain: Hit the ignition button and the hi-output VR30DDTT engine snarls to life. In the manual version, the twin-turbo V6 idles at a relatively pleasant tone, while the automatic is noticeably angrier. There is a resonator in the manual equipped models that muffles sound below 4,000 rpm and is bypassed when you get the Z on the boil. Initially, driving the manual, I felt a bit ripped off by the lack of soundtrack but after cruising along the highway in an automatic Z, I longed for something to drown the drone.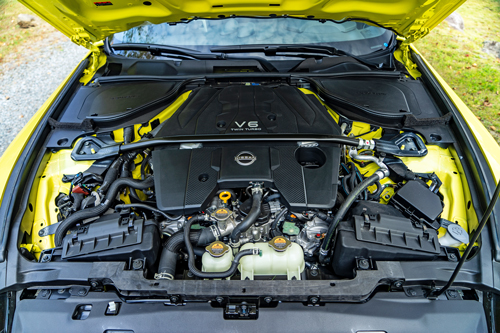 Being the hi-output version of the Nissan/Infiniti corporate motor, the Z nets the full 400 hundred horsepower at 6,400 rpm. What's most impressive is the 350 pound-feet of torque that peaks at 1,600 rpm and just stays there at the ready all the way through 5,200 rpm. That flat, accessible bounty of torque means the Z will move around and pass just about anything without the need to swap gears. A jump from the mid-fifties to north of 115 km/h, in third gear, takes no time at all and, as that resonator goes to sleep at 4k, the Z feels alive and lively.
Shift action on the six-speed is smooth and crisp. The clutch is light and fairly communicative. Where other outlets who drove the Z earlier in the year reported some grinding when dropping down into second, I couldn't replicate the effect. In sport mode, revs are matched on the way down and there is a no-lift-shift feature integrated on the way up. Both work quite well.
The nine-speed paddle-equipped automatic is attentive enough for those that opt to go this route to feel engaged when they want to, but the soul of the Z is infinitely more pronounced when you row your own. This can be a lively car – which we'll get to – and having that extra level of connection pays off in ways that the complacency of even the best automatic can't replicate. Use the $1,500 upcharge and take a few lessons in how to drive stick. You won't regret it.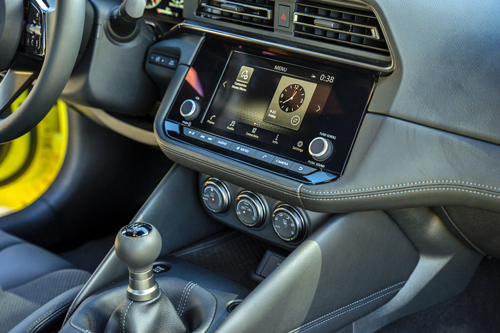 Both transmissions also feature launch control, which is a first for a Nissan manual. Sadly, for reasons we'll get into, I didn't get the chance to try it out.
Infotainment: The new Z's display is well positioned, the colours are bright, and I like that it can be controlled by either the switchgear below it or by poking away. Our Performance models didn't have any baked in navigation, but both CarPlay and Android Auto are present and accounted for.
I noticed a bit of lag when switching between menus and found that to be the case regardless of interaction (buttons vs. touchscreen). When controlling things from the steering wheel mounted controls this was less of an issue but I will point out that a mute button was noticeably absent from that area.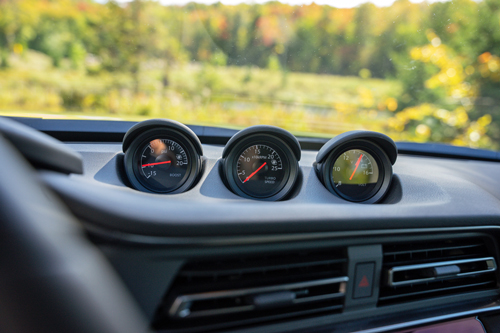 The audio system is an eight-speaker Bose unit, so sound is decent but nothing to write home about. There is active noise cancelling and yes, engine sounds are piped in through here too: make sense of that whichever way you can.
On the Road: Winding our way through the Laurentian Mountains in our manual Z, Dan and I are impressed with both how quick and confident this car is on this choppy asphalt. Where it felt jittery on the highway, thanks to Quebec's never-ending lane ruts and wide, 275-series rear rubber, it really came into its own in this setting.
That Saskatchewan-flat torque curve means grunt is always there and, when coming off of the accelerator, there is a decent amount of compression braking for corner set-ups. Should you need to scrub extra speed, feedback from the brakes is quite good with strong initial bite and a progressive feel through the pedal.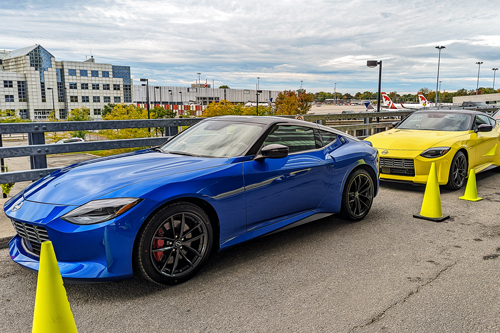 Steering is quick and direct with a meaty feel to it. The revised electronic assisted system was designed to be stiffer than the old Z, which it is, but a little more feedback would be nice on these bumpy, winding roads.
The revised suspension – which is now a monotube setup – is fast acting to keep the car decently settled. Push it and you will cause body roll and undulations. A "sport" setting on the suspension, to increase damping and firm things up overall would be nice, but I'm guessing that will be a trick saved for Nismo badging. Regardless, the stiffened chassis does a good job of communicating what's going on back to the driver. As a GT car, or something to be trotted out into the twisties from time to time, the Z feels both fun and playful so long as you don't expect a hard-edged approach.
On the Track: I'm sure Valérie would rather be nursing the lingering fog of her well-deserved celebration, but instead she's here, smiling genuinely – at least as far as I can tell – turning laps with a bunch of lads and lasses under terrible conditions.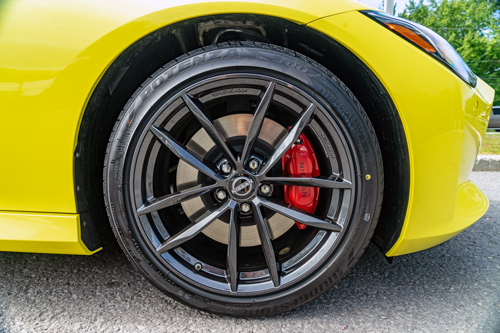 After the weekend's races, the rain had created a greasy track. And even after things intensified, we ended up with standing water in more than a few corners. Regardless, we were able to log a few laps and gleam some impressions.
Overall, the new Z just doesn't feel at home on the track. Even in Performance guise there is just too much weight and not enough suspension for it to be the focused apex slayer that some may want. Again my wandering imagination leads me to believe there will be a Nismo version released later with an up-spec suspension that will address some of these issues.
Conclusions: That last bit about the Z's track behaviour may sound like a bad thing, but I really don't think it is. The price, everyday drivability and ample sporting manners that it has translates to a car that I feel is well targeted towards its demographic.
While Nissan lists the more expensive, quicker, and more aggressive Supra as their main competitor, I think that prospective Z buyers are actually something else entirely: They're drivers graduating from GTi/BRZ/GR-86/MX-5 ownership and want something new or to level up. More specifically, they're drivers that want an affordable performance car with a past that offers storage, a unique silhouette and – most importantly – doesn't wear a blue oval. That may sound like a niche within a niche, but I'm betting there are more of those folks out there than we know. With the new Z, Nissan has delivered that vehicle, and they've done a bang-up job.
2023 Nissan Z Performance
Price as Tested: $59,578.00
Configuration: Front engine/Rear-wheel drive
Engine/transmission: 3.0-litre, twin-turbo V6 / 6-speed manual or 9-speed automatic
Power/torque: 400 horsepower/ 350 lb-ft of torque
Fuel (capacity): Premium (62 L)
Combined fuel economy ratings (L/100 km): 11.9 L/100 km
Warranties: 3-years/60,000 km (basic)
Competitors: Camaro 2SS, Ford Mustang GT, Toyota Supra
Link: Nissan Canada