Lochan na h-Earba, Scotland: I was one of a few North American journalists invited to the land of lochs and bagpipes to test the production-ready INEOS Grenadier 4×4—a rugged workhorse off-roader manufactured by INEOS Automotive, a brand-new automaker, owned by England-based chemicals corporation, INEOS Group.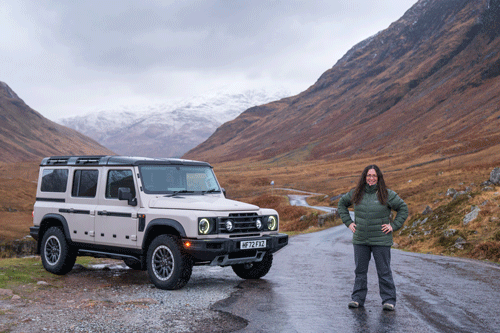 Although the newly designed ute will hit North American shores in late 2023, I spent two days driving their gasoline and diesel derivatives through the Scottish Highlands to get a feel for its on- and off-road capability. I was part of the INEOS Global Media Drive Event: Expedition 1.0 and discovered if their "mechanical wherever possible and technological wherever necessary" mantra stayed true through production since I drove their prototypes in France one year ago.
Drivers awoke to a frosty, crisp morning. We drove the narrow A9 south from Inverness, the cultural capital of the Scottish Highlands. As we sat comfortably in our manually adjusted Recaro seats, we talked about clan warfare and distillery tastings as the Grenadier's interior cabin kept outside noise to a minimum.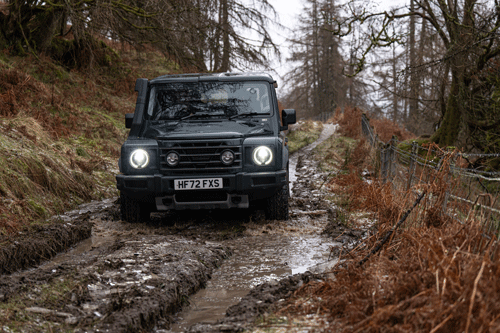 We passed through the quaint towns of Carrbridge and Aviemore that flanked the striking Cairngorm Mountains within the United Kingdom's largest national park: Cairngorm National Park, which holds over 4,500-square kilometers of unspoiled countryside.
We arrived at Ardverikie Estate, home of the largest freshwater beach in Britain and 45,000 acres of filming locations for movies and TV shows. It's here where we initially experienced the Grenadier's off-road capability. We crunched through ice-encrusted tracks with confidence and pressed our way on to finish the day alongside Lochan na h-Earba, an area including two lochs to the south of Loch Laggan on the Ardverikie Estate, with a stunning sunset framing our existence.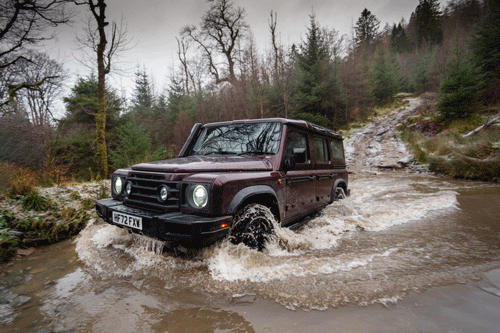 Unexpected temperature drops prevented us from testing the deep-water Wading mode; however, I tested its Off-Road mode, disabling auto start/stop, seatbelt reminder sounds, and parking sensors, lessening driver distraction. Both modes can only be engaged via a two-step push-button sequence, ensuring their intentional use before proceeding.
Hill descent control managed throttle and brake modulations driving down craggy, off-camber tracks. Once engaged, it can be lowered to just under five kilometers per hour (three miles per hour) and increased at will using the steering wheel's cruise control buttons. Uphill assist kept the Grenadier stay in place after climbing hills.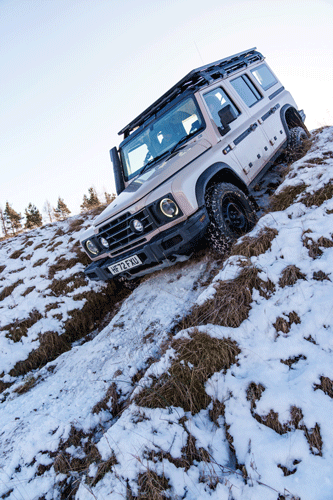 Our off-road ready Trialmaster was one of three editions offered, with the Fieldmaster and base Grenadier models rounding out the lineup. The gasoline-quipped Grenadier generates 281 horsepower and 332 pound-feet of torque from its turbocharged 3.0-liter BMW inline straight-six. There is a 3.0-liter BMW diesel option, but it won't initially be available for North America. Both engine types are mated to an 8-speed smooth-shifting automatic (there is a manual mode too). Fuel economy ratings are yet to be announced for the North American market, but non-U.S. petrol fuel economy figures range from 12.5 to 12 l/100 km (18.9 to 19.6 miles per gallon).
The INEOS Grenadier has permanent four-wheel drive and features a manually operated two-speed transfer case with 4H and 4L with a 2.5:1 ratio and locking center differential. Optional front and rear differential lockers are electronically actuated via a two-step ceiling-mounted push-button.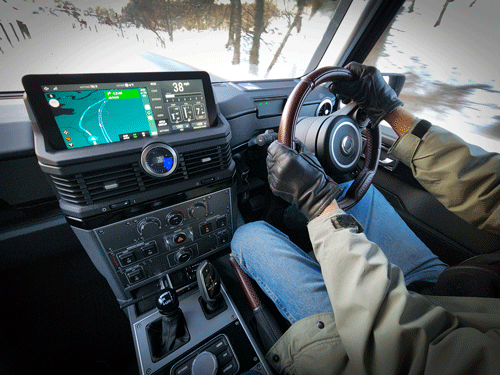 This new 4×4 also has solid-beam front and rear axles and either 17" or 18" steel or alloy wheel options and two three-peak mountain-snowflake-rated tire choices. Since an extensive amount of off-roading was planned, optional BFGoodrich KO2 all-terrain tires were used for all testers.
Other off-road notables include standard front/fuel tank and rear skid plates, front and rear steel bumpers (an optional integrated front-mounted winch), and more. Pre-wiring for auxiliary accessories and exterior- and interior-mounted cargo-hauling L-tracks are also included.
As we headed south, temperatures rose. Snow and ice switched with mud and moss. Narrow, winding roads gave way to the Luss Estate, the homeland of Clan Colquhoun for more than 600 years. Day two gave us a true sense of the Grenadier's off-road prowess.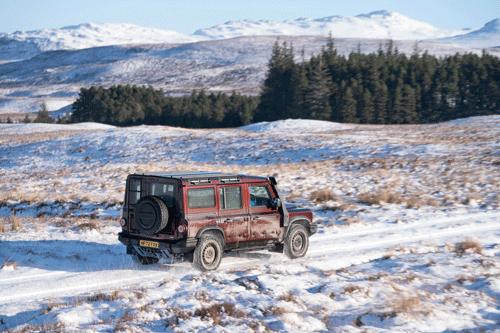 The Luss Estate included a lengthy and challenging off-road course not suited for the faint of heart. Drizzly conditions surprised us with narrow hillside chutes and rock-filled scrambles that met tight, twisting mud-filled sections and off-camber conditions—it was an ideal playground to test a vehicle's capabilities, its limitations, and get to know its off-road personality.
Off-road, the INEOS Grenadier was capable of traversing just about anything that's set before it. The Grenadier assertively conquered all obstacles, including the Luss Estate's loose-and-lengthy descent, dubbed the "Ski Hill."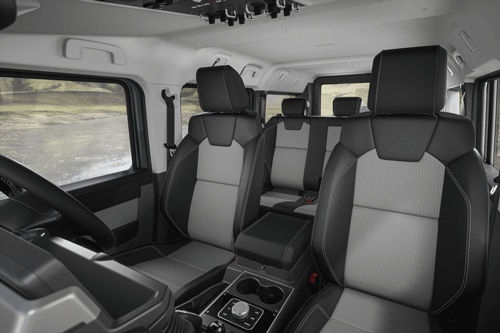 Wheel articulation is 229mm (9") in the front and 305 mm (12") in the rear, with total wheel travel listing at 584 mm (23"). The Grenadier boasts 264 mm (10.4") of ground clearance (less than the current Jeep Wrangler Rubicon JL), with an approach angle of 35.5 degrees and a departure angle of 36.1. The breakover is noted at 28.2 degrees, and INEOS states it can tilt to its side up to 45 degrees (though we weren't able to test it to that extreme).
Though parts of the world are getting the 2023 INEOS Grenadier before we'll see it hit our shores later this year, we'll see it arrive as a 2024 model year. Prices are dependent on the edition and accessories chosen, with North American market pricing announced in the coming months.