It is said that the sense of smell triggers our memories in a way that no other sense can. The right odour can provide a feeling of calm and relaxation, delivering the perception of balance and comfort unlike anything we may see, hear, taste or touch.
Present this information to the Genesis engineering team and the result is the onboard fragrance diffuser that is part of what makes driving the all-new 2023 Genesis "Ultimate" G90 such a unique experience. And for those times when the wrong smell enters into the cabin, Genesis also offers a powerful anti-microbial sanitation system to eliminate unwanted odours from lingering too long.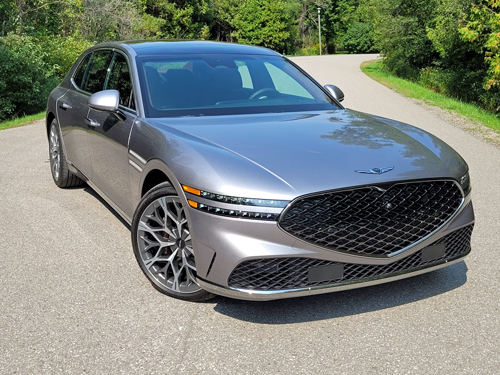 Driving the new G90 is as much about the overall ambiance of the interior as it is the exceptional exterior design and the experience behind the wheel. Gracious is a word that is not typically used to describe an automobile, but it fits perfectly here. There is a presence about this luxurious sedan that, given it's main competition in the market comes from the likes of Audi, BMW and Mercedes-Benz, the price you pay for entry is, dare I say, a bargain. Opulence at this level should cost more.
"Curating an exceptional acquisition and ownership experience for our guests has been paramount since the inception of the Genesis brand," says Eric Marshall, executive director of Genesis Motors Canada. "Everything about the new Genesis G90 exemplifies true, elevated luxury."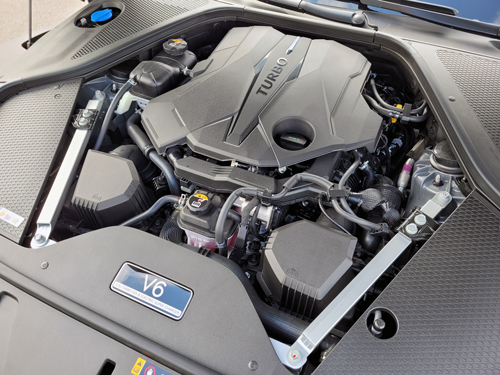 Power comes in the form of a 3.5L V6 twin-turbocharged engine equipped with an E Supercharger (e-SC) that delivers 409 horsepower at 5,800 rpm and 405 pound-feet of torque at 1,300-4,500 rpm. Premium fuel is recommended for maximum performance.
Matched to a shift-by-wire 8-speed automatic transmission and all-wheel drive, the paddle shifters are a nice feature to have, but seem a little out of place in such a refined interior. I didn't use them. During my test drive, I was impressed by the quick acceleration from 0-100 km/h when pulling out to pass slower moving traffic while on the highway. Though no times were recorded, it felt strong and I could sense the pull as the G90 moved forward with authority. There is plenty of traction to go around as the G90 rides on 21" aluminum alloys and 245/45 R21 front, 275/35 R21 rear all-season tires.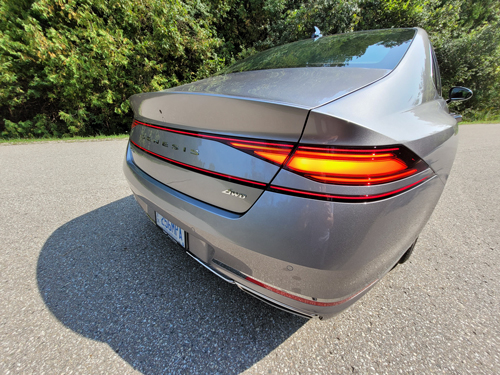 G90 is equipped with a full suite of safety features and that includes exceptional stopping power with the added convenience of regenerative braking to recharge the 48V battery for the e-SC. Rear wheel steering and a multi-chamber air suspension system provides superb on-road stability and comfort. There is even a chauffeur mode for rear seat passengers that reduces vehicle body movement for a more relaxed ride.
Electronic stability control, traction control, vehicle stability management, ABS, 10 airbags and a myriad of additional safety features; you get the sense while driving or riding in the new G90 that this is next level safety at work. There is a solid feel to the car that is typical mostly in high-end European brands. As part of the interior design, Genesis has crafted the G90 with acoustic laminated glass for increased sound reduction.
Once inside, the level of refinement is impossible to miss. Nappa leather envelopes all occupants and premium thick pile carpeting wraps the floor. The driver enjoys 18-way power adjustment and the front seat passenger 16-way power. Massaging front seats are standard, as are heated and ventilated front and rear seats. The rear seats are designed to recline for added flexibility and comfort in the back. Front seat occupants can't have all the fun!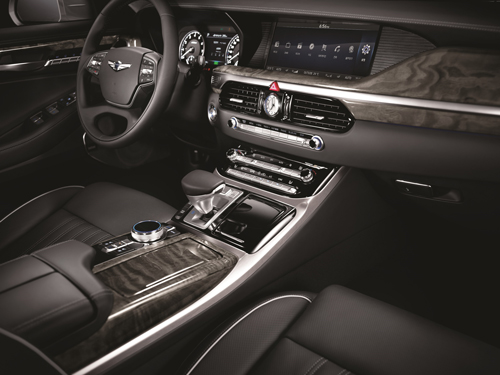 Acoustic vibes are provided by a 26 speaker Bang & Olufsen audio system. It delivers 1400W of power, plus the system offers a 300W auxiliary amplifier for 3D sound. It is an aural symphony you really need to experience in person.
Access is provided through a 12.3" multimedia touchscreen. Placed in conjunction with the 12.3 gauge cluster, the G90 is easy on the eyes and I found it to be fairly simple to work with, requiring only a short learning curve to access all the available menu options.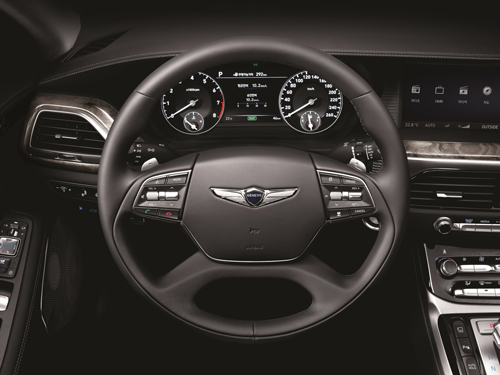 Our route for the test drive took place between the cities of Collingwood and Owen Sound, Ontario. Here the roads start at the base of Blue Mountain and wind there way along the shores of Georgian Bay through the towns of Thornbury and Meaford among others. While we didn't take time to stop on this trip, I would suggest it is worth your while to take a break and discover the many unique flavours available at Thornbury Craft Co. Cider & Brew House. You won't be disappointed.
Our route ended at the annual Cobble Beach Concours d'Elegance located on the far side of Owen Sound at the Cobble Beach Golf Links course. Now in its eighth year, Genesis took advantage of the many car collectors on hand to display the new G90 in amongst the assembled multi-million dollar automobiles and motorcycles. For more on this event, read Jeff Wilson's account in the upcoming Winter 2022 issue of Vicarious magazine on sale nationally as of December 12.
The 2023 Genesis G90 sets a high bar for other luxury brands to follow. Not only does it offer world-class elegance and performance, but it does so at a price that may surprise buyers looking at much more expensive European sedans. Even when choosing the best, it never hurts to find a deal when you can get one.
2023 Genesis "Ultimate" G90
Price as tested: $115,000.00
Configuration: Front engine/ all-wheel drive
Engine: 3.5-litre supercharged V6
Transmission: 8-speed automatic
Power/torque: 409 hp / 405 lb-ft
Fuel: Premium
Combined 11.8 L/100km
Warranty: 5 years/100,000 miles
Competitors: Audi A8, BMW 7-Series, Mercedes-Benz S-Class, Volvo S90
Link: Genesis Canada