Engaging in a carnal romp with your partner is much more exhilarating when practiced in an exotic setting. This is also true when driving the 2023 Audi R8 Performance RWD. Sure, its shapely silhouette can seduce you while sitting still in a shopping-centre parking lot, but once you take control of the steering wheel and get up to speed, it becomes a willing companion in a steamy relationship. I had a brief fling with the new R8 in Gran Canaria, Spain, where the island's delightfully serpentine yet frightfully narrow roads left me yearning for more.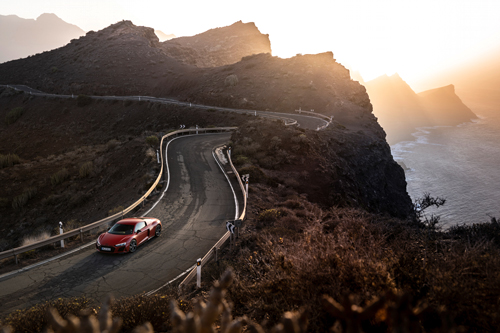 Audi introduced the AWD R8 in 2006, but only converted it into a boisterous rear driver in 2018, with the limited-edition Audi R8 RWS (Rear Wheel Series) — only 999 fortunate souls worldwide got the opportunity to buy one of those. This time around, though, Audi offers the rear-drive R8 Performance RWD as a regular (well, relatively speaking) production model, available as the hard-top Coupé or the drop-top Spyder.
The R8 is an enigma among automobiles. It's a mid-engined supercar, but it's being produced by a German automaker that specializes in luxury sedans, crossovers and SUVs. Sure, the company's RS models are ludicrously powerful and designed to melt tires on a closed course, but those cars are built on more practical platforms; the R8 was built to be a supercar from the ground up. And while it bears the hallmark profile of a supercar, it does not assault the eyes with sharp angles, but rather caresses them with soft, flowing lines.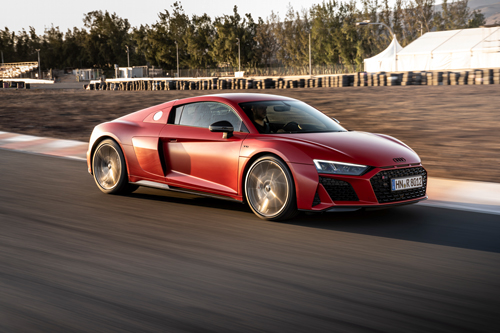 By modern standards, the R8's engine is also an anomaly. In an era when companies are introducing small-displacement turbocharged fours and hybrid ICEs as a stopgap to eventual fully electric propulsion, Audi sticks with a naturally aspirated, 5.2-litre V10. In the R8 RWD it produces 562 horsepower, which is 33 hp more than the R8 RWS, but 40 less than the R8 Quatro: torque peaks at 406 pound-feet. Power delivery is broad and linear, and the engine is capable of propelling the R8 from zero to 100 km/h in just 3.7 seconds (one tenth more for the Spyder). If outright speed is your thing, the R8 tops out at an unrestricted 329 km/h, which sounds even more impressive when converted to imperial: 204 mph. Don't try this at home, kids — at least not on public roads.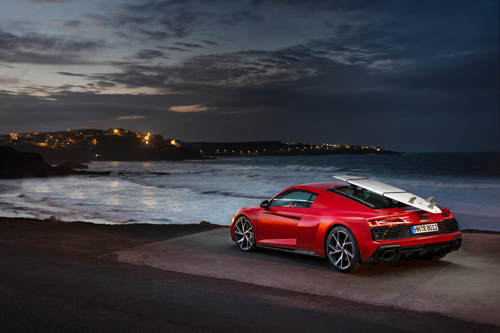 Audi has done a few things to this new R8 to make it more responsive when pushed hard, and being a rear driver, it's naturally more engaging to drive than its Quattro sibling. For one thing, there's no better way to get into an adrenaline-induced stupor than by steering through a turn by applying power to only the rear wheels. Driving the R8 Quattro is almost like cheating: Its all-wheel-drive system is much more forgiving should you imprudently stomp down on the gas pedal at corner exit. Despite being 40 horsepower down on the Quattro, the R8 RWD demands a more judicious approach, especially if you turn down electronic intervention by selecting Sport mode — it'll wag its tail in appreciation, but can as easily turn around and bite you if you get overly ambitious. And despite the forgiving nature of the R8 Quattro, one undesirable handling trait it exhibits if pushed hard into a turn is a tendency to understeer; this has been all but eliminated on the R8 RWD, in exchange for some highly addictive, controllable oversteer.
Other changes include a beefier front anti-roll bar, or as was equipped on my test car, an optional carbon-fibre front anti-roll bar that stiffens up the front end considerably. More go-fast goodies include specifically tuned suspension, a mechanical limited-slip differential, and there's optional speed-sensitive variable-ratio steering — Audi calls it Dynamic Steering. My tester is so equipped, and the steering got more responsive the harder and faster I drove. Oh, and in case you're thinking that I took part in lascivious driving activities in public: All of the hardcore testing was done at Circuito de Maspalomas, a racetrack located on the southern coast of Gran Canaria.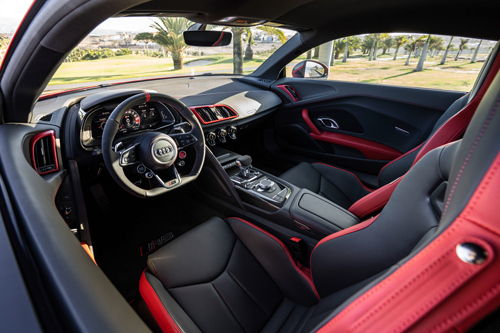 Track time really emphasized just how playful the R8 Performance RWD is. The track is mostly point-and-shoot tight, with long, gently winding straights leading to hairpin turns, with a couple of relatively fast sweepers and chicanes thrown in to keep you alert. Here the R8 responds obediently to commands; its variable-ratio steering is well-weighed and communicative and reacts with almost telepathic precision. It dives deep into turns without a trace of understeer, and can exit with the rear end kicking out if prompted to do so via the gas pedal. Electronic intervention in the most aggressive drive mode is nearly invisible and will only kick in if you do something drastic, or, as I discovered, if it begins to rain mid-session.
While the optional Michelin Pilot Sport Cup2 tires provided tenacious grip on dry asphalt, they began to give up their hold soon after rain began to fall on the western end of the track, dampening two left-hand hairpins. The elongated layout of the track meant that I went from wet to dry to wet conditions several times a lap, yet the R8 snapped sideways only once while exiting one of the wet hairpins, before snapping back into line and averting a spin. While it would be easy to attribute my lightning-quick reflexes for saving the car from a spin, in reality the car had more to do with preventing a spin than did I, especially since I had engaged the ever-practical Rain mode, which adjusts power delivery and traction control parameters accordingly.
Fan the steering-wheel paddles and the seven-speed dual-clutch gearbox provides immediate and forceful gear changes. You can opt to let the car do its own shifting, but gear changes are not as snappy. My Coupé track-tester was also equipped with the optional, massive carbon-ceramic brakes, which slowed the car effortlessly and repeatedly from high speeds with an assertive push on the brake pedal, and with no discernible fade. They were a bit grabby on the road, so unless you plan on regularly visiting a racetrack, you can stick with the standard brakes.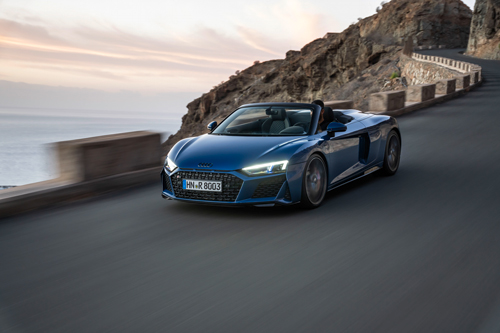 For the road portion of the drive, I switched to an R8 Performance RWD Spyder, and it proved to be remarkably civilized. The roads thread their way through the volcanic mountains of Gran Canaria in a dizzying manner, and they are ridiculously narrow and riddled with blind curves. Even in Comfort mode the suspension is almost racetrack-firm, yet there's no harshness to the ride, and the car is well-mannered and quiet. Aside from the occasional gawking bystander, driving the R8 feels almost like driving an ordinary car, and would feel as much at home driving around town running errands as it does turning fast laps on a racetrack.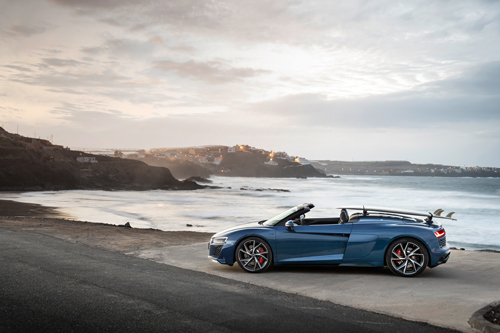 Oh, and that sound. That luscious, invigorating sound. Even if you're not keen on convertibles, splurge on the Spyder just for the heightened auditory stimulation you'll enjoy when you drive it with the top down. Even with the top up you can lower the rear window to allow the V10's mesmerizing drone to enter the cockpit. It's a rich melody that's at once angry and provocative and doesn't need electronic enhancement from the Bang & Olufsen sound system.
Of course, being a mid-engined two-seater, there are some compromises to be made, especially if you're planning a road trip with your partner: Keep it romantic because there's not much room under the front lid for packing much more than a few skimpy outfits — or in my case a single piece of carry-on luggage and a laptop bag with a bit of room to spare.
An excerpt from my trackside notes sums up what a potential buyer should expect from the Audi R8: A naturally aspirated, mid-engined rear driver delivers an intoxicating mix of sounds and sensations that few other vehicles can match. Loving this R8.
The Audi R8 Performance RWD V10 is, however, on the list of endangered cars, as manufacturers across the board divert resources and development toward alternative means of propulsion. In early December of last year, Audi Sport's head of marketing, Linda Kurz, announced that future R cars will be electric. This means that if you're a bona fide aficionado of internal combustion, and still enjoy a dirty romp in a gasoline-burning supercar, you should act swiftly and place your order now. Pricing won't be released until closer to the R8 RWD's launch late this coming summer, but the current Audi R8 AWD starts at $172,000.
2023 Audi R8 Performance RWD
Price (as tested): TBD
Configuration: mid-engine/Rear-Wheel Drive
Engine/Transmission: 5.2-litre V10 / 7-speed dual-clutch
Power/Torque: 562 hp / 406 lb-ft
Fuel economy: (combined litres/100 kilometres): TBD
Competition: Chevrolet Corvette Stingray, Lamborghini Huracán, Porsche 911 4S
Link: Audi Canada