For every generation of the MINI Cooper, there has been a GP variant. Symbolizing the best of what a high-performance MINI can offer, the GP typically comes at the end of a generation's lifecycle and sold in limited quantities. It's in essence everything a hot hatch enthusiast could ask for, offering increased power, reduced weight and improved handling.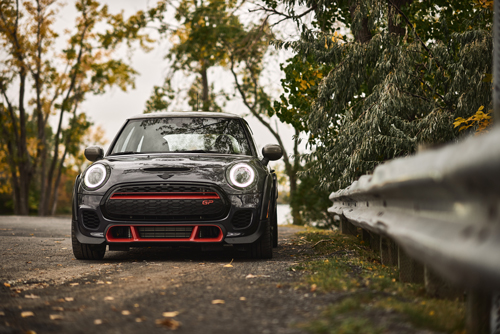 The first MINI Cooper GP was introduced in 2006, while the second one, more commonly known as the GP2, was released in 2013. Both were rare and exclusive, sold at only 2,000 examples, making them rather expensive collector's items today. To put things into perspective, the last GP1 (first generation) Cooper to have been advertised on the Bring a Trailer car auction website sold for no less than $35,000 US.
MINI therefore understands and respects this young legacy, which is why it has inevitably cooked up a third variant of the thing to commemorate the current-generation Cooper's final days. The 2021 MINI John Cooper Works GP essentially picks up where the GP2 left off, but cranks things up to 21st century hot hatchback expectations.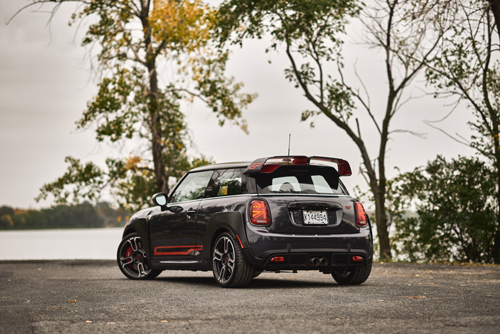 The Most Extreme MINI Yet
And the numbers are just as bonkers as the car's obnoxious styling. Horsepower from the turbocharged 2.0-liter four – essentially the same engine that powers the MINI John Cooper Works Countryman, Clubman, and BMW M235i – is rated at a dizzying 301 horsepower and 332 lb-ft of torque. Yet, contrary to the vehicles above which all come with all-wheel drive, the JCW GP is two-wheel drive only, channeling all that furious might straight to the front wheels.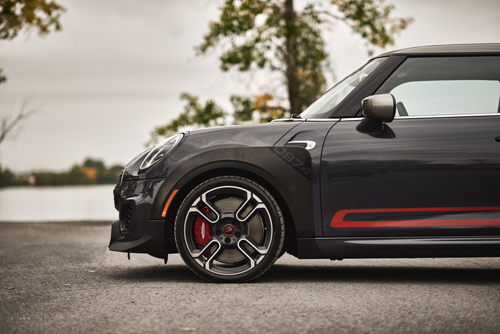 The engine is mated to an eight-speed automatic transmission only. Sadly, the manual gearbox is no longer part of the GP equation, an oddity given its heritage and target buyers. This is one of many perplexing decisions that went behind this car, which I'll get back to.
Available in only 3,000 units, with just 59 of them expected for the Canadian market, the John Cooper Works GP comes in only one color; the charismatically named Black Jack Anthracite paint job that contrasts well with the red exterior accents. The gigantic rear wing is standard, and so are the car's exaggerated carbon fender flares, which not only help accommodate the GP's widened track, but help reduce air flow and reduce drag.
Fun fact: those flairs were sourced from left over BMW i3 and i8 carbon fiber parts. It's also where MINI inscribes the car's serial number (as well as on the dashboard). My car was number 874.
Other performance-enhancing components include a mechanical limited-slip front differential, increased camber and chassis rigidity, lightweight forged alloy wheels, a rear seat delete – for more weight reduction -, as well as beefed up tires, brakes and suspension components.
And I must say, the final package looks fantastic. The MINI GP has a mean, over-the top yet purposeful presence, appearing a bit like a tiny supercar when sitting in traffic, and sounding absolutely mean due to its dual central sports exhaust. It's really everything you want from hot hatchback, even if a lot of it is actually fake.
For instance, the front hood scoop has no purpose, which is a bit of a frustration given the first-generation GP needed one to feed cool air to the supercharger. MINI may claim the ginormous rear wing helps improve downforce, but why did it add a gurney flap on top of it? But perhaps the oddest decision of them all is that rear torsion bar. It looks rad, but it doesn't actually help with the car's chassis stiffening. In other words, it's just there for looks. The MINI GP does have chassis reinforcements, but that bar isn't part of them. But why?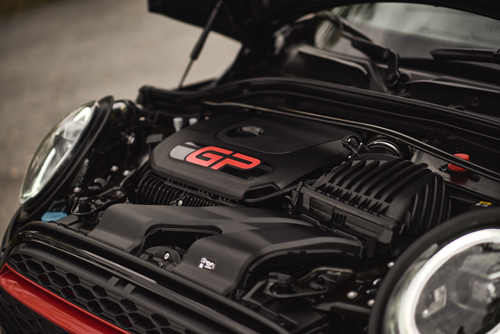 Just as Wild to Drive
But once you strap yourself behind the wheel of this enigmatic little rascal and fire up its rambunctious engine, all of that quickly dissipates. In typical MINI fashion, the Cooper GP feels much more premium inside than most hot hatchbacks. Contrary to a Civic Type R or a Subaru STI, which quickly reveal their economy car roots, the GP feels all grown up, impeccably well put together and loaded with neat styling cues.
The sport bucket seats are comfortable and supportive, and the fact that you sit low in the car's high cowl yields a feeling of driving a much larger car than it actually is.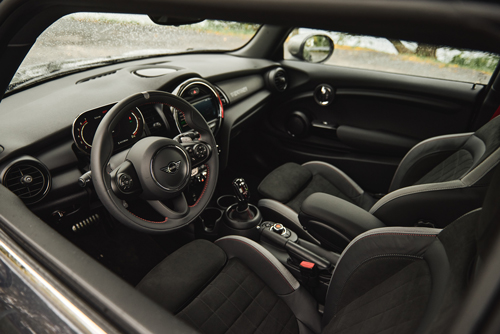 On the road, it doesn't take long before this hot hatch reveals its true purpose. The suspension is stiff and jittery over road imperfections, but it also has a nice damping that makes it fun and engaging to drive. There are no sport or comfort modes in a GP, it's just always in an extreme setting. Slam the accelerator pedal and the force-fed four-pot instantly lights up, delivering a brutal dose of low-end torque that never stops huffing until it hits the rev limiter.
Inevitably, all that furious might in a front-wheel drive car means the GP is a handful to drive. And contrary to a Civic Type R which keeps its steering wheel straight when you're on full throttle, the GP will quickly torque steer your wrists towards the windshield. The car's widened track and meaty tires won't hesitate to tramline this pocket rocket the moment it spots a crack in the road. In other words, you need to be awake to drive a MINI GP. It's a blast to drive, but it's also one heck of a workout.
Quick? Heck yes, with a 0-100 km/h time set in just 5.1 seconds, and a Nürburgring lap time of 7:56.69, which puts it in BMW M2 territory. The MINI GP is by far the wildest, quickest MINI yet, and arguably one of the more extreme hot hatchbacks currently on sale. From behind the wheel, it all feels even more intense than its numbers suggest due to all the weight reduction shenanigans. There are no driver assistance toys here or posh leather seats. Everything about the MINI GP was put there for speed and nothing else.
The brakes bite hard as if they've been taken straight out of a BMW M3. The steering is surgically accurate, and the car reacts to each input in such precision and eagerness that it almost makes its driver sick. The automatic gearbox works like it should, effectively handing you over the proper gear at the pull of a paddle, but it's sadly never as quick as a dual clutch system nor as entertaining as a manual stick shift. I did however absolutely adore the 3D printed machined paddled shifters, but I do wish the GP's exhaust crackled and popped a little more, something along the lines of a Hyundai Veloster N.
It's obvious that the 2021 MINI John Cooper Works GP was created for the track. It's therefore a unique toy that nevertheless sends a jolt of adrenaline through your veins the moment you enter the first corner. Yes, at $51,990, it's not cheap. As a matter of fact, it's $10,000 more expensive than a Civic Type R, with half the practicality.
Yes, as MINI so eloquently puts it, this one is for "the few", but the few that will own one will also possess one of the most addictive driving experiences currently on sale. There's no doubt that this Cooper is heading straight to future classic status.
2021 MINI John Cooper Works GP
Price as tested: $51,990.00
Freight: $2,135.00
Configuration: Front engine/front-wheel drive
Engine/transmission: Turbocharged 2.0-liter I4/ 8-speed automatic
Power/torque: 301 horsepower/ 332 ft-lb of torque
Fuel (capacity): Premium (44 L)
Combined fuel economy ratings: 9.8L city, 7.8L highway and 9.0L/100 km combined.
Observed fuel economy (9.2 L/100 km lowest): 10.7 L/100 km average
Warranties: 4-years/80,000 km (basic)
Competitors: Audi S3, Honda Civic Type R, Hyundai Veloster N, Mercedes-AMG A35, Subaru WRX STI, Volkswagen Golf R
Links: MINI Canada