What would you do for the chance to drive a Lamborghini for an hour? Specifically, the Huracán Super Trofeo Omologata — the 631 horsepower, rear-wheel-drive, carbon fibre homologation special with a cartoonish rear wing and a shark's fin?
Not on a track, mind you, but city streets.
In rush hour. In Mississauga.
I've known Scott for almost twenty-five years now. Our friendship began and developed around cars. Our formative years were spent driving and parking high end automobiles at the hotspot restaurants of the time, dotting the 6ix's downtown core. Despite the fact that we typically didn't get them out of third gear, we'd spend hours dissecting their nuances, argue over which was better/nicer/faster/sexier and then spend our imaginary millions (earned in tips) on a dream garage. Annual trips to Montreal for the Grand Prix started immediately, serving as the most appropriate forge. Sure, our connections run much deeper now, but those roots are damned strong.
My phone rang in the midst of setting up my tent in Finlayson Provincial Park. Scott — now a water bomber pilot, based in Newfoundland (a pilot, boat captain and firefighter all-in-one, he's basically a hero's hero) — was heading into town and wanted to meet up.
"Hey, Matty! Whaddya doin' next week?  Got any Lambos!!??"
"Well, actually…"
I explained the situation. One hour. City streets. Mississauga.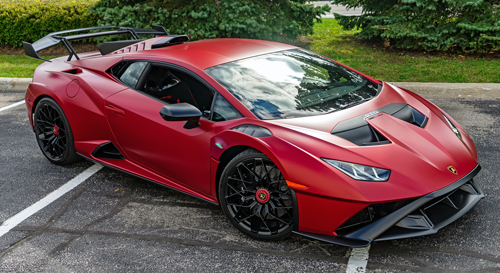 Scott explained he'd have to trek in from a cottage he was staying at near Dorset, and that he'd probably have to head back there right after — essentially six hours of round-trip commuting to merely get a whiff of the STO. I told him he may not even get a chance behind the wheel, and then I told him that again.
"I'll see you there!!!"
The Lamborghini Huracán STO is a special beast. Given that the entire future fleet stemming from Sant'Agata will be hybridized to some extent by 2024, the fact that the STO is powered by a screaming, naturally aspirated V-10 means it is in fact, the last of a dying breed. Mix in the race-spec modifications that set it apart from those other V-10 Huracáns currently on offer, and well, it deserves celebration.
The body is 75% carbon fibre. The front driveshafts have been binned. The wheels are magnesium and the windscreen is so thin that adding a GoPro suction cup mount could literally compromise its integrity at speed — all efforts strictly to shave weight. The result is that the STO is 43 kg lighter than the Huracán Performante, tipping scales at 1,339 kg (dry).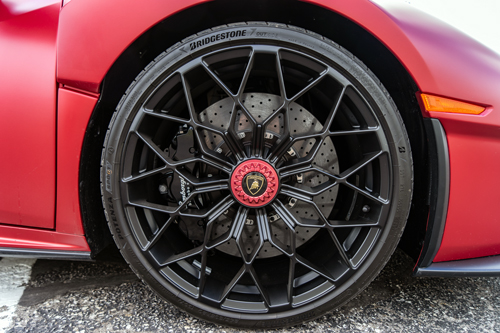 Other changes include an increased wheel track, stiffer suspension bushings, STO specific anti-roll bars and Lamborghini's two-stage, MagneRide 2.0 dampers. The brakes are Brembo's track-ready CCM-R units, offering up to four-times better heat dissipation over traditional carbon ceramic units, to ensure fade-free performance for hours-long track stints and there is rear-wheel-steering, too. And then, of course, there is that body.
Take it in. The angles, the creases, the negative space punctuated by the nostrils in the one-piece Cofango (Lambo-speak for the one-piece fender-and-hood unit), the NACA ducts and the myriad of louvres that appear everywhere. Every element creates flowing lines clearly dedicated to moving air, stirring primitive emotion: its lewdness cleansed by art.
This all results in more downforce — 53% more than generated by the Performante — while also being 37% more aerodynamic.
To be clear on how impressive that is, I casually remind Scott that the creation of downforce by passive devices (like "speed holes" and that big-ass wing) can only be achieved at the cost of increased aerodynamic drag. He responds by reminding me that he's a pilot, so I quickly shut up.
The silence doesn't last long. With "Trofeo" mode selected, at 4,700 rpm, the exhaust baffles in the STO essentially disappear. Scott and I are ensconced in a wall of sound that instantly brings back memories of Montreal, only better because we're in the car making the V10 sing. It's so loud, we can barely hear each other yelling obscenities as the revs leap even higher. A tug on the paddle to upshift the 7-speed DCT rewards with a millisecond of "brown-note" bass that thumps in time with our bobbing heads before the wail begins again. Obviously the sound deadening materials were scrapped for weight savings too. Scott and I are reduced to drooling 18 year-olds all over again.
All machines are capable of speed. others are built for it. A similarly equipped Huracán STO lapped Daytona a mere 2 seconds slower than the GT3 EVO car that's won the 24 hours race there three years in a row. And where the racecar rode on slicks, the STO did it on DOT rubber. The Huracán STO is built for it, all right.
Of course, neither Scott nor I get to fully experience that kind of performance. Just like those valet days there's traffic on the B-roads, accidents on the highway and thousands of witnesses lining the sidewalks, phones at the ready or already recording, all conspiring against us and this Lambo's true calling: speed. Oh yeah, and we have to give it back in one piece. Regardless, we do what we can and exploit where we agree is most prudent.
The tight suspension is more supple than I'd expect but isn't exactly tuned for pedestrian life. At just shy of 2 m tall, Scott is wincing with each bump as his head is trying to punch his own "Gurney bubble" into the STO's roof. With him now behind the wheel, I'm trying to steady my camera to take some usable interior shots (there's only twenty minutes left!). Plus I'm straddling both of our bags with the supplementary lenses and camera gear we toted along. The storage area under the "Cofango" isn't exactly useful. It's only 38-litres and shaped specifically to cradle a helmet. The struggle is real, to say the least.
It's impossible for me to give you a definitive review of Lamborghini's most focused Huracán after only a half-hour at its helm and another riding shotgun, on city streets. Pulling it back into the driveway, turning it over to the next journalist all I can muster is this felt a bit like standing on the world's fastest treadmill for an hour. Sure, you're not lying when you gloat about having spent sixty-minutes on the thing, but what did you accomplish?
At the end of the day, this "Red Bull with Wiiiiings" served as an excuse. A loud, raucous and ridiculous excuse, for two petrol-headed friends to reconnect, reminisce and laugh about the absurdity of the existence of such things, and how grateful we are that they do, and that sometimes we get to experience them for ourselves. And to that end, the Lamborghini Huracán STO accomplished quite a bit: it delivered the best hour I've spent behind the wheel all year.
2021 Lamborghini Huracán STO
Price: $394,217.00 ($477,647.00 as tested)
Configuration: mid-engine, rear-wheel-drive
Engine: 5.2L, naturally aspirated, V10
Transmission: 7-spd DCT
Power/torque: 631 hp/416 lb-ft
Top Speed: 310 km/h
Acceleration: 0-62 in 3.0 seconds, 0-200 in 9.0 seconds
Braking: 200-0 in 110 metres, 100-0 in 30 metres
Link: Lamborghini