LAS VEGAS – When the first Cummins diesel-powered Ram hit the road back in 1989, it was an ear-splitting, ground-pounding debut.
That's my overwhelming memory of that truck – so much noise. You could hear it coming for miles and conversation without shouting was near impossible inside the thing.
These were work trucks with few driver comfort features. But, as the saying goes, the Ram had the torque to pull stumps. They had the raw power to haul big payloads and pull big trailers.
The torque number was under 500 lb-ft In 2013, the torque rating hit 850 lb-ft. Thirty years after its debut, that torque number has reached the magic 1,000 lb-ft mark in the 2019 Ram heavy duty. And towing capability has climbed to an astounding 35,100 lbs.
Together with its 400 horsepower, it will pull all manner of equipment and it will do it easily at today's highway speeds. It will likely pull a forest of stumps and, if it's a Power Wagon, it will simply crawl over those stumps and most anything else.
And it will do it all quietly. And with elegance.
Those are just three of the qualities immediately evident when driving the new 2500 and 3500 heavy duty RAMs: effortless towing, comfortable surroundings and sedan-quality silence in the cabin.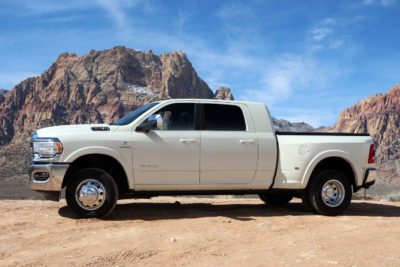 Offered in regular cab, crew and Mega Cab, the base engine is a 6.4L HEMI V8 gas engine rated at 410 horsepower and 429 lb. ft. of torque. For the first time it gets an eight-speed automatic transmission.
The optional Cummins in-line six-cylinder 6.7L turbodiesel has two versions: 370 horsepower and 850 lb-ft of torque on both Ram 2500 and 3500 and the high-output monster that pumps out 400 horsepower and 1,000 lb. ft. of torque. You can only get in on the 3500 – in single or dual-wheel versions. Both use a six-speed automatic to handle the shift work.
First impression? It's really big. The grille is taller and more upright to accommodate a larger radiator. The frame and axles are stronger the brakes are better.
Once I've crawled inside a 3500 Mega Cab dually in Limited livery, I discover a cabin much like the Ram 1500: high quality furnishings, heated leather seats, the latest Uconnect system. Easy-to-read gauges and a cavernous centre console. And there's a bonus, the convex part of the towing mirrors is now power adjustable.
There's plenty of room for five and the rear seats fold to provide a flat load floor in the rear of the cab.
We left Sin City to spend the day in the past – at the historic Eldorado Canyon Mine site where we pulled trailers and went on an off-road run in the new Power Wagon in wilds of the Nevada desert.
You can't say the Mega Cab's handling is nimble, but steering is communicative and well-weighted. The ride is far smoother and quieter than I expected. On par with a full-size SUV, actually.
When we get to the mine site (which is best-described as odd), we find trucks already hooked up for trailer testing.
They were a regular cab Tradesman 3500 with a flatbed trailer loaded to 35,100 lbs, a 3500 Longhorn with 11,000 lbs horse trailer, a Ram 3500 with 12,400-lbs travel trailer and a Laramie with flatbed trailer loaded with 10,150 lbs of concrete block.
Towing in each case was seemingly effortless, even on a long uphill grade. Going downhill was a breeze with Ram's outstanding exhaust brake.
The test setup points out the importance of choosing a truck suited to your needs. Only the 3500 Regular Cab 4×2 will yank 35,100 lb. The low end of the scale is the Power Wagon which has a max of 10,600 lb. but then, it's more an off-road monster.
I did get to try Ram's newest trick for making hooking up a trailer less of a spectator sport: the rear air suspension now has driver-activation for bed-lowering, normal/payload mode and trailer-tow mode.
It's especially effective with a goose-neck setup, but also works for a travel trailer.
Combined with the surround-view camera with trailer reverse guidance view all you do is lower the suspension, back up to the goose neck (or over the travel trailer hitch), raise the suspension, do the hookups and you're gone.
As for Power Wagon, it's extremely capable with all kinds of tricks to handle desolate, inhospitable ground without beating up its occupants.
2019 RAM Heavy Duty
Models: 2500 and 3500 in regular cab, crew cab and Mega Cab.
Trim levels: Tradesman, Laramie, Big Horn, Limited, Longhorn, Power Wagon
Price before taxes: $50,495 to $84,495. Add $9,450 for diesel and $11,950 for high-output diesel.
Freight: TBA
Configuration: front engine, 4WD
Available engines: 6.4L Hemi V8 gasoline, 6.7L Cummins turbo diesel, high output 6.7L turbo diesel
Available transmissions: 8-spd. automatic (gas engine) /6-spd. automatic (diesel)
Power/torque: Hemi gas: 420hp/429 lb-ft, Turbo in-line 6 cyl. diesel: 370 hp/850 lb-ft, High Output turbo diesel 400 hp/ 1000 lb-ft
Fuel economy ratings: NA
Warranties: 3 years/60,000 km (basic), 5 years/100,000 km (gas powertrain), 5 years/160,000 (diesel powertrain).
Competitors: Ford F-Series HD, Chevrolet Silverado HD, GMC Sierra HD