For any car enthusiast, Hollywood has birthed one of—if not the single most famous car chase scene of all times. A black 1968 Dodge Charger rips through the quiet streets of San Francisco, followed closely by a familiar green 1968 Ford Mustang driven by famous race car driver and movie icon Steve McQueen. To the sounds of squealing tires, roughened suspensions, and eight rogue wheel hubs (yes-eight!), the chase measured muscle against pony in an epic race on the steep hills of Golden Gate City.
Nowadays, San Francisco is better known for its pride, food scene, and bridges, but remains a city that has left a strong impression in the minds of those who have witnessed the now 50-year-old chase between the good guys and the bad ones. When Ford announced the launch of the Mustang Bullitt special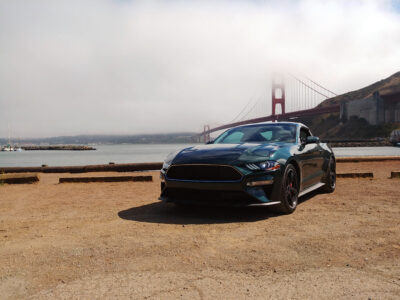 edition—a great highlight of the movie's anniversary—the event couldn't take place in any other setting than in San Francisco. And so to San Francisco we went.
The car 
The 2019 Ford Mustang Bullitt is pretty much an amped up GT—it receives the same ear-gasmic 5.0L V8 engine with an extra 20 hp for a total of 480 hp and 420 lb-ft of torque. Ford also took a good decision: true to the original green pony McQueen whipped around San Francisco at 120 km/h, the Bullitt edition is only available with a six-speed manual transmission, with a cueball as a shifter. You don't want to clutch and shift? No problem, you can go get an EcoBoost.
Inspired by the model's history, Ford also threw in an open air filter à la vintage for a little extra touch of nostalgia. Plus, for Canadian fans of the movie, the car is offered standard with Ford's semi-active MagneRide suspension.
The model comes in your choice of two colours: Highland Green or Shadow Black—but with the Bullitt name stamped everywhere, what other colour than dark green do you really need?
This is pretty much what the Bullitt gets you for $57,525—a glorified GT that looks undeniably cool. Other standard equipment includes 12-inch touchscreen, navigation, as well as heated (non-Recaro only) seats and steering wheel.
For an extra $1,800 you can swap your boring electronic leather seats for a set of performance Recaros, but they will send you back to the golden age of pony cars and have to be adjusted manually.
The drive
The drive was split into two days. Day one, we got to experience the full extent of the Bullitt's personality by zipping it up and down the winding roads of Half Moon Bay, roughly 45 minutes south of San Francisco.
Now, I have to be upfront: I have a sweet spot for the Mustang, and I tend not to be very objective when it comes to driving the GT—but it also means that I have expectations. For instance, the EcoBoost does little to nothing for me, and neither does the Shelby GT350—the over-powerful monster is too brutal to be decent.
The GT is just the right amount of power to have fun without spinning the wheels at every takeoff. How does the more powerful Bullitt compare? Does the extra 20 hp tip the scale past the point of decency, or does it remain manageable?
In all honesty: It. Is. Amazing. Despite a colourful personality and a legacy deeply rooted in speed, the Bullitt is accessible. It gives you everything you want (and more), it takes the bends smoothly and evenly, without being too moody in the corners or requiring basic track experience to handle. Should you need to convince your spouse to let you get a new toy: it even has decent cargo space and backseats.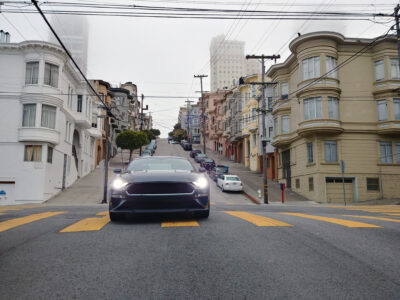 On day two, Ford treated us to the fully mapped out Charger-vs-Mustang chase route which allowed us to feel like McQueens for a few hours.
Now, whether you are familiar or not with the streets of San Francisco, you at least know the city is famous for its never-ending fog and its 40-degree-incline hills that will burn any guilt you might have for indulging in an In-N-Out burger.
The most memorable part of the chase undeniably is the Taylor street stretch, where both ton-cars take flight, speeding down the hill.
Watching the scene is spectacular on its own, however, the reality of what the chase entails only really sinks in once you get to retrace McQueen's steps. Despite the 2019 Bullitt being fitted with a state-of-the-art suspension that most likely would have prevented the car from suffering any actual damage, I didn't touch the second gear rolling down Taylor street. Reduced visibility and sharp angles at the bottom of the hills kept my McQueen envies at bay.
After a few trips up and down Taylor street because why not, we traced the chase back on Chestnut street all the way to the San Francisco waterfront, on Marina Boulevard. There was an optional route leading us outside the city and into rolling hills west of Sausalito, but my driving partner and I traded the spirited drive for a visit to Fisherman's Wharf for an 8-am chowder-in-bread treat—trust me, when chowder is this fresh, it's never too early to have some.
I was sorry to have to leave the Bullitt behind. I try not to rave about cars too much and to stay objective, but the truth is, Ford nailed it with the 2019 Mustang Bullitt. Not only is the model living its best days with its strongest generation yet, but the Bullitt only adds to an already deserving car.
Granted, the package is steeply priced for what you actually get—adn that would have to be the car's biggest flaw in my opinion, unless you also hate having fun, in which case you'll find a lot more to it. I'm pretty sure Steve would have been happy to get his hands on this iteration of the green Mustang and that he'd have as much fun ripping it in the San Fran streets as he did 50 years ago.
Some have argued that the Mustang should have lost to the superior Charger, but who cares, really? The good guy always wins and the Highland Green Mustang zipping through the streets of SF has gone down in history.