When asked why I was headed to sunny (disclaimer: it rained, a lot, the entire time) California and my response was, "To test the all-new Subaru Impreza;" I was met with bewildered looks and a few chuckles. Why on earth would Subaru want to launch their new Impreza somewhere there's no snow to prove its prowess on the mean streets of winter?! Well, they had a very good reason.
With the gorgeous, rolling hills of Monterey as a backdrop, we were introduced to the all-new and revamped 2017 Subaru Impreza hatchback and sedan models built on an all-new Subaru Global Platform. All test vehicles were equipped with CVTs (though there is a 5-speed manual available).
When parked side-by-side with the previous generation, the differences are immediately noticeable. As we were given the walk around and shown how Subaru improved on the outgoing model, it's clear FHI has taken a much sleeker, more sophisticated route with the overall look of the new Impreza. A much more aggressive and meaningful look now graces the front grille with available LED headlights and alloy wheels starting at 16" minimum and going all the way up to an available 18" now, as well. Sportier, sexier, and all around better looking, the 2017 Subaru Impreza hatchback is fantastic to look at from any angle.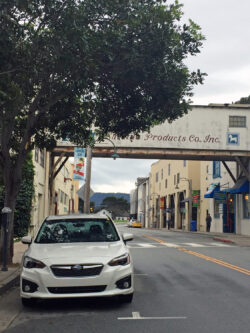 Muscular is almost an understatement, especially when dressed in red, white or Subaru's all-new Island Blue Pearl colour, the vehicle's lines are immediately noticeable and stand out in all the right ways. I'll admit that the previous two generations I felt really disappeared into the vehicular backdrop of today (is it a Mazda? A Volvo? A Honda? You never really knew it was a Subaru till you could spot the badge…), however, this latest rendition sets itself apart in all the right ways, albeit still in a subtle fashion.
But then, that's Subaru. For years now they've slowly been creeping up in the market, conquering sales and stealing from other manufacturers who do not offer such an affordable AWD option. The buying public is waking up to that fact, and Subaru's also opened its eyes to the need for a better quality ride and interior for those conquest sales. The Impreza is now the 8th bestselling compact car in Canada. That's kind of a big deal, especially for an underdog like the FHI baby. And, to this day, it still remains Canada's most affordable AWD vehicle, sitting under the $20k mark for a base Impreza.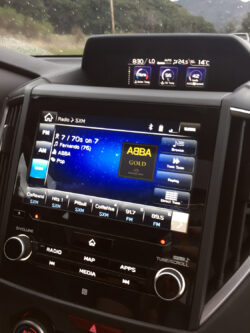 The proof of Subaru's efforts to move up in the ranks is in the interior pudding of the 2017 Subaru Impreza. Material qualities are so much better than they've ever been before. And the all-new upgraded and improved entertainment system (6.5" standard, and 8" if you upgrade to the Harmon Kardon/GPS navigation set-up) is an absolute joy to use and manipulate. While it's, sadly, still StarLink, lag is all but gone and the response time between app switches and phone hook-up is lightening quick. The colours and graphics are crips, clear and easy to read. Oh, and did I mention Apple CarPlay and Android Auto are available? Because they are now!
One more technical bit before I get into the drive I know you're all dying to hear about: The Impreza is now offered with Subaru's EyeSight for the first time, too. I mentioned the system in my double Outback review, and I stick by my opinions on the "nanny" set-up. It is, by far, the most relaxed and least intrusive system, and for that I enjoy driving with it on. Gentle beeps prompt you and keep you safe without causing you angst on the road.
The most interesting safety feature, in my mind, on the Impreza, is the mitigated braking system working in reverse. The system will detect objects (even off to an angle) and apply the brakes if you happen to not be able to see it (below the rearview camera range). Bravo Subaru, fantastic feature.
Now, about that drive. We were put on some truly fabulous roads in and around the Monterey and Carmel Valley region. Full of twists, turns, dips, and soaked in rain, the roads offered just the type of challenge you would want behind the wheel of a Subaru.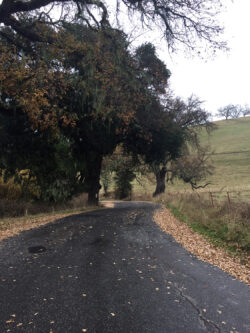 The 2.0L SUBARU BOXER engine has been revamped to produce a few more ponies, now at 152 with 145 lb-ft of torque. With a much flatter and broader torque band, power feels immediate and responsive. While we did not experience the 5-speed manual transmission, the CVT is mapped quite nicely and not at all drone-y or annoying. The Sport and Sport-Tech models (unique to Canada) are equipped with paddle shifters which are ideal for engine braking. However, in the twisties and elevation changes around Carmel Valley, I did sense the CVT did not respond well to downshifts for power. It tended to bog out and lose power completely when I prompted it to "switch gears" for sportier driving. It was much better left to its own devices to perform. And perform it did.
Thanks to an all new frame and front and rear suspension set-up (K-shaped crossmembers up front and rear stabilizers mounted directly to the chassis), handling in the 2017 Subaru Impreza is noticeably different. The vehicle is planted and handles body roll very well in both sedan and hatch form, although the hatchback felt significantly more stable than the sedan which carried a bit more weight in the back.
Having driven my fair share of Imprezas over the years (and owning two myself, an '04 WRX and '06 Impreza), I've really enjoyed watching the model evolve. And while it's gone through some serious growing pains over the years, the result has been mostly positive, and this latest rendition is proof positive of that. Subaru's really listened to its clients (and to us hot-headed and opinionated journalists) about where it needed to improve it's baby of the bunch, and they've tackled all those issues head on and produced an Impreza that may just be the best one yet. I for one cannot wait to get behind the wheel in some snow and really see what this Subie is made of.
2017 Subaru Impreza Sport-Tech
Price as tested (before taxes): $32,705
Configuration: Front engine, AWD
Engine/transmission: 2.0L SUBARU BOXER / Lineatronic CVT
Power/Torque: 152 hp / 145 lb-ft
Fuel-Economy ratings (L/100km): 8.3L/100km city; 6.5L/100km highway
Warranty (basic): 36 months/60,000km
Competitors: Mazda3, VW Golf, Honda Civic, Toyota Corolla, Nissan Sentra