Pretty cool lookin' truck, isn't it? Ford's super-butch F-150 Raptor looks like a barely tamed Baja 1000 race truck, which isn't far off the truth.  And with the latest iteration having gained bigger tires and even more capability, it remains arguably the coolest and best-looking rigs you can buy off a showroom floor.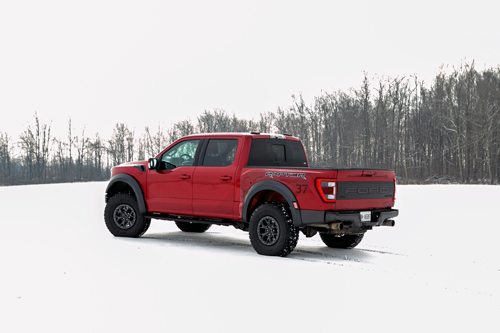 Shortly after Ford introduced its second-generation F-150 Raptor a few years ago, I was given the opportunity to experience the beast where it was meant to be unleashed:  the open desert. With an invitation to take part in Ford's Raptor Assault program in Utah I got to put the truck through various controlled-environment exercises to showcase the truck's considerable off-road prowess. But it wasn't until we were turned loose in the expansive acreage to shred sage brush and kick up dust clouds to the heavens that I really appreciated what this truck can do, and why I want one.
But let's get real. I live nowhere near a desert, nor do I have access to thousands of acres of four-wheeling space for playing, let alone the $110,000 required to park this particular truck in my driveway permanently, but it doesn't mean I don't want to, even if it is a ridiculous daily driver.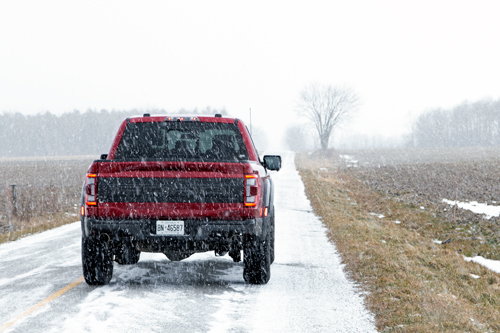 Its enormous size (roughly six inches wider than a normal F-150 and tall enough that it won't fit in most underground garages), and its thirst for fuel make it a pretty poor choice for commuting around the 'burbs where I live. But the Raptor gives a driver the sort of confidence to tackle any sort of mobile situation that might unfold, which means you're unstoppable in getting where you need to go, and that sort of power is addictive. Blizzard dropped a foot-and-a-half of snow? Big deal. Potholes on the commute just swallowed a mid-sized crossover whole?  Child's play! An army of zombies chasing you across a muddy field? Not for long!
It's as if this truck says, "Come at me, bro!" to anything it faces.
Unlike other off-road specialists like the Jeep Wrangler or even Ford's own Bronco, the big Raptor isn't meant for crawling over rocks and through rivers (though it can, as long as the trail isn't too narrow), but for blasting, eyes-wide-open across wild terrain at speed.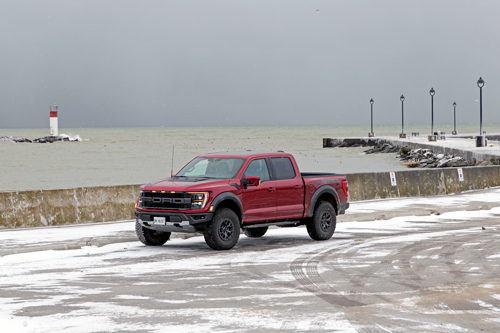 It's all in the suspension set up, which has changed a bit for this latest version of the Raptor. Unlike any other F-150, the Raptor gets a five-link coil-spring rear suspension set up instead of leaf springs. Then there's the latest generation of the Fox Racing Shox with internal bypass that allows for softness in the middle and firmer damping at the top and bottom of the compression, and an extra inch of suspension travel available now, up to 15-inches. Plus, as the decals on the rear fenders boast, the Raptor can now be ordered with 37-inch tires that'll bump the ground clearance up to 13 inches.
The net result is a truck that can fly over a lot of stuff without bashing its skid plate and take an astonishing amount of punishment off-road (dude, let's jump this thing!). More impressive is that despite its off-road prowess, the Raptor's ride is remarkably supple on-road.
It's a good thing, too, since the denim blue Recaro seats are plenty comfy, plus heated and cooled, and the 18 speaker Bang & Olufsen audio system sounds sensational, meaning that you'll want to spend a lot of time up in the Raptor and cover some distance.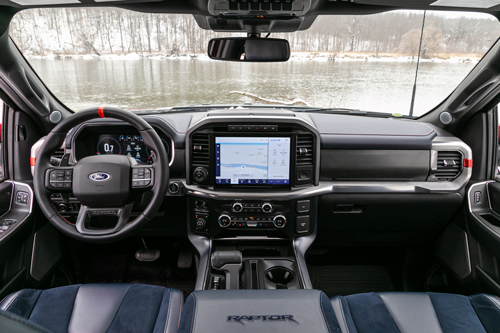 Ford's given the Raptor the same interior updates that it's bestowed on the rest of the F-150 line up, including the fold-out work space surface, a digital gauge cluster, and the big, bright 12-inch touch screen that's part of the latest SYNC infotainment system. The latter works well and offers intuitive navigation through its menus, plus connects wirelessly to Apple CarPlay and Android Auto.
Because all Raptors are Super Crew format (aka. big four door trucks), the rear seat space is gargantuan with enough head- and leg room, even for a trio of sasquatch. The seat bottom splits and flips up freeing up a sizable and very practical climate-controlled cargo area, too.
Of course, being a pick-up means that if there's more stuff to bring along, you can throw it in the box, but only a 5.5 foot length is offered. The off-road suspension set up precludes the Raptor from any heavy-duty truck work in terms of payload (640 kg) or max towing (3,719 kg), but it should still be enough to haul some toys around.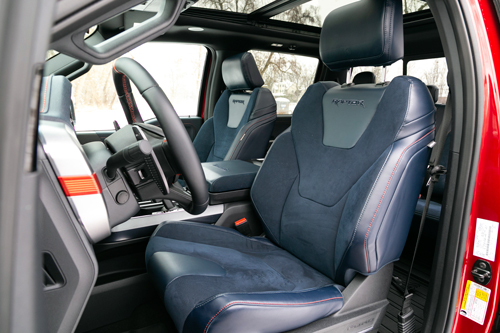 The tailgate offers a step hidden inside which is appreciated by anyone with less than a 48-inch inseam trying to climb up into the box for loading or unloading. As part of the Pro-Power Onboard package, the tailgate is also power actuated, and even though Ford's entry level 2 kW generator is the only one offered with the Raptor (a 2.4 kW and 7.2 kW version is available with the Hybrid trucks), it's still at least twice as powerful as the plugs available in most trucks.
The Raptor still comes only with the high-output version of its twin-turbo 3.5 L EcoBoost V6 mated to a ten-speed automatic, at least until the Raptor R arrives later this year with its own supercharged V8 to battle Ram's TRX. In the meantime, the Raptor's 450 hp and 510 lb-ft of torque still do an impressive job of motivating nearly 2,700 kg (6,000 lbs) of truck around with authority. Acceleration from a stop is swift, and there's ample passing power, thanks in part to a reconfigured intake that helps give the engine more oomph at fewer revs.
Ford has also given the Raptor a new 3-inch exhaust that a driver can manipulate via steering wheel controls to cycle through various levels of loudness, or a quiet mode, when sneaking home from a day of playing hooky. The boosted V6 will never sound like the deep, throaty V8 the Raptor's appearance seems to demand, and yet with the pipes in full Baja mode and the revs ups, the Raptor's scream sounds more like an exotic sports car than a burly truck. It might be out of character, but it sure is fun.
Ultimately, that's what makes me want the Raptor so much, it's all about fun. Whether you're kicking up dust in the desert, blasting through 3-foot snow drifts, or even just looking at its bulging fenders and massive tires, Ford's F-150 Raptor just makes you want to hoot "Yeeha!" and send it!
2022 Ford F-150 Raptor
Price as tested: $109,439.00.00
Configuration: Front engine, four-wheel-drive, pick-up truck
Engine/transmission: 3.5L twin-turbo V6, 10-speed automatic
Power/torque: 450 horsepower /510 lb-ft of torque
Fuel: Premium
Combined fuel economy rating: 15.3 L/100 km
Competitors: Ram TRX, Toyota TRD Pro, or maybe a dune buggy
Link: Ford Canada