While the news for the Dodge Caravan and Journey appears to be grim as they are both set to be discontinued, the maniacs at Dodge SRT seem to have been given free rein as they've introduced not one, not two but three new models set to be released for the 2021 model year. Two of the three are rear-wheel driven, one is an SUV and they all – all three of them – make more than 700 hp each for a combined total of – wait for it – 2,311 horsepower. Twenty. Three. Hundred. Eleven. Horsepower. That is bonkers and in a time where car manufacturers are supposed to be downsizing to meet ever-stricter emissions demands, how the heck is Dodge getting away with it?
Well, just like they found loopholes to release that manic Demon in 2017, they appear to have done so again because they're building these, whether the authorities like it, or not. They are, in order of hp output, from least to most: the Dodge Durango SRT Hellcat, the Dodge Charger SRT Hellcat Redeye and the Dodge Challenger SRT Super Stock, proudly proclaimed by Dodge as "the world's quickest and most powerful muscle car".
2021 Dodge Durango SRT Hellcat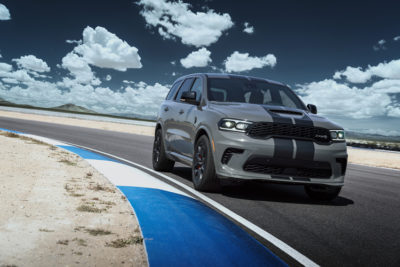 For the purposes of this story, we start at the bottom of the power rung but the top of the curb weight rung; the Durango weighs in at 2,590 kilos while the Charger tips the scales at 2091 kilos and the Challenger – well, we're not sure yet as they haven't announced but we're expecting it to sit below 2,000 kilos.
Not that that should worry the Durango too much; after all, a supercharged 6.2L V8 making 710 hp and 645 lb-ft of torque matched to an eight-speed auto 'box will make anything feel fast, regardless of curb weight. Indeed, Dodge is claiming a 3.5-second 0-60 mph time and also that the Durango is "the most Powerful SUV ever", which is nice. Oh, and according to Dodge, no SUV out there beats the Hellcat in the ultra-rarefied category of "trucks that can tow this much (3,946 kg) but also achieve these quarter-mile times". A time that, by the way, stops the clock at 11.5 seconds.
In order to keep the cast-iron engine's running gear cool as you attempt that wild 0-60 mph time is a new front fascia with a unique chin spoiler, updated engine oil cooler duct, and snorkel for cold-air induction. The supercharger itself actually gets its own cooling circuit to ensure that the air flowing into the engine runs no hotter than 60 degrees Celsius.
While surely most Durango Hellcat buyers are going to be doing so for its straight-line prowess, Dodge has massaged the chassis as well by changing the damper rebound setting, better grip for reduced understeer and lowered body roll. There's also a functional rear spoiler to help keep the Durango planted at speed.
Inside, the big change is the addition of a 10.1" Uconnect infotainment display – all Durangos get this as an option – but in the SRT, you get an extra suite of screens that allows drivers to choose the shift speeds, steering weight, traction control and more to better suit their needs.
If the Durango Hellcat is your cup of 40-weight, you'd better get on it because they'll only be building it for one year, and one year only.
2021 Dodge Charger SRT Hellcat Redeye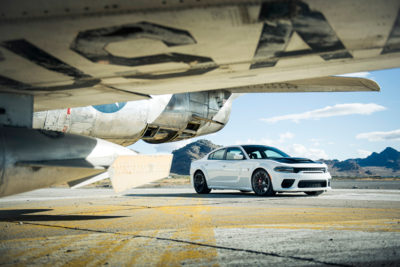 While the Durango's switch to Hellcat-ness may have come as a bit of a surprise, I'd say the Charger getting Redeye'd is less so. After all, when the Challenger Hellcat arrived in 2015, the Charger Hellcat came soon after. Then, the Challenger Redeye comes in 2021 and lo and behold, the Charger follows suit for 2021.
Like its two-door sibling, the Charger gets a detuned (if you can call 797 hp and 707 lb-ft "detuned" in any way) version of the supercharged 6.2L Hemi V8 used by the Demon. That means a larger supercharger, stronger rods and pistons and better lubrication than other Charger SRT models.
Like the Durango, the Charger gets all manner of cooling upgrades such as a different grille, airbox opening near the wheel liners and a new hood. It also gets the "Power Chiller" unit from the Demon that actually uses air conditioning coolant to help further cool the supercharger.
Which means, you can attempt to match Dodge's claimed "mid threes" (that's all they're saying for now) 0-60 mph time as well as their claimed 10.6 quarter mile time without worrying quite so much about how hot you're running. And if you happen to find yourself on a dry lakebed, you can attempt Dodge's claimed top speed, too, which sits at 203 miles per hour. 200-plus mph from a family sedan. Whooo-ah.
Of course, you need to be able to get that power down, so the Charger's widebody wheelarches are filled with 305-section tires and 20" wheels.
2021 Dodge Challenger SRT Super Stock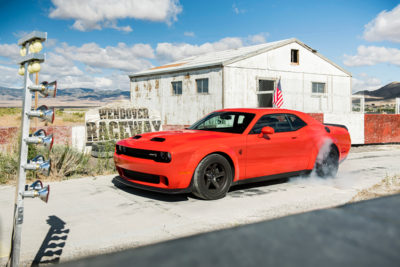 Dodge and Mopar fans will remember that name – "Super Stock" – fondly because its been used by hotted-up Dodges ever since the heyday of the muscle car in the '60s and '70s.
Like those vehicles, the 2021 Challenger looks to be the modern epitome of "race on Sunday, sell on Monday" as it is, essentially, a street-legal racer along the lines of the Demon. That means super-lightweight 18" wheels, standard – standard! – drag radials with the widebody required to house them, and 3.09 limited-slip rear diff.
Then there's the power. It gets the same supercharged 6.2L V8 seen in the deep engine bays of the other two vehicles on this list, but for the Super Stock, it gets massaged up to a positively stratospheric 807 hp and 707 lb-ft of torque. It's good, Dodge says, for a 0-60 mph sprint of 3.25 seconds – which is great – but surprisingly, it's quarter-mile time shaves just .1 of a second off the Charger Redeye, although you will cross the line at 210 km/h as opposed to the positively pedestrian 208 km/h you'll be travelling at in the Charger. Still, though; those stats aren't that different which is odd, considering the Challenger is lighter, has a whole heck of a lot more power than the Charger and receives a number of suspension modifications – including drag radials — to help clear the quarter-mile as quickly possible.
As is expected, the Super Stock also comes with the Power Chiller, as well as neat-o stuff like line-lock (read: "burnout") mode, launch control, SRT Performance Pages in the Uconnect system to control your shift times, TCS and so forth and a "Race Cooldown" feature that keeps the engine temperature at optimal operating levels.
You may not know about all this fancy hardware from looking at it, though; Dodge has gone to great lengths to keep the Challenger somewhat stealth-like, as according to them, that's what buyers of drag-car-for-the-road vehicles like. That's why you won't see any overt badging and the only real visual giveaway are those wheels.
All three of these vehicles will be in Dodge dealers later this year as 2021 models.