Wednesday, August 23, Janet & Paul's house, Sault Ste. Marie, ON — Part 1, Getting Here.
When we met five years ago, Paul and Janet were just interesting folks who made wonderful conversation in a Toronto park while our pets wrestled. But, true to dog-park etiquette, we all waited for months to exchange names and numbers. By then, we'd become fast friends. Early in the pandemic, they moved permanently to 'The Soo', a city built on trade from the locks between Lakes Huron and Superior. I've been looking forward to this visit from the start of our cross-country sojourn.
Think back.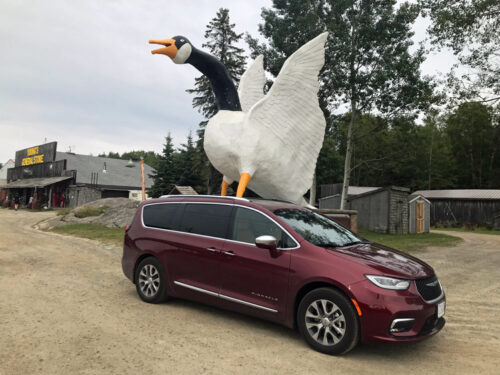 Remember when you were in school and the teacher told you that big map which showed Canada splaying outwards, like a bernedoodle in front of a campfire, was inaccurately large because the mapmakers had flattened a round surface? Good.
Yesterday, we were in a hurry to get to The Soo from over 100km west of Thunder Bay. It's nearly 900km and estimated as over a nine-hour drive — but I was hoping on some level that the mapmakers had exaggerated. There was some construction which added more scores more minutes onto the Pacifica's navi system's ETA. And an unanticipated time change to Eastern Standard added another hour.
We ended up arriving nearly three hours later than my first optimistic text yesterday morning, a lesson in how to be a bad guest. They were obliging (and probably used to my mess-ups).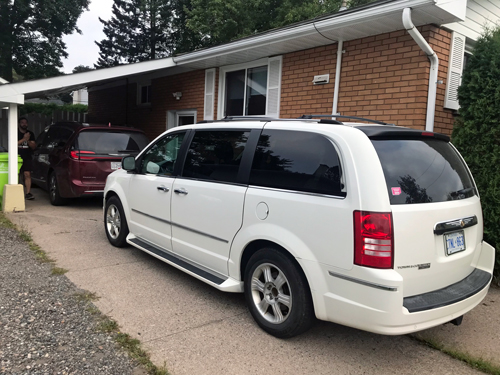 The drive between Thunder Bay and The Soo is magnificent with rocky tree-covered hills, often displaying Superior lakeside views reminiscent of those Gulf Islands from our departing drive out of Victoria last Monday.
But the mapmakers weren't wrong. Yesterday was the longest day of driving we've had yet.
So, I may have exceeded the speed limit now and then. After all, the Chrysler Pacifica contains a capable six-cylinder engine. It also handles well in corners considering it's almost as long as a Stephen King audio book. And even weighed down with a student's favourite belonging and commanded by a heavy foot at the pedal, it regularly produced fuel efficiency numbers in the low to mid-7s.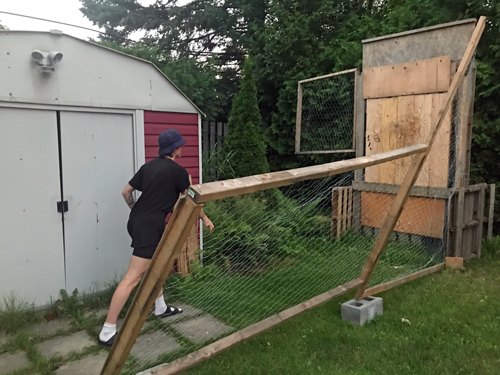 Hence, the speeding ticket given just outside of Wawa, Ontario. Wawa is a town most people remember because of its oversized Canada Goose statue (eat your heart out, Vatican!). Us? Less so.
Fortunately for us, though, the officer was gentle when she heard we were blogging about crossing the country, dispensing the minimum fine with no points. "There are different speed limits in different provinces" she admonished while I nodded, unctuously grateful.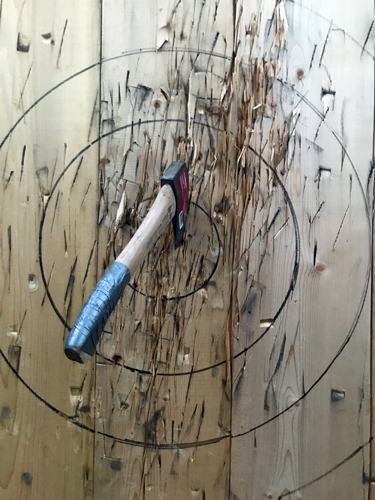 Two hours later, we pulled into these friends' home in The Soo. Finally, the plug-in hybrid minivan was close enough to an outlet to charge overnight, only the second occasion since Day 1. It gratefully uploaded the juice for the next fourteen hours.
Remember, we'd come from a night of camping and ten hours in the Pacifica. Consequently, I smelled significantly more like myself than usual, and their dog Chewie immediately jumped all over me, clearly recognizing the pervasive, emanating Steve-ness. The owner of a 2010 Chrysler Town & Country minivan, Paul meanwhile surveyed the Pacifica closely.
Paul produced pizza, beer and immediately set up an ax-throwing lane in his backyard. We threw axes between mouthfuls of deepish dish and Ontario lager. Justine's first throw was a miraculous bull's-eye. In hindsight, she should've stopped there, like when the Maple Leafs win their first game some seasons and sad fans celebrate a temporary #1 standing. Her second throw bounced off the ax-board and over the lane's ten-foot protective fencing. "First time that's ever happened," laughed Paul. No dogs or humans were hurt. (Hence, the laughing.)
One last thing: think back again; what were you wearing on that day in school when you learned about map inaccuracy? Time for bed.
Part 2, Getting Home.
The great thing about driving over ten hours in one day is that driving just eight on the next seems mild. Leaving The Soo any later than 5am would've plopped us in the middle of GTA rush-hour traffic, an experience so hellish, it makes drivers nostalgic for lockdown.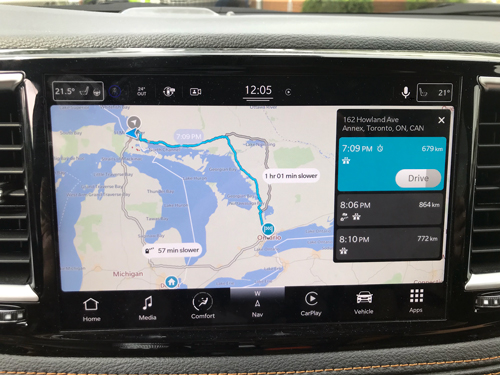 So, we decided to quit Janet and Paul's house at noon instead, after an active morning.
What activities did we do? Justine assembled her bike and rode out to Whitefish Island across The Soo's locks. (Have you read already that the bike fit easily into the Pacifica's ample space and that she'd rode several times during our stops across five provinces?)
Janet, Paul and I walked their dog around the Algoma University campus, just behind their home. It's a former residential school. There's a cemetery behind with marked graves of students. People were socializing in a nearby sweat lodge. It's all another aspect of this unprecedented summer — an especially odd time to drive across Canada.
The drive home was both the worst and the best we've had: worst because of the conditions and exponentially growing number of boneheaded drivers the closer was came to Toronto; the best because, as much as we've loved the past 13 days, it was great to be getting home. We rolled onto our parking pad just after 8pm.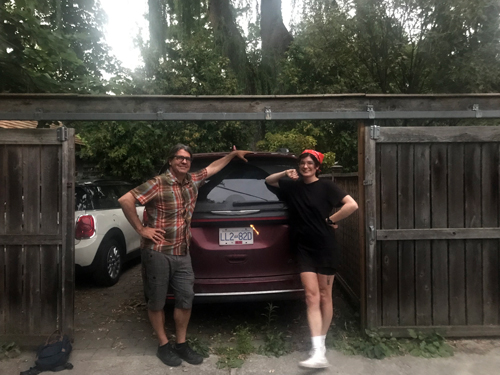 It will take weeks to birth insights from this experience that aren't just blinding flashes of the obvious, like: Canada's big; zigzagging north and south to go east is inefficient; and, if a police car follows closely on your bumper for nearly a kilometre on a lonely stretch of highway, slow down! So, for better thinking, watch for an article coming in the next Winter Edition of Vicarious Magazine.
Today, we're fumigating ourselves and the van. Tomorrow it gets dropped off at Chrysler Canada's head office in Mississauga, Ontario. A Friday on the last regular weekend of August, when we're anticipating the fourth wave, it'll easily be the shortest but also the worst drive we've done.
This was the trip, not including an extra couple hundred km in detours and assorted visits:
Day 1, pick up the Chrysler Pacifica Pinnacle Hybrid in Vancouver.
Day 2, drive, ferry, and drive to Victoria – 120km; begin moving unneeded furniture out of Justine's apartment to forever homes
Day 3, pack the Pacifica with what wasn't given away
Day 4, drive, ferry, and drive from Victoria to Osoyoos, BC – 500km
Day 5, Osoyoos to Canmore AB – 600km
Day 6, Canmore to Drumheller AB – 230km
Day 7, Drumheller to Cypress Hills Interprovincial Park SK – 380km
Day 8, Cypress Hills to Saskatoon SK – 440km
Day 9, Saskatoon to Riding Mountain National Park MB – 560km
Day 10, Riding Mountain to Winnipeg MB – 270km
Day 11, Winnipeg to Atikokan ON – 580km
Day 12, Atikokan to Sault Ste Marie ON, aka The Soo – 890km
Day 13, The Soo to Toronto – 700km