Where I live, people are surprised and often disbelieving when I tell them Canada has deserts. When watered, this one on the southern edge of the Okanagan Valley, just a few inches north of Washington State, is a Garden of Eden.
It hasn't been watered much lately.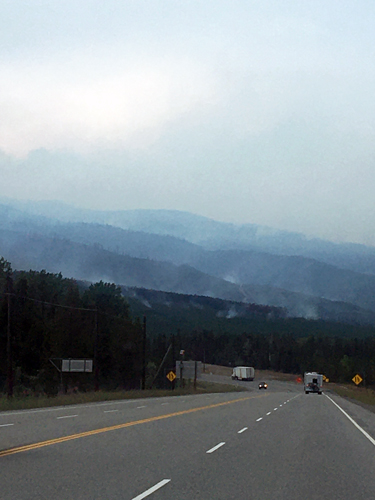 So, when someone in Osoyoos says it's been a dry year, it's been expletively dry. According to the google, this town gets a meagre 25cm annually. Toronto gets 83cm (this year it feels like far more).
That changed just a little bit yesterday.
By 1:30pm, after quitting the ferry from Victoria to the delta south of Vancouver, we drove our Pacifica Hybrid on Canada's Highway 1 through a weather system that, when combined with this year's lingering wildfire smoke, rendered all signs of scenic mountains invisible.
Then it drizzled. Then it drazzled. Then it rained! Kinda hard for about a half hour.
I'm not sure at what trim the Chrysler Pacifica comes standard with rain-sensing wipers but I'll endorse the hell out of them. As the name suggests, they automatically adjust and sweep rain off the windshield. "Oh yeah, cool," agreed my daughter when I mentioned it. She's loving the infotainment system and its dependability even in these deep valleys. Sure, we occasionally lost a few beats in songs on the satellite radio — but, mysteriously, the bad songs.
Yesterday's rain wasn't enough to make a dent in the deficit (no, they didn't get 25cm) but "I noticed my plants perk right up afterwards," Jerralyn, our B&B hostess here in Osoyoos reported.
And the drive?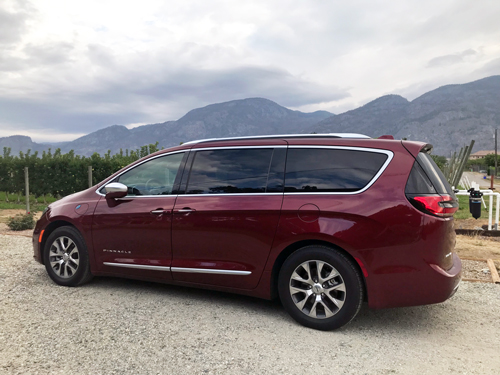 Appropriately, the skies cleared a bit when we approached the town of Hope, BC. The highway splits around there and our route on Crowsnest Highway 3, which heads southwest, was open. Yay! BC Highway 5 which leads to Kamloops was closed due to the ongoing wildfires.
"Too bad you had to come today with all the traffic," reported my daughter's friend. We'd stopped for a nature break/late lunch/early supper at a family resort in Crowsnest Pass, where this friend has a summer job teaching city folk why it's not cute to feed the bears. (They get shot and die.)
"Everyone's been rerouted because Highway 5 was closed, so now it's chaos." This was fifteen minutes after I'd commented how blessedly empty the road was versus the hell that is the GTA. Then it hit me: traffic was heavier going the other way. Fewer people were dumb enough to drive towards the danger zone.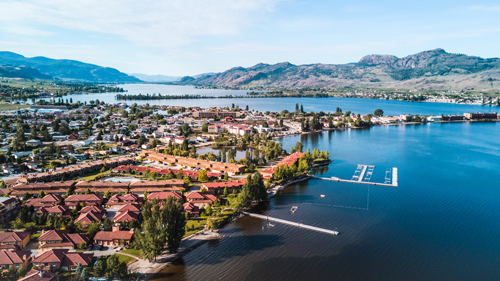 But what a drive! The steep mountains, almost vertical as bookshelves, gradually gave way to gentler slopes with wide alpine vistas. Think of the difference between moving your phone from portrait to landscape for a selfie in front of the carved grizzly at Manning Park Resort.
Today the route we've planned is open! Yay! We'll venture north through the Okanagan Valley and zig-zag over the Alberta border to Canmore on the eastern edge of Banff National Park in the award-winning Rocky Mountains.
Appropriately, our Pacifica is the Pinnacle trim.