*This interview was first published in the Fall 2021 issue of Vicarious magazine."
Christian Meunier is the newly minted CEO of Jeep, a position he took in January 2021 after spending parts of the last few decades working the car game; Ford, Mercedes, Nissan – it's quite the resume.
Now he's the man brought on to steer Jeep to bigger and brighter things. We caught up with him online to discus the striking new Wagoneer products, why Jeep and its parent company Stellantis is poised for a bright future…and the possible existence of a new woody?
V: You recently moved from Infiniti to Jeep/Stellantis, what are some of the things about Jeep, the Wagoneer or Stellantis that attracted you when you came over from the Renault-Mitsubishi-Nissan Alliance?
I didn't know about Wagoneer at the time. I only knew about Jeep, but what attracted me was very clear: I think the potential of the brand – which I still think has a lot more to offer than what we do today – was number one. The fact that it's a global brand gives us a lot more capacity to synergize between the different markets
When I entered into the job, the capacity for us to really expand and cover the various segments – I think that was very appealing.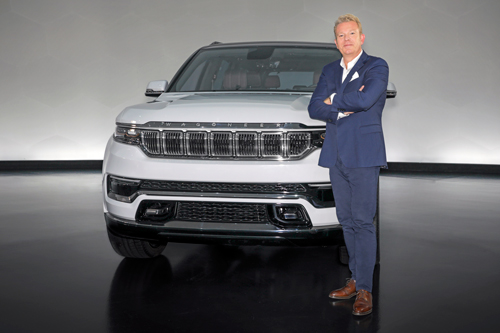 V: When the Stellantis agreement happened, is the fact that you're involved with such a large group of brands appealing to you as well?
It did appeal to me a lot. The reason is simple: I knew (Stellantis CEO) Mr. Tavares extremely well. When I worked (with Renault-Nissan) in Brazil, he was my boss and the head of the Americas. What I could see was…Mr. Tavares bringing a discipline, a rigour and some processes and cost management and who would get some significant synergize between the two companies. We are not strong in the same areas geographically and in the same segment, so that makes us very complimentary. I think the sky's the limit for the group. And I think the spirits are very good. Obviously, when you do a merger, you never know but what I an tell you is that so far, it's been a blast because people mean well, they see an opportunity, they see that the others can bring some really good stuff and I think that Tavares makes it very transparent. There's no sacred cow. We do what we gotta do, we work together and we find solutions and we get going – the alchemy is very good.
V: The Wagoneer is a very storied brand. What are some of the biggest challenges of bringing that name back into the SUV lexicon?
The biggest challenge is to get people to realize that Wagoneer and Grand Wagoneer are premium – the product is premium, and the experience is going to be premium. I have no doubt that the product is outstanding and extremely competitive – I have zero doubt. Now, we need to make – it's my job and the teams' job – to make sure that the customer experience is going to be outstanding, too. We want to make sure that the customers are treated well, that we put things in place like the concierge service so that if anything happens, the customer understands that we're there to back them up. I think that's very important.
V: Is that even more important in the luxury sector in which these vehicles are competing than it would be in other segments?
For sure the expectations are higher. I think the one-to-one relationship is even more important for those customers. The objective is to have, in each dealership, at least one Wagoneer Ambassador in sales and one Wagoneer Ambassador in after sales who have been training extensively with the product and everything that has to do with satisfying the customer. I think for that person to have a unique relationship with the customer is going to make a huge difference.
At the end of the day, nothing works always perfectly but if at least you have someone you can call who's going to be on top of your problem and help you find a solution this is fine, this is okay.
V: What do you love most now that the production Wagoneer and Grand Wagoneer have been shown? What are you most thrilled about when it comes to these vehicles?
I'm thrilled because everything about the customer experience is going to drive not only the customer experience, but it's going to have such a side effect on the rest of the portfolio. And because dealers are going to invest in Wagoneer and Grand Wagoneer, that will have a positive side effect for Jeep.
I'm not satisfied with where we are today. I think we need to do a better job. We need to take care of the customer more and I think that's going to help us.
The product is awesome – the product, I have no doubt. The Wagoneer and Grand Wagoneer are nimble, and they are fun-to-drive. They're not your typical full-size SUV – the bouncing around. This is not what it is. It's fun, it's dynamic and I think people will see the difference.
V: Can I safely say that Wagoneer is a luxury division of Jeep?
I don't think that it's luxury; I think that it's premium. I call it the premium extension of Jeep. That's what I call it, and that's what we call it internally, too, because I think it's still an extension of Jeep, but it's the premium version of it.
V: Is this a platform that could accommodate a plug-in hybrid (PHEV) style platform like a Wrangler 4xe?
I will tell you that it's coming and that it will be a whole suite of heavy electrification on this car. We're fully committed to electrification – it is a part of Jeep, and will become more and more a part of Jeep. It's a fantastic technology for us to make the nicest Jeep ever. I'm pushing like crazy on electrification because that can make Jeep so much better.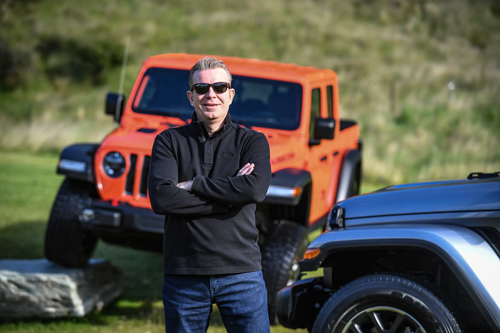 V: Here's the big question that everyone's asking: Are you going to do a "woody" version of it?
We have had so many questions about that. The design team has decided to move away from a cheezy, plastic appliqué on the car, because that's not premium. The emphasis has been on sophistication, materials used and stuff like that – the wood inside, the metal, the leather; it's genuine and it's beautiful.
At the same time, we've listened to the customers and we've had a lot of comments since the reveal. So we're working on a few different things that would be woody and would be premium in a very exclusive way. I don't know if we're going to nail it, but I hope we'll find a very neat solution. It has to look modern; it can't just look nostalgic.