By Steven Bochenek
Scarborough, ON January 15, 2020 – At +4 wet windless degrees, it's one of those creepily warm winter days you've noticed lately that makes you ponder climate change. A gaggle of reporters and suited officials from Canadian Tire, Electrify Canada and FLO are gathered in a marquee tent. It's blasting heat through its open mouth and pitched a few metres from three new electric vehicle (EV) charging stations.  We're all here to announce an important kick-off.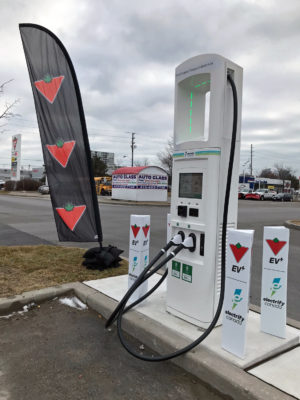 By the end of 2020, 90 Canadian Tire locations across Canada will host fast charging stations for EVs. With additional support from Tesla and you, Johnny Canuck, in the form of your federal government body, Natural Resources Canada (NRCan), the total number of fast-charging — aka Level 3 — plug-in park spots will total 240. Additionally, there will be 55 Level 2 chargers.
Counterintuitively, Level 2 is slower than Level 3. So, the numbers fall on the good side of your next back-on-the-road electric adventure.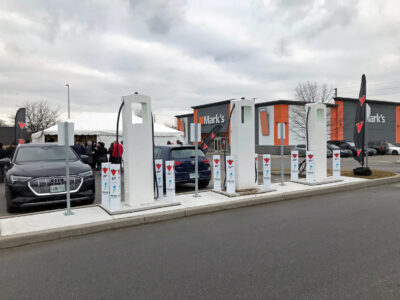 The math changes from EV to EV but a Level 3 charger can get you to 80% juiced from zero in a little over 20 minutes. That's enough time for most Canadian Tire shoppers (read, men) to shop everyone off his Christmas list. (That is, provided the charging stations are built out by December 24 at 4:30 pm and not they don't stretch their promise till the absolute end of this year.) After charging over 80%, a Level 3 system slows significantly for the final 20%. Ostensibly it's to stop your battery from going boom.
Solo, Canadian Tire is installing and will own (and earn revenue from) 54 new fast charges and over 30 Level 2 chargers at 35 locations. The rest are co-operations between them and the other partners. Tesla and Electrify Canada will build chargers on Canadian Tire parking lots but aren't donating money to the larger project.
Andrew Davies, Senior Vice President, Automotive, Canadian Tire Retail, announced how on-brand the move is for this most Canadian of companies. "Automotive is a heritage category for Canadian Tire for 90 years, and we have always evolved to meet the needs of drivers." Speaking of being on brand, last year Canadian Tire was cited by Corporate Knights as one of the Global 100 — the 100 most sustainable corporations in the world. Davis and most others in the tent clearly see this new aspect of automotive, not just as a heritage category but as the future. See above re quick, in-and-out shoppers. If Kermit the Frog was right and it's not easy being green, it's seems to be getting less difficult. There are concomitant products EV drivers will need to pick up in-store, from windshield wipers to, well, Canadian tires.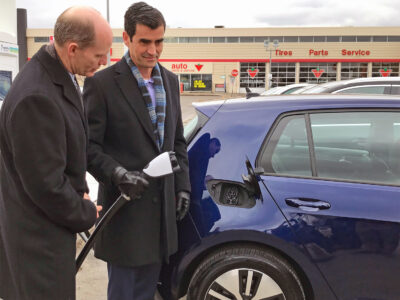 NRCan Minister Seamus O'Regan sent his regards with a deputy, local MP for Don Valley North, Han Dong. (Tesla sent nobody.) A former Member of Ontario's Provincial Parliament fer wunna them downtown elite neighbourhoods in Toronto, Dong mentions the (up to) $14,000 rebate Ontario's current provincial government canceled — no doubt a major skirmish in the war against the war against the car that the Ford Family loves to bleat about. But even here today in his present federal capacity, Dong can't help waxing local. He tells a story about his neighbours who've purchased EVs and how pleased they'll be that the infrastructure is growing beyond a few condos in Vancouver and some hotels in Yorkville.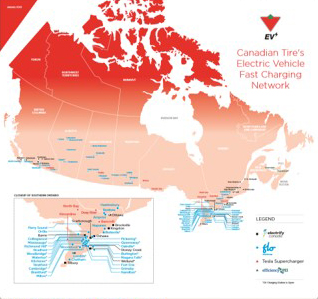 We've said before, albeit quite recently, you can now drive across Canada in an EV without having to pack an extra, extra long extension and hogshead full of Xanax. This is good news. But bottom line? NRCan recently announced an additional $2.7 million (yes, Canadian) to Canadian Tire towards these EV charging stations. That's beyond an initial pork-barreling of $1.3 million AddÉnergie for 28 fast-chargers onsite at prominent Canadian Tire stations in 2016. So, thanks Johnny Canuck.
And your own post-tax personal bottom line? There's still a national rebate of between $2,500 and $5,000 on certain EVs and plug-in hybrids. Plus, no matter what time of day you choose to recharge, a juicing will always cost less than gasoline.