There's no electric offering under the Buick umbrella yet, but that may all soon change with the debut of the Wildcat EV Concept via live-stream Wednesday. Among many other features, the sleek two-door — using the same name as an archival car manufactured in the 1960s as well as a string of preceding concept vehicles — highlights a revised design language expected to influence future production models.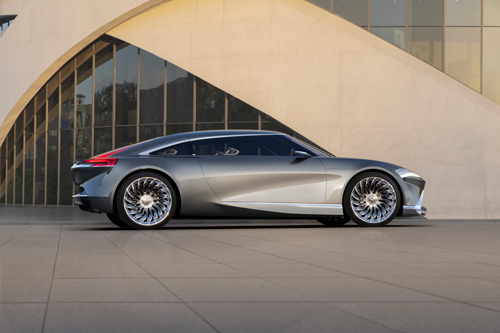 "The Wildcat leaves an unmistakable impression with its timeless proportion and low, ultra-wide stance. Wildcat welcomes you with a personalized wake up animation produced by micro LED lighting technology with thin beam projector lenses. The front fascia shows the new face of Buick, which is dramatic and impossible to ignore," says Sharon Gauci, executive director of Global Buick-GMC Design, in the short reveal film.
"Front and center of that new face is the new Buick badge now mounted on the vehicle.
This updated version embodies that heritage with a sophisticated, clean, and dramatic look. This is the badge you'll see on all new Buicks going forward."
A low, large trapezoidal grille immediately stands out, flanked by chrome bezels and positioned below angry thin headlamps. The tri-shield logo, significantly changed for the first time since 1990, Is no longer encircled and adopts a fresh palette, signifying the brand's shift towards an electric-only company.
The wraparound windshield meets the dramatically tapering side glass and roofline giving the 2+2 coupe a futuristic sports car appearance. At the same time, the 18-inch turbine wheels hearken back to an earlier era of automotive styling. When the semi-swing doors are opened, a part of the roof pops up to make ingress and egress easier — cool. At the rear, the blade-style taillights running alongside the window match the headlamps.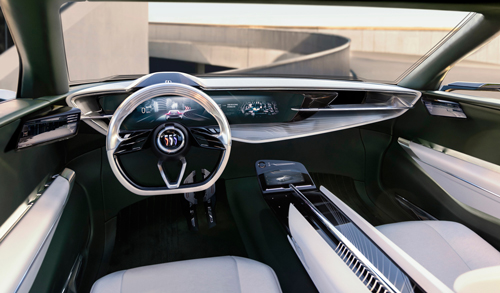 Inside, the space is intended to convey a sense of comfort and warmth. Soft ambient lighting serves as an invitation to get settled in, and the off-white/Legato Green colour scheme is soothing. The cockpit style seating with cantilevered headrests are divided by a seemingly floating centre console extending from the base of the instrument panel to the second row.
A giant touchscreen dominates the dashboard serving as the command centre for Wildcat. The smart underlying infrastructure incorporates artificial intelligence, biometrics and aromatherapy and can, for example, detect an elevation in the driver's heart rate. It then automatically activates Zen Mode, which dims the cabin lights, turns on the massaging seats and disperse calming scents throughout the interior to relax the occupant.
No powertrain specifics were presented, but the accompanying brand update announcement stated the first zero emissions Buick is arriving as soon as 2024. All EVs are set to be marketed under the Electra moniker, yet another nod to a former model from years past.