When will cars be considered for the Olympics? There is, after all, still room for talent in motorsports. Subaru's suggestion of a car and Olympic crossover discipline will however need some fine tuning.
Picture the naturally-cooled St. Mortiz-Celerina bobsleigh track located in the Swiss Alps that hosted two Olympic events in 1928 and 1935. Now picture a slightly cocky auto maker putting their Subaru WRX STI on the two-meter-wide track with every intention of rushing it down. The result is both exhilarating and cringe-inducing and goes as smoothly as you can imagine.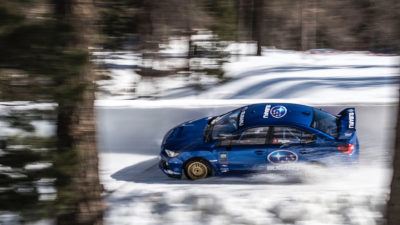 Bond-movies stunt-driver and rally champion Mark Higgins was the perfect guinea pig for the experiment, tasked with racing the car down a track usually reserved to vehicles half the size of his own. Armed with a Prodrive-prepped 2015 WRX STI, the very same car that allowed him to set a record at the Snaefell Mountain Course at the Isle of Man, and a set of narrow, studded tires, Higgins tackled the challenge of – literally – tossing the shiny blue Subie down the sled. Higgins emerged unscathed, however the same cannot be said of the WRX STI. Before heading back for retirement in the New Jersey museum it has called home for the past two years, the now-historic vehicle will have to make a pit stop at the body shop.
Was it worth it? The driver looks happy, but we'll let you judge for yourself.