A funny thing happened on the way to the shopping mall. The parking lot attendant commented how regal the 2009 Bentley Continental GTC looked in Ghost white pearlescent with Cognac leather interior. I agreed; it was stunning.
He then went on to mention how ironic it was that in Newport Beach, Bentley's were deemed the Honda Civic of the neighborhood. Only in Southern California could such a stellar automobile be so commonplace among the rich and famous. Robin Leach would be proud.
If there is a better overall luxury convertible on the road today, I haven't driven it.
I understand this is a significant statement to make, especially having spent the last few months piloting exotics from the likes of Ferrari, Maserati and Porsche to name a few. All are unforgettable automobiles to drive in their own unique way.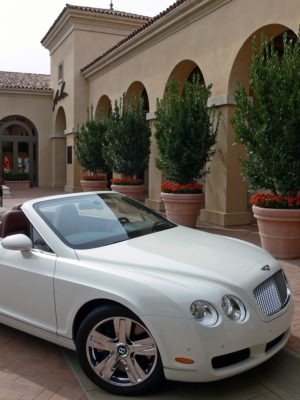 However, the more time you spend in the Continental GTC, the better you understand no other high-end sports car does so much, so effortlessly. It is the complete rock star in a posse of California dream machines.
The heart of the Continental GTC is a twin-turbocharged, 6.0L W12 engine. It produces 552 horsepower at 6100 rpm and 479 lb-ft of torque between 1,600-6,000 rpm.
Pounding the gas pedal to the floor produced a "whoop" sound that resulted in mind-boggling acceleration and a grin so wide the neighbours must have realized I was only a part-timer behind the wheel.
Zero to 100 km/h is achieved in 5.1 seconds. Matched to a 6-speed automatic transmission with manual shift and continuous all-wheel drive, top speed is rated at 312 km/h with the canvas roof up; 305 km/h with it down. Given the minor 7 km/h difference, my preference is naturally roof down. What other way is there to drive in sunny California?
The Resort at Pelican Hill is the new kid on the block in Newport Beach. But don't let young age fool you. Opened on November 26, 2008, it dazzles with first-class accoutrements in a zip code already famous for truly inspiring, 5-star luxury accommodations.
Residing on 504 acres of prime coastal Southern California real estate, the resort overlooks the Pacific Ocean with Santa Catalina and San Clemente Islands easily viewed in the distance.
A total of 128 two, three and four bedroom villas, plus 204 luxuriously appointed bungalow suites provide the ultimate oasis.
No expense has been spared at The Resort at Pelican Hill. Villas feature such standards as 60" flat screen TV's, 500 thread count linens and marble walk-in showers. Bungalow suites range in size from 847 sq. ft. to 2,486 sq. ft. and showcase 42" HDTV's with similar room accoutrements.
The Spa at Pelican Hill highlights with 23,000 sq. ft. of space consisting of 22 treatment rooms, steam rooms, saunas and whirlpools. A full spa menu compliments this extraordinary facility.
Dining is available at numerous venues throughout the property. Fine dining, Italian style is made doubly delectable by the excellent wait staff at Andrea. More casual fare is available at the Coliseum Pool & Grill or The Caffè for a quick morning coffee and muffin prior to heading out on one of two 18-hole Tom Fazio designed golf courses.
Back on the road, driving the Bentley Continental GTC in Newport Beach is a little like taking warm-up laps at the Indianapolis 500 prior to the start of the race. There is a sense of wonderment at what awaits your right foot should you decide to fully engage 500+ horsepower. But the constant patrol of California's finest is a stark reminder to pick your moments wisely and instead, be content to look good, smile and wave to the locals. The later being another sure sign I am a tourist.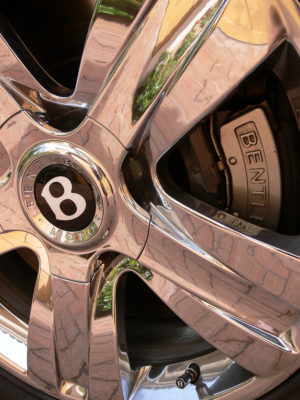 Where the opportunity did exist to stretch the legs of the Bentley GTC, I was most impressed with the irresistible power available no matter what speed is registered on the gauge panel. Corners are no match for the well-balanced, all-wheel drive 4-seater. Though small in the back for anyone over 5' 6" tall, the idea of carry four people plus luggage is another reason to own a Bentley GTC over several of its competitors.
A four-spoke steering wheel features a full-set of driving aids and paddle-shifters make the need to look down when selecting a new gear a thing of the past. Flip it and each successive gear engages instantly continuing your journey towards light speed.
Back at the resort, a brilliant California day flickered to orange and red as the sun sank beneath an ebony coastline and island mountains in the distance. The Resort at Pelican Hill and 2009 Bentley Continental GTC seems a match made in heaven. There goes the neighborhood. In a Bentley, of course!
Year/Make/Model: 2009 Bentley Continental GTC
Configuration: front engine/AWD
Engine/Transmission: 6.0-L W12-cylinder twin-turbo/6-speed automatic
Power/Torque: 552 hp/479 lb-ft
Fuel economy ratings city/hwy: 20.9/11.9 L/100 km
Observed fuel economy: 18.4 L/100 km
Competitors: Aston Martin DB9 Volante, Ferrari F430 Spider, Lamborghini Gallardo LP560-4 Spyder, Mercedes-Benz SL65 AMG Roadster
Related links:
Bentley Motors
The Resort at Pelican Hill