When you think of old money British cars, it's pretty obvious which marque comes to mind: the one with the leaping cat on the hood, Jaguar. Indeed, when your flagship sedan – the XJ Series — has essentially the same face from 1968 all the way until 2009, it's kind of hard not to picture one without thinking of tweed sweaters and newsboy caps.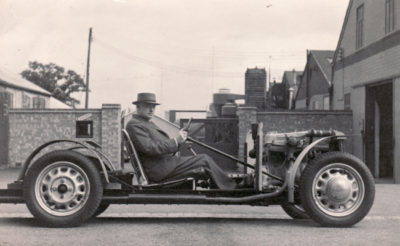 Here's the thing, though: Jaguar has nothing on Morgan when it comes to staying the course. Morgan, that plucky British brand out of a county that's better known for its sauce – Worcestershire – than it is its cars, has maintained pretty much the same design language for its popular 4-4 and 4/4 models since 1936. Further, a variation of the original steel ladder chassis (not to be confused with the wood frames often used for the bodies) has been employed by every four-wheeled Morgan built (they started off making three-wheelers, and "4-4" designates the car having four wheels and four cylinders), save for the Aero models and second-generation Plus 8. That's some 35,000 cars over 84 years.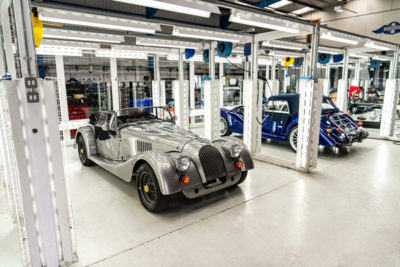 A variation of that same chassis, that is, until now.
As of July 7, the last steel-framed Morgan rolled off the line at the Pickersleigh Road factory in Malvern, UK and into the hands of a buyer described only as "a loyal Morgan customer". How loyal? Well, they also own a 1962 Plus 4 racer that won its class at the 24 Hours of Le Mans that year. So pretty loyal.
The last steel-framed car is an example of the 2020 "Plus 4 70th Edition", and it's one of 20 individually numbered examples characterized by a gold-painted chassis, platinum metallic paintwork and a few other goodies.
So if the steel chassis is out, what comes next for future Morgans?
Put simply, future Morgans will be lighter and more agile thanks to the use of bonded aluminum for the chassis. Morgan is not entirely new to the tech as the aforementioned Aero models and second-gen Plus 8 have been using aluminum for their chassis, and the 2020 Plus Four (not to be confused with the 4/4 or 4-4) also received a helping of the material for its underpinnings. Although they have gone to an aluminum chassis for the Plus 4, it still uses an ash wood frame for its body.
Same as it ever was? Partially, but with the demise of the steel frame, it is definitely the end of an era over at Morgan.