It is an unprecedented reign at the top that spans multiple decades in Canada. The Honda Civic is, has and quite possibly always will be the #1 selling car in Canada. It seems we the people of the Great White North love our Civics.
"Civic has been Canada's car for decades. It's the best-selling car in Canada for 23 years and the sedan is built at our Honda of Canada Mfg. facilities in Alliston, Ontario," said Dave Jamieson, senior vice president of Sales and Marketing, Honda Canada. "We're confident the all-new 11th-generation Honda Civic will continue to be popular with Canadian with its best-in-class features, class-leading performance and new, modern and sporty styling."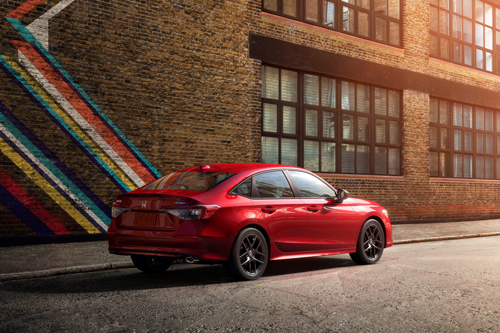 But there is a caveat with this hard-earned title and all that glitters isn't necessarily the 24 karat gold it once was. While the Honda Civic is the top-selling car in Canada, cars aren't selling as much as they once were. This is a world of sport utility vehicles and trucks, so convincing buyers a 4-door sedan is their best option has become a little more challenging than it was in the late 90's, 20's and 2010's. Enter the all-new 11th Generation Honda Civic.
When designing the new Civic, Honda decided to look backwards for inspiration, to a design philosophy called "Man-Maximum, Machine-Minimum" (or "M/M"). The focus here is on the driver and passenger, minimizing distraction and clutter, while maximizing useability and space to provide as large an interior as possible in a sedan. It's a smart approach and one that seems, in picture form at least, to deliver on its promise.
Outwardly, the new Civic looks to be inspired by its luxury brand sibling the Acura TLX, which is a good thing. As well, you notice a family resemblance to the previous generation Honda Accord sedan with the front grille and headlight design.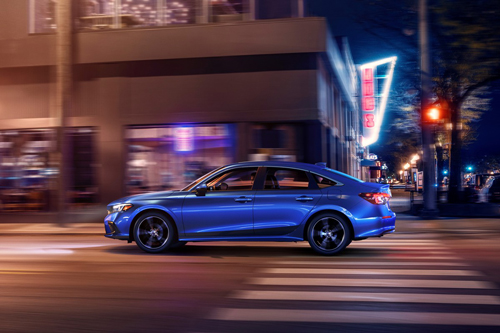 The hood is elongated for a premium look, while a low beltline delivers clean lines across the entire body. LED lighting is used front to back for improved performance and stylish looks. A total of 8 colours are available including three new ones; Meteorite Gray Metallic, Sonic Gray Pearl and all-new Civic-exclusive Morning Mist Blue Metallic.
Inside, it's the little details we may not think of that can separate one vehicle from another.
In the case of the new Civic, cutlines in the instrument cluster have been minimized to reduce sun glare. A new metal honeycomb mesh extends across the dash to offer not only a new take on "cool" dash design, but the added benefit of hiding the air vents to offer a clean, uncluttered look. LX, EX and Sport models feature a 7-inch LCD instrument display, while the Touring gets an exclusive, new 10.2-inch HD LCD display.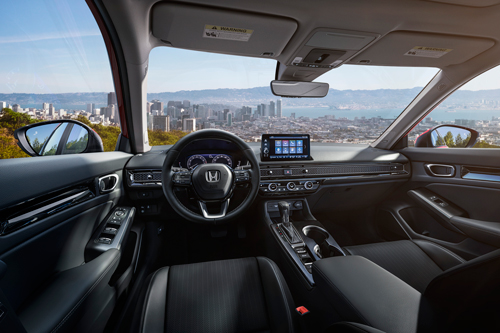 Safety is also improved with new front airbags designed to reduce severe brain injury and for the first time in the Civic, new rear seat airbags. Honda claims the body structure is the most rigid in Civic history, creating a stronger occupant cell for improved collision safety, better handling and a quieter cabin.
Power is offered two ways. Standard in the LX, EX and Sport model is a 2.0L DOHC 4-cylinder engine producing 158 horsepower and 138 lb-ft of torque matched to a CVT transmission. The Touring employs a 1.5L DOHC turbocharged 4-cylinder that delivers 180 horsepower and 177 lb-ft of torque also matched to a CVT. This is an increase of 6 hp and 15 lb-ft of torque over the previous turbocharged 4-cylinder. Purists will be sad to note there is no manual transmission offered at this time.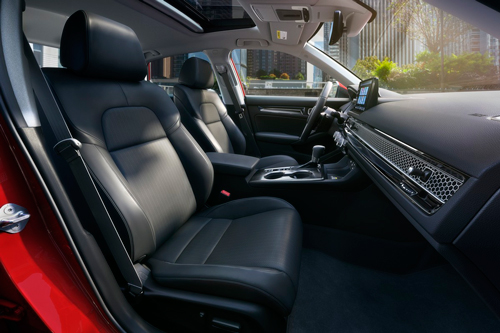 The 2022 Honda Civic sedan will continue to be built in Alliston, Ontario while the new Civic Hatchback will be manufactured in the US for the first time at the Greensburg, Indiana manufacturing facility.