Welcome to the second in a series of two stories about last weeks TestFest. It's an annual orgy of quick test-drives to determine the car market's best and best value. Participating members of the Automobile Journalists Association of Canada had to test fifteen vehicles over two days. One insightful driver packed ten into the first day, making the following one much easier. His impressions of that second day follow.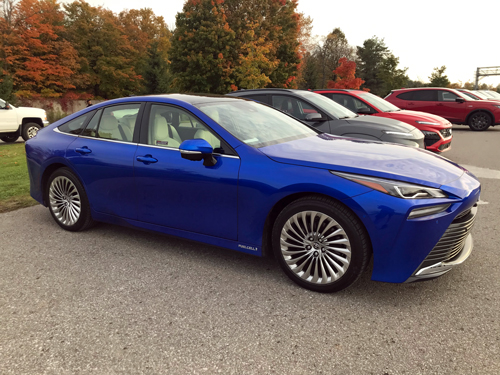 Toyota Mirai, 8:30am: This car runs on hydrogen. Really. A huge pro: hydrogen is the most common element in the universe. A significant con: hydrogen stations aren't. Good thing you can't buy the Mirai here yet. Indeed, this was a pre-production prototype. Which is a bummer, because it's also proto-beautiful and sumptuously appointed. But let's talk about driving it. Given that it was entered awkwardly into the association's 'Electric Vehicle' category, it lacked the whiplashy torque that is a hallmark of EVs. Mind, the Mirai handled well in the corners and made the heads of some construction guys swivel during my 27 minutes with it on the road.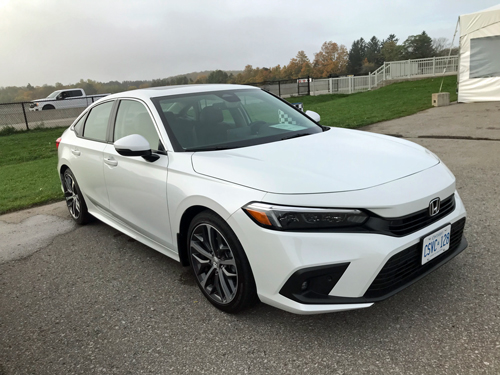 Honda Civic Touring, 9:15am: This car runs on gasoline, and rather well at that. A lean but willing-to-please 1.5-litre direct injection engine launched us into a satisfying series of challenges that some professional drivers created on a section of track at Canadian Tire Motorsport Park (aka Mosport for people who still say SkyDome™ and think of Daniel Craig as the new Bond). The course involved lots of turns, some not immediately visible. So, even though the police couldn't arrest anyone for speeding, there wasn't much genuine opportunity to do so. That is, until just before the end, a climax before a hard stop that sent the ABS juddering and the rubber burning. The Civic accelerates well, turns beautifully and, when you need it, stops suddenly.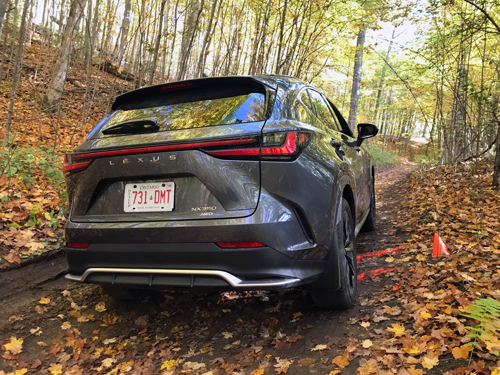 Lexus NX350, 9:40am: What a colour: apparently "Cloudburst Grey" is the new black. This sexy beast doesn't need the inflated language; nothing else about it is overstated. On the track, it whipped aggressively around corners like some teen delinquent with a stolen stereo. But throughout the off-road course, it surprised and delighted. Despite the sporty nearness to the ground — a nearness that changed so regularly, the course's designers had spray-painted dangerously out-jutting roots and rocks a vibrant orange — it ripped through the ups, downs and all-arounds of the terrain.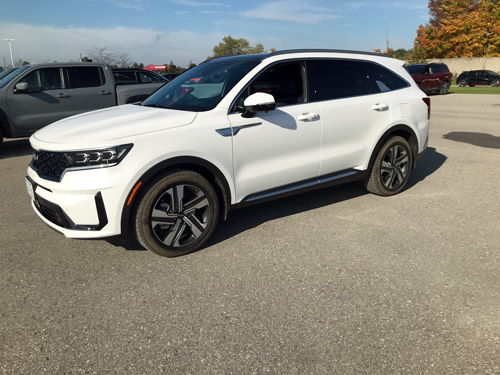 Kia Sorento SX PHEV, 10:40am: A huge and comfortable pleasure cruiser, the Sorento isn't afraid to get dirty.  On the challenging off-road course, it climbed easily when needed, never slipping. While it's a lot of vehicle to park, it fitted neatly between trees and deep muddy channels. (Note the orange paint on the tire. It was a narrow fit.) You're seated well above the action but never feel disconnected. Sure, a tight turnaround necessitated an Austin Powers 18-point turn but that would've been the case with any of the entrants in the Large Utility Vehicle category.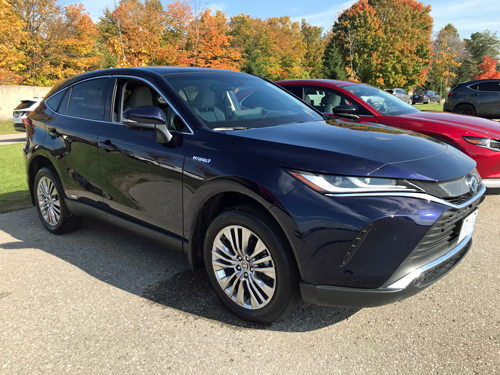 Toyota Venza, 11:30am: When he saw me getting behind the Venza's wheel, one of Canada's most celebrated auto journalists asked "Why isn't this car selling by the millions?"  It was a smart question. The Venza ticks all the boxes in this biggest of all categories and was doing the mid-sized-SUV-thing before nearly all competitors. As my final tester of 15 different vehicles in just 2 days, it ticked them all too, off-road and on the track, finishing quite literally in a box outlined with pylons for hard emergency stops.