June 8, internet — "It doesn't work!" my wife reports down the phone, summoning me to our parking pad. Welcome to Day 2 of 7 in Ford's new all-electric crossover, originally to be called the Mach-E but spiced up to Mustang Mach-E, signaling how seriously Ford wants to be taken by adding that name connoting their enormous pinnacle of success. The original Mustang captured the zeitgeist of the age. It's an interesting coincidence it was launched the same the Beatles conquered America. Yesterday, you may recall, we got the Mustang Mach-E home, attracting what today's pop culture calls the male gaze from construction workers all along our street.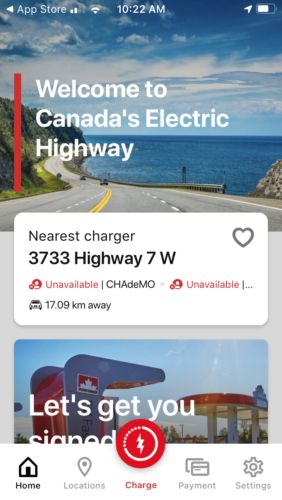 It's also Week 2 of EcoMonth, a cross-Canadian exploration of the evolution of greener technology in automobiles. Participating writers loosely follow a series of prescribed Challenges and more loosely write about them. Today was to partially used up doing Challenge 1: driving to the nearest Petro-Canada station that offers chargers for EVs, as directed by PetroCan's app. Then, we participants were to selfie our rides getting powered up at the PC juice bar, launched by and paying from the app. We'll talk more about this Challenge a bit later.
First, we have to help my wife get the Mach-E off our parking pad. She's off to the liquor store and will not be deterred or detoured.
"There is no gear shifter. There are no gears." This elicits a suspicious stare. No gears? Who are you and what have you done with my husband? "See the little puck thing by the armrest? Turn it from P to R, then gently press the accelerator."
(Question: Do we bother correcting people who call an EV's accelerator a gas pedal? And does that make us, ahem, pedants? Apologies, it's been a mirthless 15 months.)
"Oh, it does work. Never mind." And she's off. "It's very quiet," she reports through the window. "Yes, it's electric." Picture the penny dropping.
To be fair, when she saw the Mach-E's bright red paint job and that iconic feral pony badge, she'd made some assumptions about American muscle cars, expecting the ignition to hail a 21-gun salute. She'll be back in about a half hour, so we can return to Challenge 1 of EcoMonth's Week 2.
By doing the Challenges and sharing the experience with you, participating authors can earn points which they can later trade for faabulous prizes. In this first challenge, we photograph ourselves loading up the battery at the PetroCan that's both nearest us and a major highway, then write about it. Gosh.
Now, when's the last time you asked yourself: Can I read a story about someone inserting a plug into a socket today? I'm willing to be that, even during the dullest months of the lockdown, it wasn't in this millennium. Still, a chance to win a $50 gift card for stores that still aren't open is a chance to win a $50 gift card for stores that still aren't open. So, let's do this Challenge #1.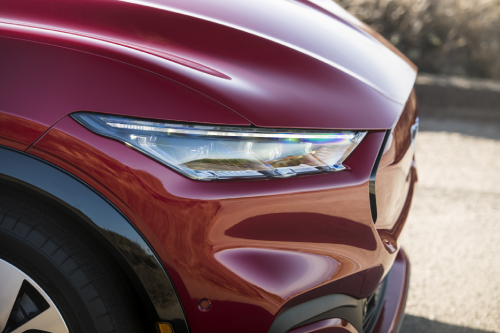 After 15 months of avoiding stores, are your phone, tablet and computer nearly overflowing with data too? This morning, eyes dim after 15 months of staring at nothing but screens and a depressed retriever, I resentfully download the Petro-Canada EV app and look for the closest PC juice bar. What! It's over 17km away and in deepest suburbia where — there be monster trucks there — it's easy to get lost because every block looks the same.
Problem: The First Edition trim of the Mach-E has an estimated total range of 435km. And the one that was on our parking pad till fifteen minutes ago still has 94% of a full charge left. A fact which launches a conundrum: Say I do go out for a pyrrhic recharging of what wouldn't be 10% more. Even if I do share the experience with you, including some points regarding the Mach-E's green tech, like an EnerGuide tailpipe emissions rating of 10/10, a mark which wasn't even bell-curved* — is the experience being shared actually ecological?
The plot sickens: PetroCan's app reports that the two charging posts at the station 17km away are actually unavailable! Then it occurs that maybe they're only unavailable because I haven't yet surrendered my data to the app beyond my location. PetroCan wants to know more about their users now before they get hacked by some zitty Ukrainians.
What's that? My wife's back. One sec.
"Wow, it'sreelleenice onceyougetused to the size." Relatively speaking, the Mach-E's only big because she drives a Mini.
"And I love how it goes fast so fast." Remember we talked about the penny dropping? Welcome an EV conversion. When you don't have gears, you can get almost full power almost instantly. EVs are quiet rockets. "Let's take it out this weekend and find a patio in the country."
Yes, Ontario's moving into Phase 2 this Friday and we'll be allowed to sit on patios again. Maybe there'll be a patio near a PetroCan with available charging stations. Either way, to be continued.
* 10/10 on tailpipe emissions is pretty easy to score when you have no tailpipe.