Last week, the Automobile Journalists Association of Canada (AJAC) conducted TestFest, an annual orgy of quick test-drives to determine the market's best and best value. The event was conducted at Canadian Tire Motorsport Park, an oasis of noise, exhaust fumes and burning rubber in the hilly, leafy countryside northeast of Toronto. AJAC members had to test fifteen cars in two days and many got carried away. One idiot drove ten on a single day. His impressions follow.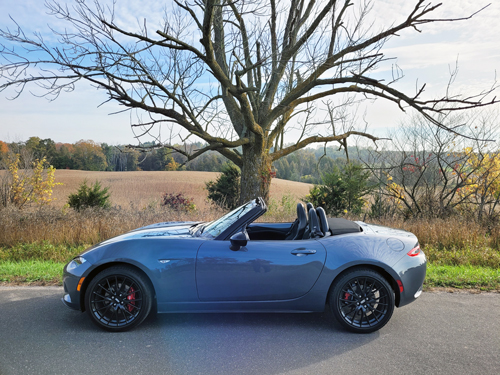 Mazda MX-5, 9:34am: "They just keep making it better and better," another auto-writer/fanboy gushes as I exit the Miata (a stubborn purist's name for the MX-5). For such a tiny car, it shows off as much branding as a '90s rapper. Such tight tuning produces a great back massage. I wanted to take it on the Canadian Tire o-Kart route.
Infiniti QX55, 10:03am: This SUV doesn't so much handle as float like a magic carpet on the off-road course, a series of craters, narrow channels, cliffs and mud-moguls. Have a decent income with a family property in rough terrain? This is the vehicle for you. A sleeping baby wouldn't stir despite the constant pitching and ditching into two-foot drops and 120-degree turns on steep wet climbs.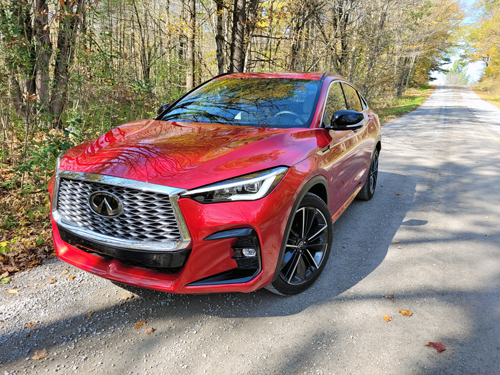 Genesis G70, 10:26am: The sporty yet luxurious cross-stitched leather seats boast such exquisite detail. But it's a pity you won't notice them during the three laps on the truncated track course, designed to test the car's dynamics and driver's skills. Featuring tight steering and tuning, the G70 subtly does a lot of the work for you, while delivering a thoroughly satisfying driving experience.
Genesis GV70 (the SUV), 11:00: Another transformative thrill. Taking this honeyed ride on both the track and off-road course made me wish I'd done the same earlier with the QX50. The Genesis performed heroically on the many different surfaces. Like its sister sedan, it makes you feel like you're a better driver than you probably are.
Hyundai Kona Electric, 11:20am: After the two SUVs above, this EV didn't feel quite as balanced on the track, especially through the slalom course of cones. But, heavens, did it zip to attention when the accelerator was depressed. And it loved the off-road adventure, torquilly flitting up the muddy slides and bonking amidst perpendicular roots shooting out of the hills and holes. Spoiler alert: Turns out the Hyundai didn't want us taking it off-road.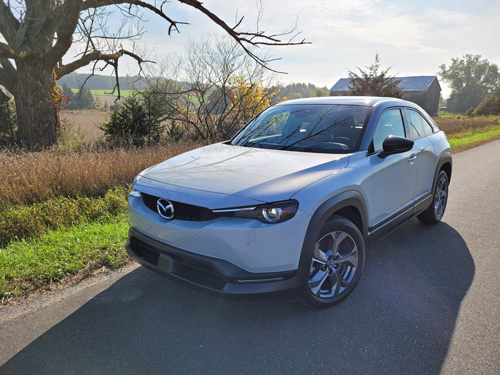 Ford Bronco, 11:50am: Imagine driving a bouncy castle possessed by the devil. The Broncosaurus can go pretty much anywhere with bullheaded confidence. And did. Its grip is more evocative of a giant spider than a wild horse. According to TestFest rules, any SUV was allowed on the off-road route but only three vehicles — one of which was this beast from Ford — could do the all-terrain course. The two paths split after 400m, then united for about the same distance on the way out. And it was on this exit route that the aforementioned Kona EV got stuck in the mud with another VICARIOUS driver piloting it. On my recommendation, he'd taken it off road and into the mud; the Bronco and I sat for five minutes before simply finding a way around him in the stuck Kona.
Mazda MX30 EV, 1:24pm: This electric vehicle was reluctant to start at first, having charged to just 47% during the TestFest lunch break. It had plenty of juice but just didn't want to leave Park. Weird. So, I turned it off completely and rebooted. Then it hummed that almost silent alto note that means 'Ready!' It lapped up both dynamics course and the off-road challenge.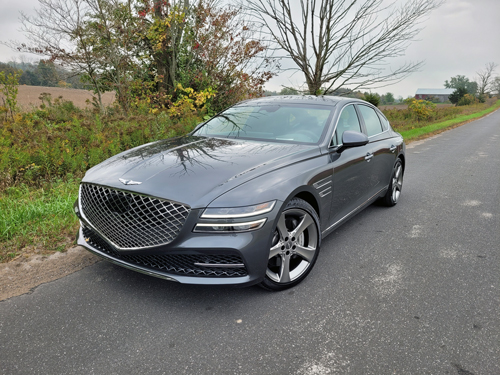 Genesis G80 Prestige, 1:50pm: Unlike so many of TestFest's rides, this luxury sedan wasn't allowed in the muddy woods — just the track (heh-heh!). So, fire the butler and holler, "Thrice around the park, my good man!" With a 3.5L twin turbo engine that puts out 375hp and 390 lb. ft. of torque, it's an agile gorilla in a silk evening suit. Out on the roads of Durham County, its 21-speaker Lexicon Premium Audio system demonstrated superb engineered with perfectly placed baffling to silence the roar of the engine. The satellite radio, playing modern jazz of course, sounded so vital you could almost touch it.
Subaru Outback, 2:15pm: A great all-round option for adventurers. At speed in the corners on the dynamics course, the Outback defied inertia despite its gangly height. In what was becoming a sloppy Passchendale after this afternoon's staccato of rain showers, it practically defied gravity.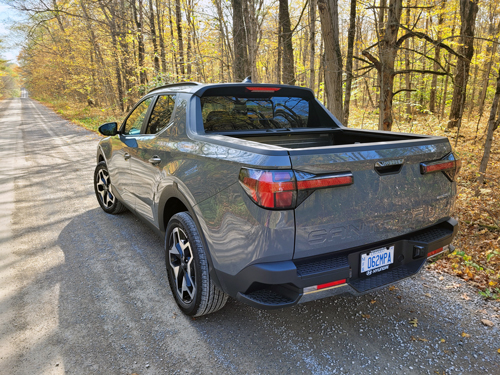 Hyundai Santa Cruz, 2:42pm: The electronic steering felt a bit artificial weaving through the slalom course but its precision balance delivered us safely and easily through the tightest corners. Off-road, the recent rain had zero impact. It didn't slip once and danced through the spot its sister EV got stuck.
Kia K5, 3:05pm: It has good power but the stiffness of the steering had me wrestling for full control on the dynamics course. As welcoming and sporty as it looked, the seat never quite felt comfortable. Maybe it's time for a break. It's been a busy day.
Day 2 next!