BMW is unleashing a new artist on a fresh car to create its 20th BMW Art Car. American Julie Mehretu will take the blank carbon fibre canvas that is BMW's M Hybrid V8 endurance race car and turn it into fast art.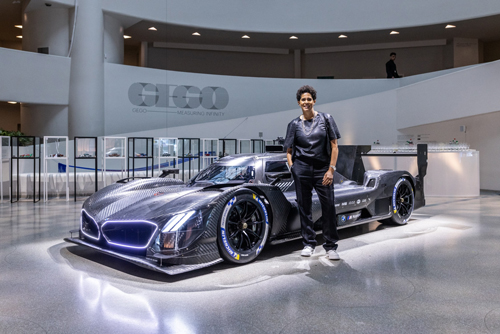 The manufacturer will run the art car in the prototype class at the 24 Hours of Le Mans race in June 2024. It will mark BMW's first return to Le Mans in the prototype class since it won in 1999 with its V12 LMR.
Mehretu has known about the project since 2018 when a jury unanimously selected her. She is best known for vast creations that layer paper and paint and take a lot of time to complete. This project will challenge those norms.
At the end of June 2023, when BMW unveiled the car and the artist to the world at a glitzy event at the Solomon R. Guggenheim Museum in New York City, she said she was not entirely sure exactly how she was going to transform the racecar into a rolling work of art. She has less than a year to execute.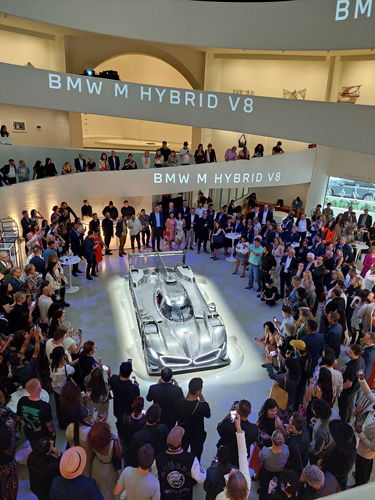 It's not that she's been procrastinating. Mehretu spent time with the BMW team at the 24 hours of Daytona race earlier in the year, soaking in all she could about the car and how it is raced. It was her first time at a racetrack, she said, and it provided huge inspiration.
Watching the cars sweep by as nothing but a blur at speeds over 300 km/h resonated with her thinking about the state of the world and the tremendous uncertainty we all face. She said she plans to incorporate that connection in her artistic interpretation.
"I've loved cars for most of my life, as toys, as objects, as possibilities. It is from that space that I'm really excited to be working on the next BMW Art Car more than anything," Mehretu said. "The thrill of the speed, the 24 Hour race of Le Mans and what is possible to invent in hybrid and fully electric vehicles as future modes of play and pushing ahead into new terrains.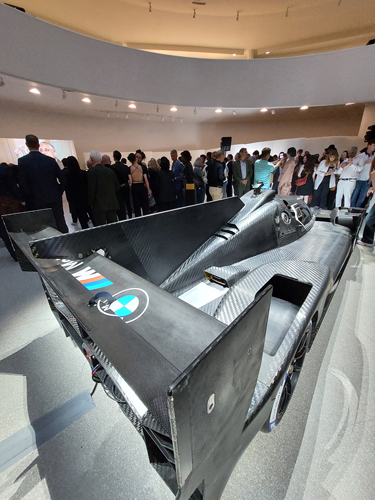 Timo Resch, BMW M's vice-president customer, brand and sales, said at the launch that Mehretu has full creative freedom in her design. But there is a lot riding on it for the BMW race team. They are in it to win it, and the car is an aerodynamic work of art all on its own. Anything Mehretu does will have to colour between the lines, so to speak, to ensure that the car's performance is not compromised by extra weight or drag.
With a hybrid drive system making around 640 hp from a 4.0-litre V8 gas engine supported by an electric motor, the 1,030-kilogram car has a top speed up to 345 kph. It is currently competing in the GTP (Grand Touring Prototype) class of the North American IMSA endurance racing series, and will return to the FIA World Endurance Championship in the 2024 season. It will be the first BMW M prototype to compete at the 24-hours of Le Mans since the BMW V12 LMR won in 1999.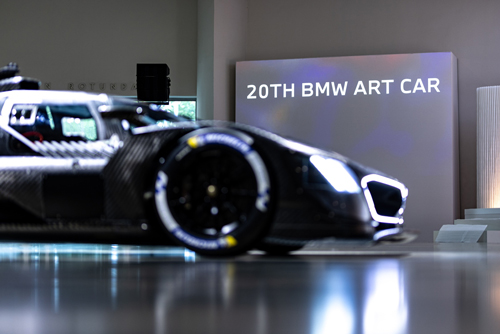 Mehretu is not the first artist to step up to the challenge of creating a competitive racecar. The original art car was created in 1975 after French race driver Herve Poulin invited Alexander Calder to paint a 3.0 CLS, which then went on to run the Le Mans 24 hours. Since then, artists such as Frank Stella, Roy Lichtenstein, Andy Warhol, Jenny Holzer, Jeff Koons, Cao Fei, and John Baldessari have created their own versions on different platforms.
But none has yet captured the 24 hours of Le Mans top step. That will be up to Mehretu and the BMW team for 2024.