Cadillac is making waves this week with the release of the Celestiq, a flagship shooting brake (plus two doors) style EV cruiser that's not just trying to be the top Cadillac, but one of the most exclusive models from a mainstream manufacturer.
Taking its cues from everything from the 1933 V16 Aerodynamic Coupe through to the 1957 Eldorado Brougham and beyond, no two Celestiqs will be alike as every customer will be treated to an exclusive buying process. We're talking going straight to the top, here; customers won't just be working with their dealers; they will liaise directly with members of the Celestiq's design team to help craft their own unique design – for a cool $300,000 or so. Forget mainstream manufacturers; this is some proper Rolls-Royce stuff.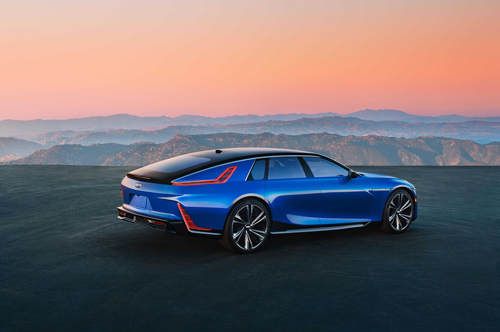 No matter how they design it, however, they will all be getting the radical long hood, hatchback style body that looks like a limousine with a tailgate (though being a 2+2, it only has seating for four), and as much as they're drawing on inspiration from old Caddys, you won't find many past the most eagle-eyed Cadillac observer that will be able to see any cues from days gone by. This is as ultramodern as it gets, and the fact that we'll actually be seeing it gracing our roads – if we're lucky – is a very neat look at the modern car.
Speaking of modern: being an EV, it should come as little surprise that it rides on General Motors' new Ultium EV platform, packing am 111 kWh battery pack, 600 horsepower and 640 pound-feet of torque. It is a dual motor set-up, meaning all four wheels can receive power if need be. Expect a range of 483 kilometres on a single charge, or about 300 miles. Look for its 190 kWh max charging capability to return about 125 km of range in 10 minutes.
Of course, this being a top-flite luxury tourer power is one thing, but ride quality and handling play an equally important toll, if not an even more important one. To that end, the Celestiq gets the fastest reacting magnetic ride control available on the market today, rear-wheel steering for more stability at speed and to help reduce the turning radius at slower speeds, specially-developed quiet ride tires and air suspension. The way the batteries are mounted low down and horizontally, meanwhile, means they're part of the car's structure and allows for a much more lower centre of gravity and ride height for better aerodynamics and body control.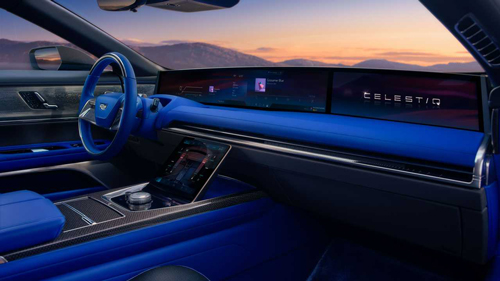 As techy as it looks from the outside and as techy as all that running gear is, it's matched by the goings on inside. There are five digital displays with the largest measuring 55" and spanning the width of the dash, as well as 41 speakers – forty-one speakers! – and a fixed-glass roof that can be tweaked to allow as much light – or as little – inside the cabin as the occupants see fit.
Carbon fibre construction, real sand-casted aluminum interior pieces, power open and close doors that will have no door handles even at production, and even a choreographed lights show as owners approach – it's all here, and it's all here to put the wood to the top player sin the ultra-luxury segment. Good on Cadillac for taking such a risk here; we'll be watching very closely to see how it all shakes out.