The Ford F-150 Raptor is already an F-Series in beast mode. Even when it dropped two cylinders and added two turbos for the 2017 model year, it had all the good stuff that made the Raptor what it was, just with more power and requiring less fuel.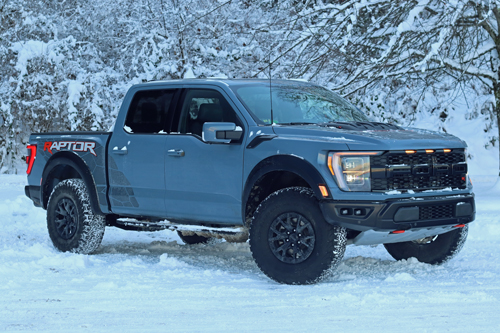 Here's the thing, though. When it comes to halo vehicles like a version of a vehicle that has been a top-seller – well, the top seller, really – in Canada for over 50 years, people tend to vote with their heart more than their brains. That means that even if the sixer made more power and even if it used less gas and even if they used computers to make it sound like a V8, it was never going to be quite the same. Having driven it, I tend to agree. It's a great truck, but…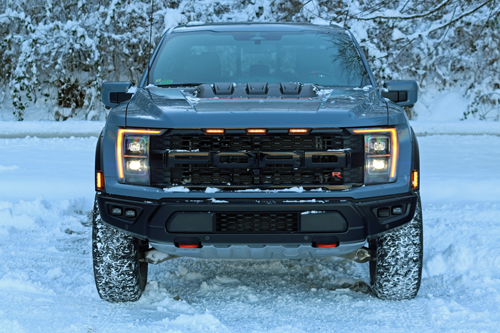 …there's a reason they've come out with the "R" version for 2023. It gets a V8, and not just any V8, but a supercharged 5.2-litre "Predator" V8  shared with the most powerful Ford ever to hit showrooms, the latest Shelby GT500 Mustang. That means – wait for it – seven-HUNDRED horsepower and 640 pound-feet of torque. That is an eye-watering number and while the Ram 1500 TRX makes a little more, forget about it. This thing is as crazy as a truck with seven times 100 hp should feel.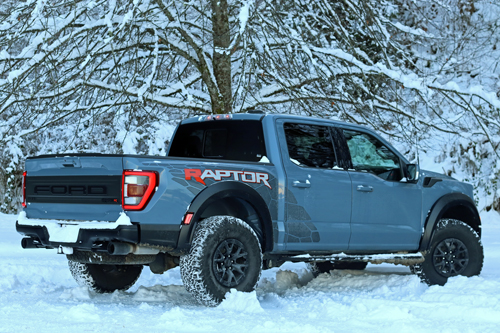 It is just so very satisfying to plant that right foot, here the s'charger wail as it comes on boil and fling yourself down the road a pace that can only be described as torrid, and even that's probably being just a little conservative. I mean, when you're doing that kind of speed on 37-inch off-road tires and Fox dual-reservoir off-road dampers in Baja drive mode, there are few words.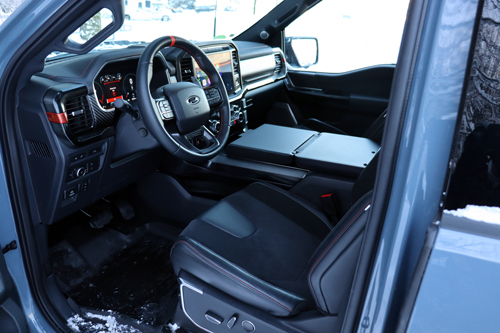 It's hammered to all four wheel via a 10-speed automatic transmission with a manual shift mode, and even the paddles used to operate said 'box are special, being crafted from real magnesium and must measure six inches if they measure one. Even their action has been given such authority that they really do feel like something you'd find in a low-slung sports car.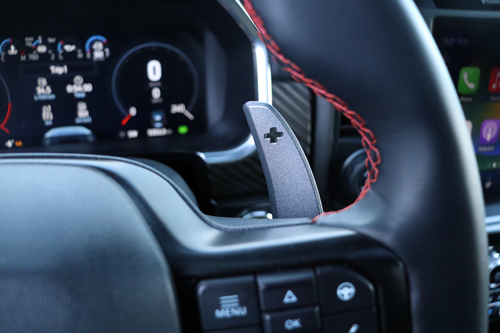 Same goes for the seats, if not the seating position; these are specialized sports seats developed in partnership with Recaro that are comfortable and supportive. Other interior bits like carbon fibre inserts, some contrast-colour stitching and a steering wheel with a red centering band all serve to drive the point home that this ain't your carpenter's F-150.
But here's the thing; even with all that, you still get so much of what makes the F-150 as popular as it is. Stuff like a massive infotainment display with wireless Apple CarPlay and Bang & Olufsen sound, or the shift lever that folds away to make room for a two-foot long flat surface and flat rear load floor. Not only is it powerful, but I'd argue that it's almost as practical as any other truck in the line-up and to put a bow on all this, you can drive it around town at pedestrian speeds (with the exhaust note turned to "Quiet") perfectly comfortable.
Yes, I'll have some more of that, please.