Disappearing from the North American automotive landscape 20 years ago, the Integra is back, baby. Acura revealed the prototype vehicle via live-stream on Thursday and announced a production version is in the works.
Looking quite eye-catching even on video thanks to the coat of Indy Yellow Pearl paint, contrasting against high-gloss Berlina Black roof and trim pieces — the former borrowed from the NSX and paying homage to the Phoenix Yellow 2000-2001 Integra Type-R — the iconic model will for the first time utilize a factory-turbocharged engine.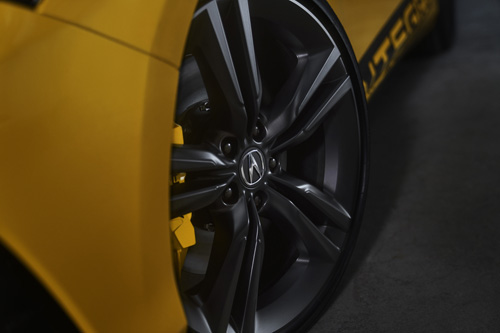 A 1.5-litre mill is responsible for driving the (front, most likely) wheels and features performance-enhancing VTEC variable valve timing technology, naturally. Providing stopping power are oversized Brembo brakes, matching the body colour, hiding behind huge 19-inch matte split-five spoke wheels.
Though the prototype is not a two-door as offered on previous generations, it's still a hatchback with coupe-like sloping roofline and lift-back tailgate. Enthusiasts may notice the car bears a strong resemblance to the TLX, especially the front fascia containing a Diamond Pentagon grille and JewelEye LED headlamps housing "Chicane" signature daytime running lights.
Other nods to the previous vehicle include the model name embossed under the driver's side headlight and passenger's side taillight, and a prominent lower-sill graphic. Check back for more details to be released closer to production in the first half of 2022.