While the Porsche GT3 and big wings kind of go hand in hand, the German manufacturer had a trick up their sleeve with the last version of the car when they revealed the (mostly) wingless Touring model. I say "mostly" because there was a self-activating rear wing, but that's a pretty far cry from the scaffolding the standard GT3 and GT3 RS had.
Thing is, it took off; all that power, all that chassis tuning and performance but without having to shout about it – that turned out to be a recipe for success.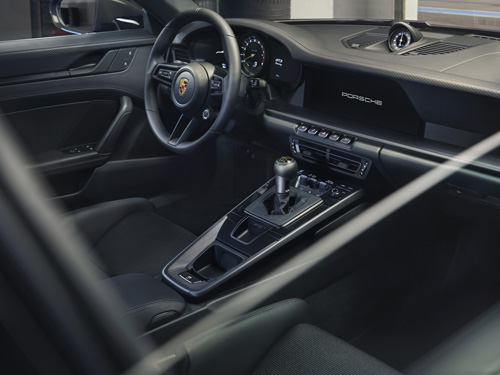 So much so that they've gone and done it again, recently revealing the current "992" GT3 a Touring version of its own. Once again, the big fixed rear wing has been eschewed in favour of an automatically deploying number and once again, it comes standard with a six-speed manual transmission – a popular item last time 'round. This time, though, you can get a dual-clutch PDK auto which wasn't an option for the previous car.
While this is the latest version of the most modern 911, the "Touring package" actually goes back to an option you could spec on the 1973 Carrera RS, hitherto one of the most popular 911 variants of all time.
Dead giveaways that the GT3 Touring is a little more than your typical 911 include "GT3 Touring" script on the engine cover out back, satin gloss black exhaust tip and dark-tinted headlamp lenses.
Inside, black leather is the order of the day as it covers pretty much every notable surface, with the biggest exceptions being the centre seat panels and roof liner all finished in black fabric. There's also a sprinkling of black aluminum bits inside, and embossed Porsche crests on the headrests.
Power from the 4.0-litre naturally-aspirated flat-6 (one of only five current Porsche models that don't use turbocharging) is rated at 502 horsepower and 346 pound-feet of torque, and being rear-wheel-drive only helps keep weight down to 1,418 kilos so looks for sub-4.0 second 0-100 km/h times.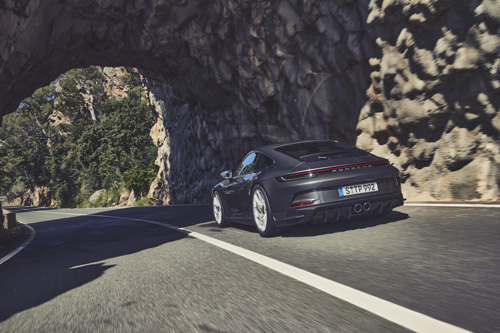 Helping you bring all that back under control are optional ceramic brakes as well as standard Michelin Pilot Sport Cup 2 tires, or optional Cup R tires. Don't let the lack of a rear wing fool you; the GT3 Touring will still be able to cut the mustard on-track.
As a bit of a cherry on top – well, cherry on your wrist, anyway – is a wearable chronograph that comes in six different version depending on which car you spec, and is styled to evoke the GT3 Touring's wheel design and the yellow chronograph hand is coloured to match the colour of the rev counter. The strap, meanwhile, is made up of the same leather that is found inside the car itself. It's produced by an in-house timepiece manufacturer.
The best part is that the Touring package comes at no charge over the standard GT3, which is priced at $180,300 in Canada for 2022.