The Nissan Pathfinder has been in existence for 35 years. It all started in 1986, back when Wayne Gretzky was in his prime, Apple was still new in the market, the Concorde flew regularly from London to New York and Prince Charles and Princess Diana were traveling the globe together. Well, mostly together.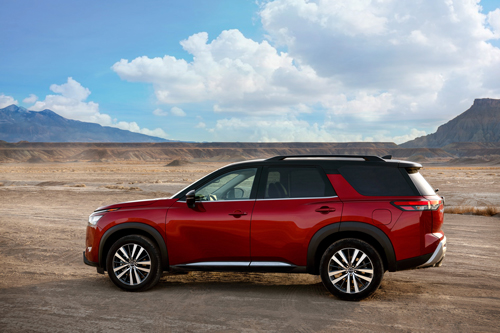 When I initially heard that comment at a recent Zoom reveal of the all-new 5th Generation Pathfinder, I was a little shocked. For me, it is hard to remember a time when there was no Pathfinder, the brand is one of those iconic sport utility vehicles that seems to have always been here. And while not every iteration of the Pathfinder has been as memorable as the name might suggest, Nissan is about to impact the SUV marketplace with a vehicle that is certain to turn some heads. A new path forward has been found and it looks intriguing.
Over the years, Nissan has sold 186,000 Pathfinders in Canada. For at least half of that time, SUVs were considered an anomaly, a potential substitute for the minivan or wagon, assuming you didn't mind a rougher ride and a more truck-like driving experience.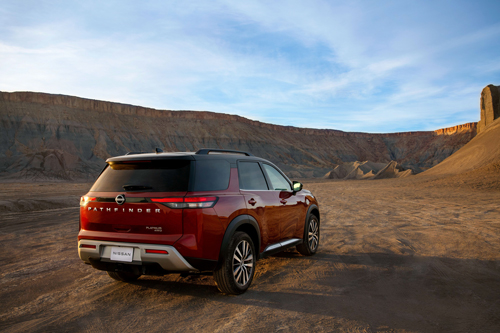 Of course, that has all changed and now it is impossible for an automaker to thrive without offering numerous SUVs and CUVs in their portfolio. With this change in the market comes the need to deliver an exceptional sporty and utilitarian driving experience and do so in a package that stands out from the rest. Enter the 2022 Pathfinder.
Nissan describes it as rugged, with bold new muscular looks. Exterior details pay homage to the original three-slot grille. The stance is athletic and minimalistic, not so much a compromise, rather a successful blending of the two. Today's SUV must demonstrate it can tackle the offroad as well as the everyday, and the new Pathfinder appears to have found a good balance. Signature C-shaped LED headlights and floating C-pillars that allow for a two-tone roof up the visual appeal.
Inside, there is room for up to eight people, with the potential for two captain's chairs replacing the center bench should you decide to go all in for the Platinum edition. Nissan says their inspiration for the interior comes from adventure gear. Surfaces are wrapped in luxurious quilted materials with available new semi-aniline leather and brushed metal accents. The word Pathfinder is boldly stamped into the center armrest, just in case you forget what vehicle you are in.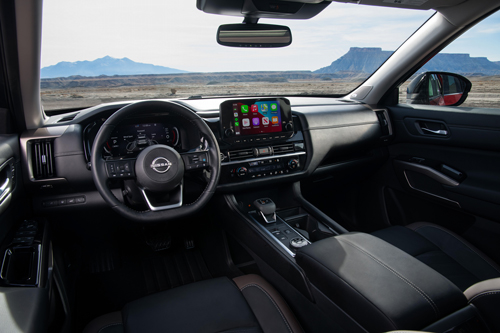 Technology is everywhere, but it doesn't appear to overpower the driving experience, rather enhance it with a standard 9-inch touchscreen, newly designed air vents and 5 available interior environments. The Platinum edition raises the bar again with a standard 12.3-inch digital display and 10.8-inch head-up display. Nissan Safety Shield 360 is standard on Pathfinder, including such features as intelligent forward collision warning (two vehicles ahead, not just one), rear door alert, intelligent headlights and much more.
Under the hood is the esteemed 3.5L V6 engine matched to a 9-speed automatic transmission. No CVT here. Performance numbers indicate 284 horsepower and 259 lb-ft of torque. Electric power steering should provide a competent and sporty driving experience. Towing capacity is rated at 6,000 lbs, which means it can handle a boat or trailer with relative ease. Four-wheel drive capability provides 7 unique drive settings; Standard, Sport, Eco, Snow, Sand, Mud/Rut and Tow.
Four levels of trim are available for the 2022 Nissan Pathfinder; S, SV, SL and Platinum. Additionally, there is an available SL Premium Package that adds 20-inch alloy wheels, head-up display, wireless charging pad and 12-speaker Bose premium audio. The new Pathfinder is expected to reach dealerships this summer.