I'll be honest when I say that I had to call up Mitsubishi's website to see what exactly it is they're selling these days. I mean, I'll always hold the Lancer EVO line in high regard but I just don't tend to see many triple-diamonds in the traffic circles I frequent. I'm betting Mitsubishi is looking to change that trend with their all-new, fourth-generation, 2022 Outlander.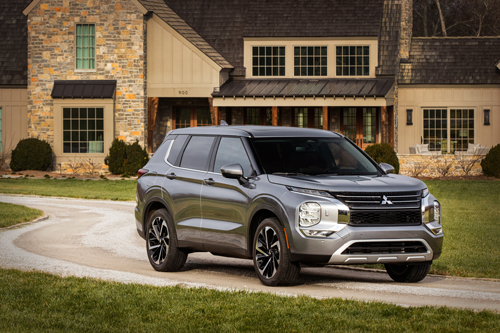 Built upon a platform shared amongst the Renault-Nissan-Mitsubishi Alliance, the new Outlander certainly has a "Rogue-ish" character to it, at least on the spec sheet. It's powered by a 181 horsepower, 2.5-litre four-cylinder engine that's mated to a CVT that channels power to an electronically controlled 4WD system. Super All Wheel Control (S-AWC) and Active Yaw Control (AYC) are integrated along with six selectable drive modes to help the Outlander find optimal traction in a myriad of situations and we're told Mitsubishi's engineering team went to great lengths to refine the drive and ride characteristics to help this Mitsu stand out in a fairly crowded market that's currently dominated by the RAV-4 and CR-V.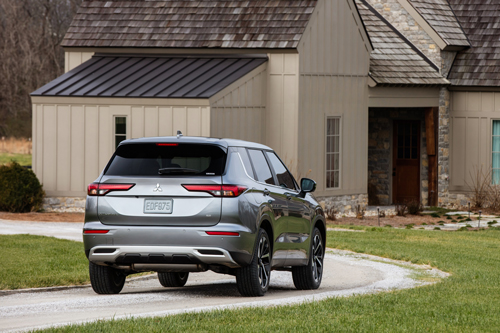 Visually, the 2022 Outlander should have no trouble making itself found. The revised front end, while a clear evolution of what the RVR currently sports, has an architectural handsomeness to it that works well on this larger platform. At first glance, the wide, low-lying headlights felt a little weird but they're growing on me and the triple-stacked and flared grill exudes the popular waterfall trend without appearing too derivative or offensive.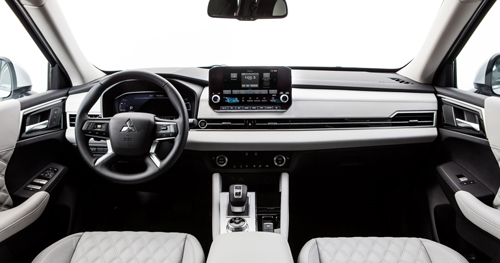 Drivers and passengers are treated to a heavily revised interior that has a clean and well-appointed aesthetic, especially in premium trim levels. The diamond-stitched, leather seating surface is a standout feature and that pattern is continued on to the door panels as well. The fit and finish has a definite level of class to it and everything certainly looks like it would be pleasant to touch. An optional 9-inch infotainment screen sits up front and centre and I'm happy to report that HVAC and basic audio control appears to be by those tried and true tools we once knew as buttons and dials, hallelujah! Android Auto and Apple CarPlay are standard fare and those opting up will be treated to a 10-speaker Bose audio suite and a large, full-colour head-up display. For growing families, you will be happy to note that the Outlander comes standard with a third row of seating and it's the only vehicle in this class to do so.
On the safety side, the 2022 Outlander offers Mi-Pilot assist that incorporates lane departure warning and adaptive cruise control. When optioned with the Mitsubishi's navigation system, Mi-Pilot can even read the mapping data to adjust speed to match not only legality but also to accommodate for kinks and curves too.
The new Outlander will be hitting dealer lots in April.
Link: Mitsubishi Canada