Much to the ire of a select demographic, myself included, compact trucks have all but disappeared from the North American automotive landscape. With changing consumer trends however, like the desire for an affordable, do-it-all one-vehicle household, the time is ripe for the re-entry of the segment — and Ford is answering the call by introducing the Maverick.
"Maverick customers are looking for something that fits their lifestyle. Versatility and flexibility is critical, as well as something that can fit their people and their gear, and Maverick gives [people] a new option and an ability to live their lives on their terms. It's anything from commuting and day tripping to good, fun adventures and taking and running the kids around," said Suzy Deering, Ford global chief marketing officer, in an on-demand press briefing late last week.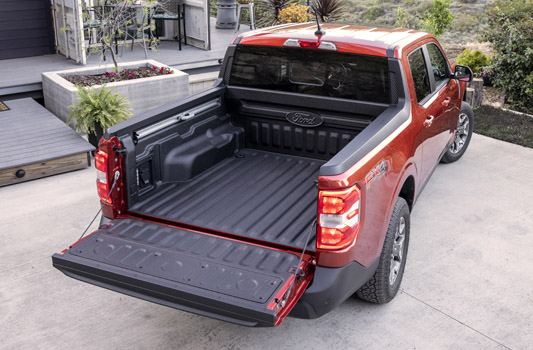 Deering added the all-new model (not to be confused with the 1970s two-door fastback by the same name) is also aimed at the non-pickup crowd giving them an alternative to a minivan or SUV by offering features such as four full-size doors and comfortable seating inside for five adults.
In addition, the decision was made to propel the vehicle using a standard 191-horsepower 2.5-litre Atkinson-cycle four-cylinder hybrid powertrain, rather than a large displacement or diesel engine, which is expected to have a fuel consumption rating of 5.9 L/100 km in city driving and deliver a range of up to 800 kilometers on one tank of gas.
Ford is taking care of those needing a bit of extra grunt as well. Buyers can upgrade to a 2.0-litre turbocharged EcoBoost mill, mated to a conventional eight-speed transmission instead of a CVT, making 250 horsepower and 277 lb-ft of torque. When the proper package is equipped, it is capable of towing a maximum 4,000 pounds.
As seen on products across the blue oval brand's portfolio, the Maverick will have all the latest bells and whistles including an eight-inch infotainment touchscreen display, Apple CarPlay and Android Auto compatibility, onboard Wi-Fi hotspot and FordPass allowing users to control core functions via a smartphone.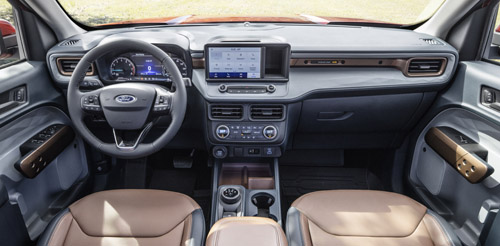 Same goes for innovative storage solutions like huge door pockets and armrests built to house one-litre water bottles, and a storage bin under the second row cushions. Also in the back, behind the centre console, are Ford Integrated Tether (FIT) slots that can accommodate the attachment of various accessories attached to hold cups, a trash bin, grocery bags and so on.
Though the pickup is on the smaller end of the scale it's no less practical thanks to a customizable FLEXBED system. Simply slide 2x4s or 2x6s into slots stamped on either side of the cargo box to elevate the floor or create segmented storage, bike or kayak racks and so forth. A pre-wired 12-volt electrical source permits DIY hookups and a 110-volt 400-watt outlet is ready to juice up portable devices or tools.
And last but not least, I'm happy to report the truck looks fantastic. Sort of like a shrunken down F-150, the LED headlamps are large and connect directly to the blocky grill giving the front end a chiseled look. The upright silhouette maximizes interior space and there are thoughtful little details, for example bed rail caps extending all the way to the top of the rear window to provide better dent and ding protection during loading and unloading.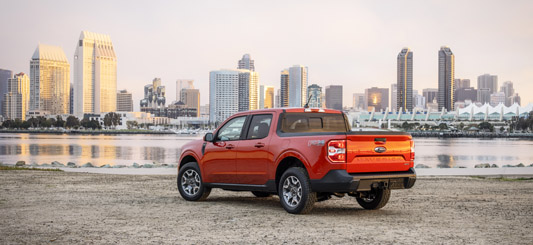 Three trim levels are going to be offered at launch: XL, XLT and Lariat, with an FX4 package available on the higher two bundling all-terrain tires, suspension tuning, off-road-specific drive modes and more. And on 2022 model year vehicles, a special First Edition package will be sold boasting graphics, a high-gloss black roof, soft tonneau cover, unique 17-inch wheels, and exclusive paint colours.
The Ford Maverick goes on sale in the fall starting at under $25,900 CAD.