Miranda and Rob's un-regal-like squabble
"Miranda, we've got to talk."
Nothing good ever follows a sentence like that, except when vicariousmag.com colleagues Miranda Lightstone and Rob Rothwell attend the same automotive press event and come away with differing opinions.
TOFINO B.C. Buick chose to launch the all-new 2019 Buick Regal Sportback among the rugged, spectacular beauty of the Pacific Coast, in the surfing town of Tofino British Columbia.
The new Regal is a 4-door near-luxury sedan-like vehicle, which Buick now refers to as a "Sportback." Rather than a conventional trunk, Buick has given the new Regal a liftback – formerly known as a hatchback – design, adding an immensity of cargo capacity beyond that of a typical trunk.
In fact, the Regal can now carry 892L of Costco items when its rear seat is folded flat, which more than doubles its former limited trunk capacity.
The new Regal is either powered by a turbocharged 4-cylinder engine or the more powerful V6 engine, which provides increased performance in the GS-badged Regal variant, and here's where things get testy – right Miranda?
ML – Well, Rob I've tried to be regal about it all… but I just don't see how you still prefer the turbo 4-cyl when there's a much more fun to drive V6 available now! After driving both on those glorious Tofino roads, you must admit the GS handled better and felt much less sluggish than the base.
Although the jump in horsepower isn't huge – about 60 more ponies with the V6 at 310 – it is enough to make the Buick GS feel lighter on its wheels, and in a good way I think. The 4-cyl felt tired and kind of too heavy for its power source.
RR – Miranda, your points around the GS performing better than the base Regal can't be quarreled with, but for me, the "rawness" in the GS's operational refinement fail to merit its small bump in performance.
The base Regal's 4-cylinder is remarkably smooth and polished, more-so than I expected. It also delivered passing-power on the highway that exceeded what might be considered typical for a spacious sedan with 4-cylinder power plant. Heck, it's rated at 250 horsepower and 295 lb-ft of torque when all-wheel-drive is opted for.
The four-banger is bolted to a 9-speed automatic transmission, which makes excellent use of the engine's output. Remind me again, how many gears in the GS autobox?
ML – We both know I don't sugar-coat anything, so I'm just going to go straight for the jugular here and admit that I loathe all 9-speed transmissions. Gear changes happen too often, and there never seems to be enough power, no matter what gear is eventually chosen when the transmission finally figures out where it wants to be.
And the Buick Regal GS 9-speed (same as in the 2.0L) is no different in its confusion. However, I will admit, it's smoother than most, but I don't get the allure of adding more gears other than killing gear-ratio-related power delivery, and potentially saving a bit of money on gas.
What I don't get, and really is the only foible I can really find in the GS, is the lack of paddle shifters. Here's a vehicle that's been branded sporty and performance-driven, and yet if you want to shift your own gears, you need to take your hands of the steering wheel (where you'd want them to stay if you were driving with any sort of vigor) to shift with the gear lever.
RR – So, Miranda, let's look at the cost of each Regal variant. Hmmm, I can get into a nicely equipped version for $31,845. For that money, I'll have a smoother-riding, quieter Regal than your racy GS, which if memory serves me correctly is priced at $43,845.
ML – I'll stop you there and remind you that the Regal GS comes very well equipped for its price with Brembo brakes (front and rear), larger rims, standard heated steering wheel, head-up display, Apple CarPlay and Android Auto, plus a few extra buttons for sportier handling and throttle response to make for a more exciting ride.
I mean, we have to keep in mind that the Buick Regal, both models, are luxury vehicles. They are automatically going to elicit a higher price because of that. Instead of opting for a luxury European model, the Buick Regal offers a domestic option with the same level of amenities and build quality.
RR – Dare I mention fuel-economy? What do you have to say about that Hot-Foot Miranda?
ML – In all honesty, it's not a huge difference (in my humble, heavy-footed opinion). For the performance and oomph the GS gives over the base 2.0L the fuel mileage only varies by 3L/100km. Respectively, the 2.0L turbo averages 11L/100km, while the GS sees 13L/100km. Now, that's not horrible, and truthfully, both are a bit on the high side. Anything under 10L is always impressive, over that is just kind of the "norm," wouldn't you say?
RR – A turbo will do that. I agree; fuel-economy isn't great for either version, but I'd still rather pay my fuel bill than yours!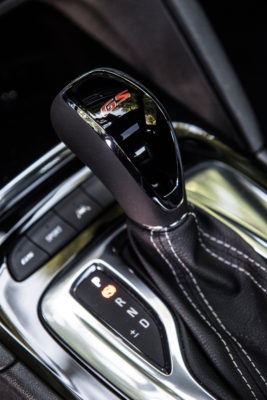 ML – For me, it comes down to the Buick Regal 2.0L remaining an "old man" car — not offense to you, of course, Rob. While the GS points towards Buick attracting a younger demographic or at least those looking for a little more excitement behind the wheel of a vehicle that isn't normally associated with that type of driving. Or am I totally off the mark here?
RR – "Old man." Hang on a sec while I pull the dagger from my heart! Looks like I'll survive.
There's a saying in the auto biz about just that Miranda. It goes like this: "You can sell a young man's car to an old man but you can't sell an old man's car to a young man." That saying may need gender-equality updating, but you get my point, and perhaps that's the point behind the GS model.
In either version, I wouldn't consider the new Regal and "old man's" car. In my final analysis, it's a sporty-looking spacious 4-door – or is it a 5-door – sedan that is a smart alternative to a small-to-medium size CUV/SUV.
It has loads of cargo room and optional AWD, yet it drives and looks like a luxury car. Not a lot of vehicles can pull that off so effectively. And in GS-form, it'll raise the pulse of those young, spirited drivers you claim to be among.
I'll give you this Miranda, you have a good eye for style, and you definitely know your automobiles. I should remind you though, that with age comes wisdom…and a need to hold-up traffic on the highway to Tofino! It was fun kicking around this review of the new Regal with you my dear Hot-Foot.