If you want a wagon, you don't have to move to Europe. You could simply go upscale, such as with the 2018 Mercedes-Benz C-Class Wagon.
Whenever asked, most carmakers say wagons don't sell here. Or at least not enough to overcome the fact they'd have to certify them to sell in the U.S., as well, which is a country with an even greater aversion to station wagons.
So how is it, to the joy of automotive journalists and plenty of Canadians everywhere, Mercedes-Benz is able to give us something as delightful as the 2018 C-Class Wagon?
Moreover, how do they get away with using the word 'wagon?' As succinct and descriptive a word as it is, it seems to be poison to marketers anxious to refer to five-doors as hatchbacks or estates, instead.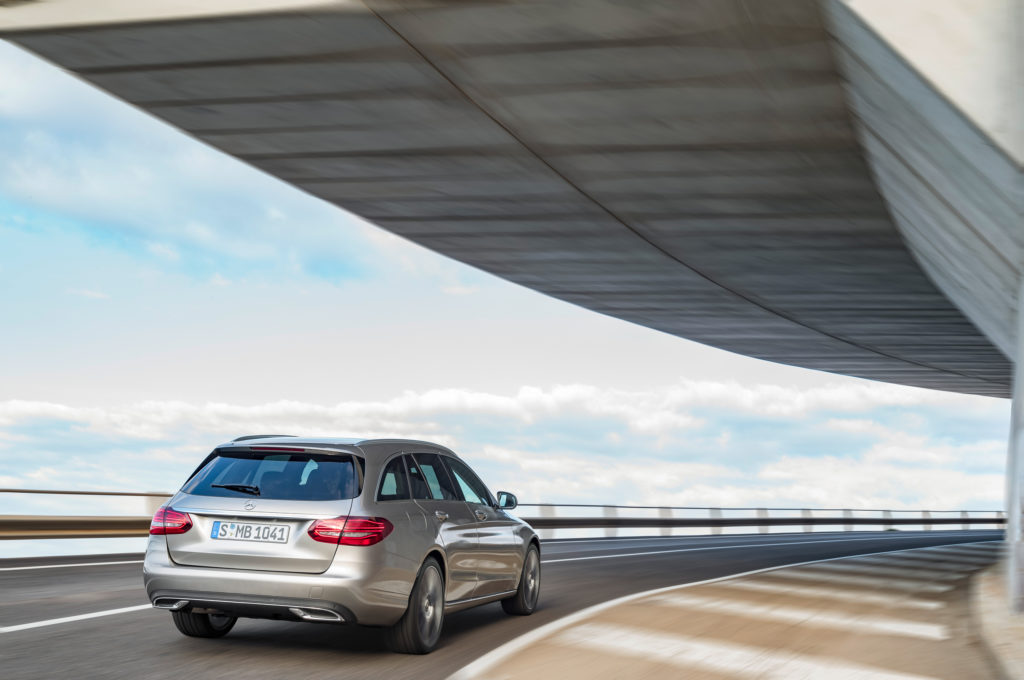 There are just so many things working in a wagon's favour, from the added practicality of increased cargo volume to the arguably more pleasing aesthetic of the shooting-brake body style, perhaps there is no value in shrinking away from the word.
In a world where a sedan's trunk is being ridiculously, albeit sarcastically, referred to as an innovation (Trunkification? Really?), have we lost sight of everything that drove us to Ford LTDs, Honda Accord Wagons or even Toyota Camry Wagons? What's wrong with a vehicle that offers nearly as much cargo volume as an SUV but with a body that punches a much smaller hole through the air?
Package it up in a vehicle as luxurious as the C-Class and you had me at wagon…
What separates a Benz from a mainstream car? A whole bunch of intangibles, from the feeling the car is embracing occupants rather than merely tolerating their presence to the attention paid to handling, power-to-weight ratio, transmission gearing and ride quality. Then there's the higher-quality interior finishing, with higher-end materials and fit and finish.
It does feel different in a Benz, Beemer or Porsche, even if it's hard to put a finger exactly on why. It's OK not to get it. Not everyone does, regardless of the size of their bank accounts.
The test car was the C300 Wagon, and it manages to squeeze 241 horsepower and 273 pound-feet of torque out of its 2.0-litre turbo four engine. That's good, according to Mercedes, for 0-100km/h of 6.1 seconds. sprightly, but not AMG-like. Yet it does that using only 10.1 litres per 100 km in the city and 7.8 on the highway.
That fuel economy is a combination of the turbo only burning fuel like a V-6 under acceleration and sipping while cruising, as well as a nine-speed automatic transmission. As is typical these days, an automatic is the only offering in non-AMG models. (AMG models get a dual-clutch automated manual.)
In Canada, the C300 Wagon is offered only with 4Matic all-wheel drive.
Mercedes builds its cars to feel at home on the Autobahn at more than 200 km/h. So at our relatively sedate speeds roughly half that, they stick to the road like mustard on a bratwurst. The stability at speed is evident through the rock-steady on-centre feel of the wheel to the handling that encourages you to push it just a bit harder through that corner. It will take it. Really.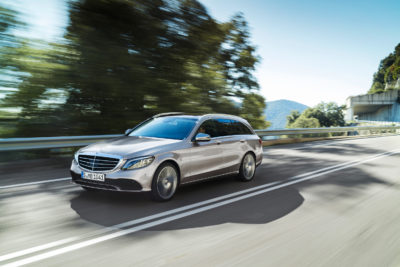 Good handling — at least for consumer cars — requires a good ride. It's no fun taking a car through a corner if the slightest bump upsets it so much you can't hold the line. Lightly sprung and well-damped is the formula: take the bump without transmitting all of it to the chassis and then hold the wheel down so it sticks to the pavement. Suspension geometry keeps the wheel pointed in the right direction throughout.
The extra weight of the wagon, all over the rear wheels, also helps with weight distribution.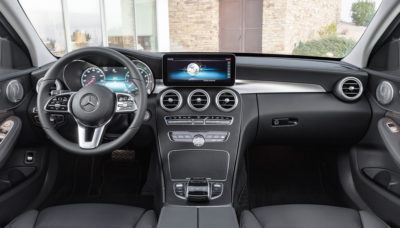 The footprint of the cargo area isn't any larger than the sedan's trunk, but it has the benefit of added airspace above, to haul those items just too big for a trunk. Cargo capacity is 490 litres with the rear seats up, 1,510 litres when folded.
The premium to move into wagonhood isn't huge, either, at $1,300. The C-Class sedan starts at $44,700 while the wagon starts at $46,000. It's not hard, at least according to the configurator, to get a lease payment of around $500 a month.
For 2019, the C-Class Wagon gains optional multibeam LED headlamps, new styling tweaks and an optional fully digital instrument cluster.
2018 Mercedes-Benz C 300 4MATIC Wagon
Engine: 2.0-litre turbocharged four-cylinder
Power: 241 hp @ 5,500 rpm
Torque: 273 lb-ft @ 1,300-4,000 rpm
Transmission: nine-speed automatic
Steering: electric power rack-and-pinion
Suspension: independent multi-link, front and rear
Brakes: four-wheel discs
Fuel economy (L/100 km, city/highway/combined): 10.1/7.8/9.1
Price: $46,000.00 base MSRP
Related links:
Mercedes-Benz Canada