The 2018 Buick Enclave ushers in a new era for the brand as it seeks to focus on sport utility vehicles first, luxury and sporty sedans second. Buick is moving away from its traditional past as quickly as a forceful V6 engine can take it. Staid is out, style and function are in. If ever there is an opportunity to reboot the brand and take it away from the retiring or retired demographic, this is it.
My first drive of the 2018 Buick Enclave takes place in Vernon, British Columbia. It is a land of vineyards, multi-million-dollar homes, lakeside living and picturesque sunsets. This is the setting General Motors Canada chose to have us put their newest full-size SUV through its paces.
At the same time, the goal was to showcase the perceived lifestyle of a Buick owner with an overnight stay at Sparkling Hill Resort, the celebrated Swarovski Crystal inspired hotel and spa. We are living large in the hills surrounding Lake Okanagan.
The 2018 Buick Enclave is designed as a seven-passenger vehicle. As is the case with every new full-size SUV in the market, seven really means 4-5 adults and 2 children. Testing this theory, I climbed into the 3rd row and while I found it passible for short hauls, anything longer than an hour and I would be begging to be let loose. Unless, of course, I was the only one back there and could stretch out sideways.
Outside, the Enclave is completely new; from the overall dimensions to LED headlights, the front grille and body lines. Air flows smoothly over the sculpted shell. Side buffeting in severe winds should be limited, though I wasn't able to confirm it on this first drive as the weather in Vernon was clear and calm during our stay.
Power for the new Buick Enclave comes in the form of a 3.6-litre DOHC direct injection variable-valve timing (VVT) V6 gasoline-powered engine.
Matched to a butter-smooth 9-speed automatic transmission, it delivers a respectable 310 horsepower at 6,800 rpm and 266 lb-ft of torque at 2,800 rpm. It may not be the fastest SUV on the block, but it has enough pulling power to tow a trailer or boat weighing up to 2,266 kg (5,000 lbs).
Steering is electric variable-effort power with active steering assist. A mouthful, it basically means maneuvering the new Enclave on the road or in close quarters is much easier than you would expect from a full-size sport utility.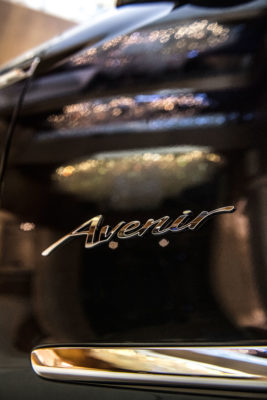 This is critical given how most people use SUV's today. Let's face it, off-road capability is more for the brochure and less for the real world. Parking the vehicle at the local mall, or dropping the fishing boat off the trailer and into the water, is what's at stake more than dirt trails and mud pits.
Ride quality is superb with front MacPherson strut independent and five-link independent rear suspension. Whether riding in a middle row captain's chair on our way to the hotel from the airport, or perched behind the wheel tackling winding lakeside paved roads at slightly more than the posted speed limit, the new Enclave feels poised and in control.
Of special note is how quiet the interior is for all occupants. In my opinion, Buick takes its rightful place on a short list of automakers setting the standard for overall ride comfort and serenity of space.
Elegance is the key to success when your competitors have names such as Audi, Lexus, Lincoln and Volvo to name a few. If you are going to play in this arena, you better deliver and for the most part the new Buick Enclave is up to the task.
Minimalism is taken to new heights in the passenger compartment. A little too much maybe for my liking, but not all will agree and that's the point. Personally, I prefer a few gadgets and a little chrome with my natural wood and leather. All of this can be found in the new Enclave though it comes across in a new, not your typical Buick way.
As we arrive back at resort, the connection between the two suddenly dawns on me. Contemporary in a Euro-chic way, Sparkling Hill represents the epitome of Austrian minimalism with a serious touch of bling. With the introduction of its new Avenir nameplate, "The Ultimate Buick", the oldest automotive brand in North America has finally plugged into the European way of designing automobiles to deliver a truly unique, American SUV.
Swathed in leather, the front seats and middle-row captain's chairs are exceptional. Audio in our 2018 Enclave Avenir AWD (pronounced A-ve-near) test vehicle is provided by Bose premium speakers. Access to the system is via an 8-inch configurable screen. Tri-zone climate control, 2nd row HVAC controls and an ionizing air cleaner provide carefree driving at any temperature.
Visibility is excellent all around, especially when equipped with the dual panel moonroof. Storage compartments are up to the task and trunk space is what you expect in a larger SUV. The power-folding rear seats tuck flat to increase overall cargo capacity, while a power liftgate offers hands-free easy access.
Buick is ready for prime time. To emphasize this point, they unveiled the new Buick Lacrosse Avenir edition in the main lobby of our hotel prior the evenings events. The sport utility vehicle is the way of success in today's market and Buick is ready with a full onslaught of new products to choose from. But just in case you forgot, they also know a thing or two about building elegant sedans. Watch out Gen X and Y drivers, there just might be a new Buick in your driveway sooner than you think.
2018 Buick Enclave
Trim level: Avenir AWD
Price as tested: $64,370.00
Freight: $1,700.00
Configuration: front-engine/all-wheel drive
Engine/transmission: 3.6L 6-cylinder/9-speed automatic
Power/torque: 310 hp/266 lb-ft
Fuel economy ratings (L/100 km): 13.8/9.4 city/hwy
Competitors: Acura MDX, Audi Q7, Dodge Durango, Lincoln MKT, Volvo XC90, Volkswagen Atlas
Related links:
Buick Canada