A Swiss Army knife from Ford
Larger and far less expensive than many over-priced Vancouver and Toronto condos, the 2017 Ford Transit 3500 Diesel is a blank canvass for the creative and an adept workhorse for the trades.
It may even serve as the conveyor of ne'er-do-wells to the Crowbar Hotel, as demonstrated in Vancouver where older Mercedes-Benz Sprinter vans used by the local constabulary for prisoner transports are being replaced with new Transits.
Its immense versatility makes the Transit a uniquely functional vehicle. High-roof cargo vans, be it the Ford Transit, Mercedes-Benz Sprinter or RAM ProMaster, have become the Swiss Army knives of utility trucks.
Essentially cavernous shells, this automotive segment is also gaining popularity in the world of recreation as a platform for fully-kitted mobile homes and in the people-hauling business as luxurious multi-person transport – except in Vancouver that is!
But it's the commercial and industrial segments in which these vans really deliver, literally. Thanks to their enormous cargo space, combined with height-enough to stand upright in both the medium and high-roof versions, this week's ubiquitous tester is the ideal delivery vehicle.
The Transit is also available as a passenger van with seating for a maximum of 15 butts. Once the van's orientation has been selected – passengers or cargo – the availability of three body lengths and three roof heights enable perfect sizing of the vehicle.
These factors also determine the vehicle's payload and tow ratings, which max-out at 2,077 kg (4,580 lb) and 3,402 kg (7,500 lb) respectively.
Today's vicariousmag.com tester is the mid-height mid-length version, powered by the optional 3.2L I-5 turbocharged EcoBoost diesel engine manufactured in South Africa. This efficient mill dispenses 185 horsepower combined with 350 lb.-ft. of torque.
For those seeking the most efficient balance between fuel-economy and performance, this is the engine to get, but be prepared to pay an extra $5,000+ for the inherent benefits of its diesel operation.
Other engines include the base 3.7L gasoline-fired naturally-aspirated V6 good for 275 horsepower and 260 lb.-ft. of twist. The mid-engine choice though is a 3.5L turbocharged EcoBoost gas engine with 310 horsepower and 400 lb.-ft. of torque.
All engines are bolted to a six-speed automatic transmission. The powertrain in my tester provided flawless operation while returning impressive fuel-economy in city traffic as low as 12.2L per 100km.
Though it was a 5-cylinder affair, the diesel engine felt robust and clearly capable of what was being asked of it. And, it was notably civilized for an oil-burning power plant. Whether the substantial cost to acquire this mill is justified, is arguable, especially if its projected ROI is slim.
Engine choices aside, when settling into the driver's perch one marvels at the huge windscreen and side glass, which combine to provide an unimpeded view of the road ahead. The outstanding visibility greatly contributes to the ease of driving the Transit, which doesn't feel large or intimidating from the driver's seat.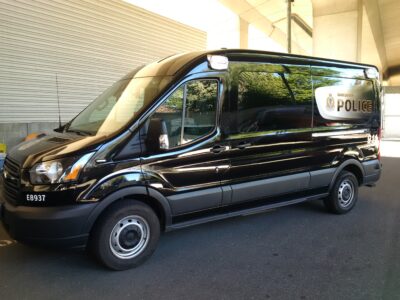 Ride-quality is remarkably good for a commercial vehicle, especially one that wasn't laden with anything more than my widening frame. Thanks to its more typical "smaller" van-like driving dynamics, it would be easy to forget how tall the vehicle is when passing beneath trees or overhangs.
My tester was equipped with rear windows, however, parking the vehicle required close attention to its in-dash screen. And here's where I lose my mind. The screen is so small, it's laughable. How this got past whatever layers of scrutiny Ford applies to its design and build phases, I'll never know.
But that's not the only frustration I experienced in the cab, and I'm not referring to the downward spiral in the competency-level on the roads these days, I'm referring to the inner-front door handles. They are small in size and simply difficult to grasp when wearing work gloves. This is a commercial truck. It needs truck-like door handles, not Fiesta door handles.
Apart from the minor cabin foibles, the Ford Transit really is the Swiss Army knife of commercial vehicles, which can also be ordered as a spacious people-hauler. I enjoyed driving the vehicle and was pleasantly surprised with the ease in which it handled city traffic.
There's a limitless future for the Transit – and similar vans – given their wide array of sizes, power plants, and optional equipment, such as Ford Telematics.
A creative mind could work wonders with the Transit's blank slate. What's your vision?
2017 Ford Transit 3500 Diesel
Price as tested (before taxes): $52,134.00
Configuration: front engine, rear-wheel drive
Engine/transmission: 3.2L I-5 diesel / 6-speed automatic
Power/torque: 185 hp / 350 lb-ft
Observed city fuel-economy (L/100km): 12.2
Warranty (basic):  3 years / 60,000 km
Competitors: Mercedes-Benz Sprinter, RAM ProMaster
Related links:
Ford Canada