My God… Marry me?!
I slowly turn my head to the right to look past the perforated cowhide-leather sport seat and wood- and leather-lined, low-slung door of the DB11 and smile slowly at the driver of the car next to me in traffic. He's grinning from ear to ear and hanging out his window taking the car in — not me.
"The car's only mine for the day, so I can't see the union going as well as you'd hope!" I shout back as the car in front starts to inch forward, so I release my foot from the brake pedal and accelerate ever so slightly, causing the 5.2L V12 twin-turbocharged mill to groan gently with a soft exhaust burble.
"That's a gorgeous car though!" My would-be suitor shouts after me as I inch away.
And he wasn't the first to notice the stunning silhouette of the 2017 Aston Martin DB11. In fact, I found myself wanting so badly to look at it, that I was more than content to park and take a step back and simply gaze upon the sleek, sensual lines. Because it is absolutely beautiful. The design engineers at Aston outdid themselves with this one, and it shows. My God does it show.
Every stoplight, every slower traffic situation, every time I parked the DB11, someone was looking; No, scratch that, they were staring. Mouth slightly open, hand fumbling for phone or mouth spouting off expletives and appraisal for the work of art they'd stumbled upon. And I was just as bad.
It was almost a year ago exactly that I first met the DB11 in person at an exclusive meet-and-greet with a pre-production version that was limited to 20 mph and not really driveable, but was in town for media and for one very lucky buyer who'd already purchased the vehicle (without seeing more than a photo on a computer) and so was being allowed to see, touch, and experience the car he'd dropped close to $250,000 on. During that brief rendezvous where I wasn't even allowed to drive it, I fell in love. Madly, deeply, stupidly in love.
Then I was handed the keys a few weeks ago.
When the heavy, weighted key fob for the brand new Aston Martin DB11 was gently dropped into my slightly clammy hand, I already knew I'd struggle to properly describe the experience.
I was given a 9-hour drive time to get a feel for everything the British brute had to offer. Like a first date, I wondered if the time would fly by much too quickly and leave me tantalized and wanting more or if the day would drag and I'd find myself bored and playing on my phone more than I wanted to be behind the wheel.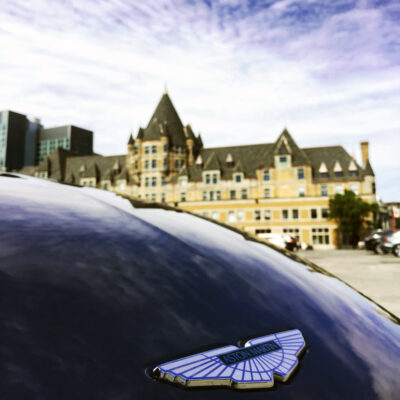 I desperately hoped for the latter.
Heart pounding, palms a little sweaty, I slid into the tan leather driver's seat, holding my breath as I caressed the steering wheel, took in my surroundings, remembered to breathe and slowly exhaled as I inhaled sharply to take in the DB11's thick leather aroma, mixed with something sweet that I can only surmise was the dealer's cleaner, but I'd rather imagine it was the Aston's own alluring musk, applied to attract drivers and onlookers that much more.
I could rattle off a million stats and numbers and customizable bits and pieces associated with the DB11 (because I feel like there are that many), and in truth that's precisely what I'd thought I'd have to do as I was left, quite literally speechless at the end of the drive. How was I to properly put down into words how the drive felt, what it evoked, what it meant to me?
Why was this different from the Mustang I'd just dropped off? Or the Volvo I'd driven a few weeks before? Or the Toyota I'd drive the next day? Was it the price that changed it all? No, that was just another number, another specification taken from a brochure.
No, this was about more.
Driving the Aston Martin DB11 is about more. It's about abundance and overindulgence and a sense of overwhelming presence no matter where you go. Even if you wanted to be inconspicuous, you couldn't. If you don't like attention, don't drive this car. I'm not a self-conscious person by any stretch, but this beast of a vehicle made me very aware of my surroundings (and everyone in those surroundings looking at me and the car). It's thrilling and intimidating and wonderful and annoying all at once.
See? Hard to put into words properly.
Did I feel like James Bond? Maybe just a little. Especially getting in and out – the nifty hidden handles and slightly up-angled doors make the DB11 look oh so futuristic, and stylish all at once. However, that's about as far as the "undercover" feeling went while I was behind the wheel of the DB11.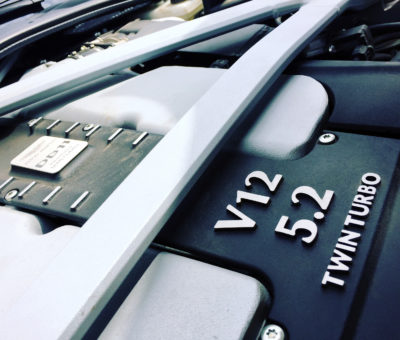 There's something equally intoxicating, arousing and all around exhilarating about driving a vehicle with 600 horsepower. Sure, I've driven more powerful cars in the past, but the pure refinement and overall experience of the DB11's twin-turbocharged V12 puts it on a whole other level. And that exhaust note and downshift bark… hang on, I need a moment.
Shifts are seamless and spot on when left to their own devices via the 8-speed automatic. However, don't miss rowing through the gears yourself with the steering-column mounted paddle shifters, I promise you won't regret it.
You won't regret anything about this GT from Aston. Not a thing. Sure, it's a boatload of money to drop on an object, but you will not regret a second you're behind the wheel, and I think that's what really sells this vehicle. So does the fact that it really can be a daily driver. When I showed up at day care in the DB11 to collect Owen, the look of awe and amazement that crossed his face was similar to the parents watching me lead him over to the coupe Aston. But trust me, it's roomy enough to fit smaller humans back there, and even has a decent trunk.
It's not just about dropping coins on something that can go blisteringly fast (because it can, and it does so quite willingly); no, it's about buying into a way of life, an experience, and an enjoyment of the world around you. You're choosing to live a certain way when you choose an Aston Martin DB11, and it's a choice I think many people would make if the dollar signs weren't so large.
My day with the 2017 Aston Martin DB11 was one I won't soon forget, and while it definitely wasn't long enough (and I long for more time behind the wheel), the best love affairs are the ones that leave you wanting more, and all the time. Try and tell me I'm wrong…
2017 Aston Martin DB11
Base Price (approx.): $220,000
Configuration: Front engine/RWD
Engine/Transmission: 5.2L V12 48-valve Bi-Turbo / 8-speed automatic
Power/torque: 600 horsepower / 516 lb-ft
Competitors: Bentley Continental GT Speed, Porsche Panamera Turbo S, Jaguar F-Type SVR, Maserati Gran Turismo
Related links:
Aston Martin