The drive started out to the right, bending ever so slightly as the natural surroundings came into play. I wondered in that moment, what it must have been like for the engineers as they cut a swath through such incredible splendour, trying to leave their own mark without damaging what nature had created.
The 2011 BMW X3 xDrive28i responded to my command for power as we ascended the mountain, our resort destination almost within sight. Just then a deer scampered across our path, leaving in its wake my suddenly racing heart and more inspiration for why British Columbia is referred to simply as "beautiful". Oh Canada, sometimes we forget just how incredible our surroundings are here above the 49th parallel.
Despite the nomenclature, power for the X3 xDrive28i comes in the guise of a 3.0-litre DOHC inline 24-valve 6-cylinder engine. A significant improvement over the previous models anaemic power numbers, performance figures for the all-new X3 indicate 240 horsepower at 6,600 rpm and 221 lb.-ft. of torque at 2,750 rpm.
BMW claims the magnesium/aluminum power plant is the lightest six-cylinder engine in its size class in the world. In my opinion, it feels faster, sound quieter, acts more aggressively when pushed and inspires more confidence to go where almost none have gone before; except that deer, of course. Zero to 100 km/h takes only 7.1 seconds. There isn't much more you could ask for when driving a small SUV with sporty driving intentions.
The 2011 X3 is taller, wider and significantly longer than the previous model it replaces. Exterior styling cues are similar, but the 2011 version features flared wheel arches, a stylized side body swoosh tapering from front to back and a slightly more aggressive stance. Revised suspension highlights a lightweight five-arm rear axle and double-joint spring-strut front suspension. In traffic, on the dirt or driving on to the ferry, the ride is compliant and inspires confidence.
Inside, Germanic simplicity implies a sense of authority and competence. BMW has never been known to build luxurious interiors in the same manner as their Bavarian counterparts, but this is in fact part of their allure. When you step inside, all is within easy reach, buttons-switches-dials where they should be and a thick, finely crafted 3-spoke steering wheel begs you to take control and hit the road with purpose.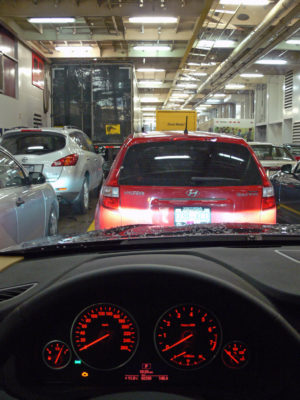 Our trip across the Strait of Georgia from Tsawwassen to Swartz Bay sailing with the renowned BC Ferries took a mere 90 minutes to complete. Schedules run hourly during the summer months between terminals and the ride was relaxing as rain held off for the entire voyage. There is no better way to fully grasp the magnificence of B.C. than from the outer deck on a ferry as it glides across the ocean between islands under bright sunshine.
Situated at the base of Mount Finlayson in the Malahat region of Vancouver Island, a mere 30 minute drive from Victoria, the Westin Bear Mountain Golf Resort & Spa Victoria features a total of 156 luxurious guest rooms, suites and two penthouses overlooking Canada's only double Jack Nicklaus golf course. Designed to reflect the natural surroundings of wood and stone, it stands majestically above the Valley Course, our balcony views looking outward as bald eagles soared above, while below, hopeful golfers searched for birdies of a different sort. Each room features Westin's heavenly beds and baths, warm colour schemes, cozy flooring and full-size kitchenette.
At 7,212 yards, the 72 par Mountain Course is considered one of the toughest challenges in North America. Playing in fresh Pacific Coast air surrounded by snow-capped mountains, tall pines and arbutus trees, I actually par more holes than expected, including the signature par 3 island green and infamous 19th hole overlooking the Strait of Juan de Fuca and city of Victoria in the distance.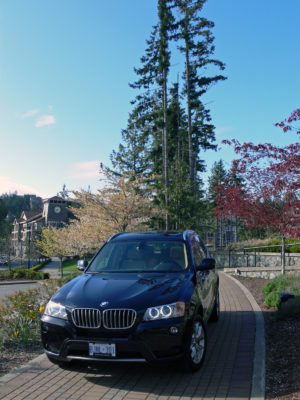 Sante Spa provides the perfect respite after a long day of unexpected sightseeing; treatments include all forms of massage, facials, manicures and body treatments. We opt for the one hour and fifteen minute Elements Mountain Massage designed to relax and rejuvenate tired muscles. Hot stones, oils and the expert hands of a trained massage therapist soon work their magic
Dinner this night is served overlooking the mountainous terrain at Copper Rock Grill. A casual setting, each course is complimented with perfectly match B.C. wines. In the background, Canucks fans are celebrating another timely victory.
As the day winds down, we take the opportunity to wind our way up and down the mountain and nearby two-lane roads in the 2011 BMW X3 xDrive28i. It is not a 3-Series by any means, but does in fact inspire confidence to push ahead when other Sport Activity Vehicles would start to complain. There is so much to see and do in B.C., it provides the perfect level of comfort and roadworthiness for our Vancouver Island romp. Now if I could just take it on the course, I might actually find the ball I hit into the woods on 17. That would be a true island adventure!
2011 BMW X3 xDrive28i
Configuration: front engine/ front-wheel drive
Engine/transmission: 3.0-litre/8-speed auto with Steptronic
Power/torque: 240 hp/221 lb-ft
Fuel (capacity): Unleaded (67L)
Fuel economy ratings: 11.0 L/100km city; 7.8 L/100km hwy
Observed fuel economy: 8.9 L/100km over 640 km
Related links:
BMW Canada
The Westin Bear Mountain Golf Resort & Spa Victoria
B.C. Ferries