Mazda has been smart enough to leave well-enough largely alone in the 2010 Mazda6 sedan.
They've made only minor alterations to the 2009 model which won Automobile Journalists Association of Canada (AJAC) honours as best new family car in the $22,000 to $30,000 range.
My demo car arrived from Mazda Canada as a bit of a surprise – a pleasant one – and I'm a happy car tester.
I can't quite put my finger on why this car has such an appeal for me. I think it's a whole host of things because when you come right down to it, Mazda6 is not a "holy cow, look at that" kind of design.
The test car is in GT trim, but there's no exterior badging to indicate its pedigree. The only indication that the hood conceals a four-cylinder engine rather than a V6 is the single dual-outlet exhaust. The V6 rear-end displays a dual-exhaust system.
The exterior certainly is attractive in a girl-next-door kind of way: wholesome, well-proportioned, well-mannered, well-dressed without being flashy.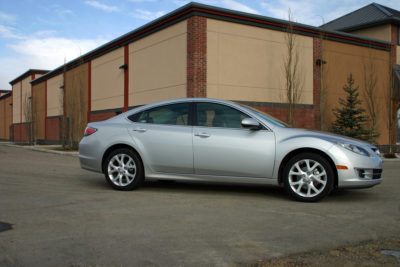 Dressed in silver — which Mazda calls brilliant silver metallic (the least imaginative of available colour names) — she makes her way through throngs of traffic without attracting much attention.
She keeps her fun side well disguised, but it's there if you want to unleash it.
If you didn't know it's a four-cylinder engine under the hood, you'd get out and check under the bonnet. It's that good.
The 2.5-L four-banger makes full use of its 167 lb. ft. of torque to whip up its 170 horses.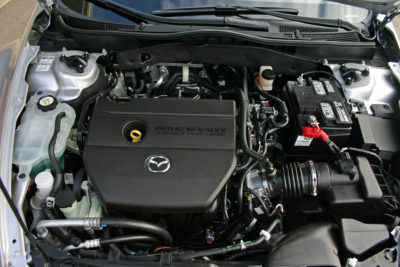 In the test car, shifting is handled by an ultra-smooth five-speed automatic transmission with sport shift.
This 4 with a 5 in a 6 combo (engine, tranny and sedan) drives like a car with a much bigger powerplant. It's V6-quick off the line and gets around traffic in a hurry when called upon while the transmission moves smoothly through its shift patterns with nary a pause.
There's none of that buzzy-when-busy four-cylinder protest song you hear in many vehicles. The cabin remains isolated from engine noise even under hard acceleration.
When I get out on the road, I'm reminded of one of the reasons I liked the last edition of Mazda6 – ride and handling and noise suppression.
On the highway, wind noise is barely a whisper and even with snow tires on the 18-inch alloy wheels, road noise is not an issue. There's not untoward background noise to hamper enjoyment of the 10-speaker BOSE audio system.
From the driver's perspective, visibility is excellent and enhanced by the blind spot monitor system that's part of the optional Luxury Package. It's an effective system, but I am still a little reluctant to depend on the BSM totally so I use the side mirrors to double check on what's behind and beside me.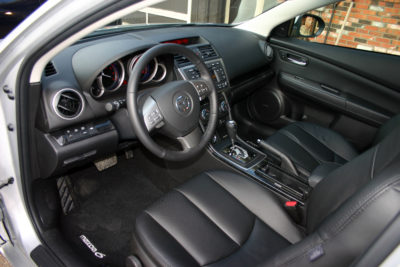 Everything I need to reach falls readily to hand and quickly becomes intuitive. Even the audio system is easier to use than in previous Mazda vehicles. Nice change.
At night the Xenon HID headlights provide exceptional illumination and a little judicious use of the manual light leveling adjustment makes oncoming drivers a little happier.
Passengers get plenty of head and leg room, although I still wouldn't put anybody in the centre position of the back seat.
As for carrying stuff, the trunk is huge and cargo space can be greatly increased by flipping down the 60/40 split rear seatback.
This really is zoom zoom with room.
You find everything in here you could possibly need in a car. In fact, the only other option available on this test car is a navigation package.
I really don't need the nav feature, after all, the girl next door lives, well, right next door!