Das Car, or should I say Das Van is on das road.
It's called Routan and it bears a striking resemblance to a Chrysler Town & Country, especially if you can't see the two of them side-by-side.
The resemblance should not come as a big surprise because the new entry in the market is built by Chrysler for Volkswagen in its Windsor plant.
But there are differences – a lot of them. The 2009 Routan is no T&C twin; a kissin' cousin, maybe, but not a twin.
Only the doors and roof panels are shared, the rest is strictly Routan, whose face is undeniably Volkswagen and whose jeweled tail lights aren't found on the Chrysler. Routan is also slightly narrower and slightly taller.
Inside, the look is decidedly Chrysler, but Routan's materials have a more upscale look and feel. The VW has middle row in-floor storage bins, but doesn't get Chrysler's Stow 'n Go seating. That means you have to remove the middle row seats if you want to use the vehicle's entire hauling capacity. Swivel 'n Go is also not available, but I look at that as a plus.
Routan comes in four models: Trendline, Comfortline, Highline and Executive with MSRP ranging from $27,975 to $49,975.
A test vehicle from Volkswagen Canada came in Highline trim which brings some extras like VW's wonderful heated seats which were more than welcome during my test period because the temperature never got above -20C. My ears were cold, but my buns were toasty.
Other features which got a warm welcome during the cold weather were the power tailgate and power sliding doors. Key fob buttons are easy to push while carrying packages and wearing gloves. The doors can also be activated from the driver's compartment and with buttons on the B-pillar.
Passengers in the second and third rows of seats welcome the three-zone climate control system which lets them decide how warm or cool they want to be.
The cargo area with rear seat in use for passengers is still roomy and with the split, folding third row stowed away, there's space enough for a family of four to pack away everything they need for a trip.
Although the Routan starts well when the thermometer dips to the -30C mark, a block heater ($200 option) would have been a welcome addition, for peace of mind if nothing else.
In frigid temperatures, windows defrost quickly and the Routan warms up quickly. It's relatively easy to "tune" the heater system so everybody in the van stays warm and windows stay clear.
Under the Routan's hood is Chrysler's 4.0L V6 engine that puts its 253 horsepower and 262 lb. ft. of torque to the front wheels through a smooth-shifting six-speed Manumatic transmission.
It doesn't develop neck-snapping acceleration, but off-the-line power and passing ability are quicker than the average minivan.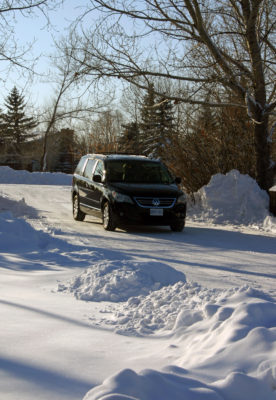 Equipped with all-season tires, the two-wheel-drive Routan maintained grip quite well with the traction control system cutting in only rarely.
Steering is very precise, more like Das Car than Das Van, and Routan goes where you point it when you point it. It is, however, easy to cause understeer, but you get plenty of warning that you're pushing things just a little too much.
The standard electronic stability program is not set up to be overly intrusive, but if you push things too hard, it will make its presence felt.
On the road, the suspension has a firm, European, feel and handles the ruts and bumps on snow covered streets without giving occupants a sore neck from rocking and rolling over the uneven surface.
On the rare occasions I encountered bare pavement during my test period, the Routan's passage was quiet with only a slight hint of tire noise finding its way into the cabin.
Besides a full lineup of airbags, stability control and traction control, standard features include disc brakes with ABS all-round; fog lights; power windows, locks and mirrors; manual second and third row sunshades; power sunroof; and power tailgate to go with the power sliding doors.
Is VW getting into the van market a bit late?
Ford and GM have gotten out of the market, an action that seems to have left some room for a new entry. Routan is good enough to gather in some of that business for VW.