Genesis is on a roll. The luxury brand from Hyundai recently introduced us to the exceptional all-new G80 luxury sedan and GV80 luxury SUV. They are attractive, quick, elegant and spacious, everything you would expect from a luxury carmaker and the response to date by consumers has been strong.
But not everyone requires the added size of the G80 and GV80, and some may prefer a more sporty look and driving experience than what they offer. As well, it would be a serious mistake to not take advantage of the ever-growing midsize SUV market, so this week Genesis Canada debuted the highly anticipated GV70 SUV and the updated G70 sport sedan. Watch out Audi, BMW and Mercedes-Benz, Genesis has targeted your customers and they have every reason to be convinced there may be more than a few conquest sales taking place starting in Q2 of this year.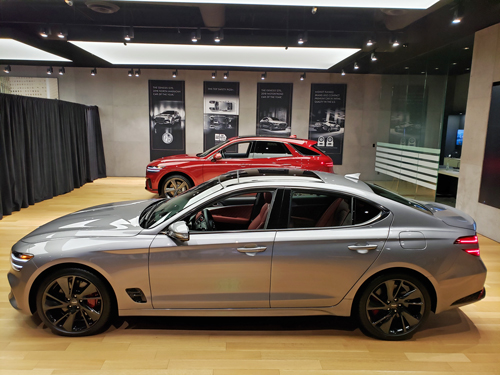 The 2022 Genesis G70 is available in 6 different model trims with two unique engine packages available.
The G70 2.0T highlights three trim levels; Select, Advanced and Prestige. Under the hood is a 2.0L 4-cylinder turbo GDI engine that delivers 252 horsepower and 260 lb-ft of torque matched to an 8-speed automatic transmission. All-wheel drive is standard equipment on all G70 models for 2022 in Canada, a feature that is both welcome and logical given the different conditions four seasons driving creates.
The G70 3.3T also comes three ways; Advanced, Sport and Launch Edition. It delivers power using a 3.3L V6 twin-turbo GDI engine with 365 hp and 376 lb-ft of torque. For an extra push, 3 additional power is available with the variable exhaust. It too features an 8-speed automatic transmission, with gear ratios optimized differently than the 2.0T to maximize performance. Both models highlight rev-matching, shift-by-wire technology and paddle-shifters, as well as 5 drive modes: Comfort, Smart, Eco, Sport and Custom.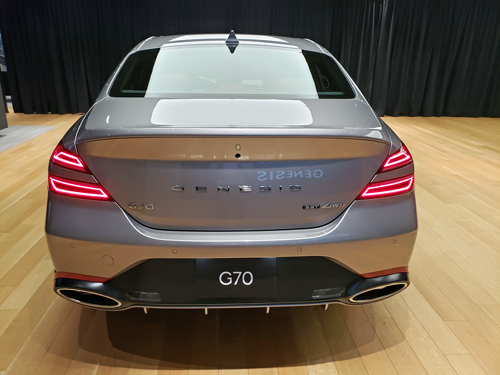 Sitting in the 2022 G70, it feels familiar and not that much different than the 2021 model. But that is more of a feeling, in truth it has been significantly redesigned both inside and out.
Already an attractive sedan, it now incorporates the new Genesis signature grille and headlights, character lines that flow down the sides front to back and a sculpted rear with new Genesis-style quad taillights that are certain to make a proud statement on the road. Give it time and the new LED lighting on all Genesis vehicles will be as easily recognizable as it European counterparts and for all the right reasons. They are distinctive and very attractive.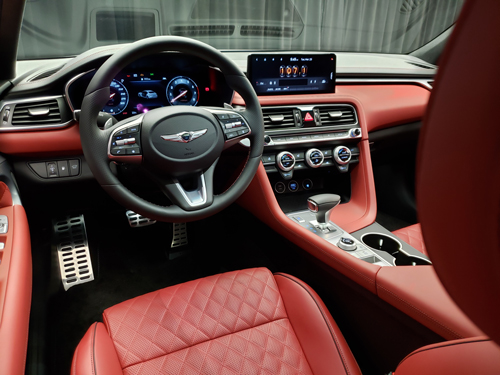 Inside, changes continue with newly crafted gauges, dash, the central communication hub and HVAC system. It is clean, easy to use and features just enough round knobs and touch points to inspire driver and passenger interaction, without distracting you from the what automobiles and in particular sports sedans, were created for- driving. Seats front and back are available in multiple combinations of synthetic, suede and leather, with matching stitching, carbon fiber trim and so much more available depending on your style.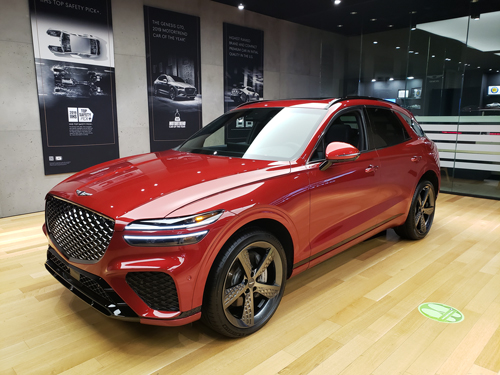 The 2022 Genesis GV70 is the SUV sibling of the G70 as both are built on the same platform. This is a completely new vehicle for Genesis and it has the promise of being one of their biggest sellers as sport utility vehicles are now the dominant player in the automotive marketplace.
Sitting the new GV70, I am immediately impressed by the same minimalist design language featured in the new G70. This one is further unique, however, as it incorporates certain design elements typically found in a jet. You can tell, a lot of thought has gone into how the newest Genesis SUV interacts with the driver and passenger, as well as how it should feel and ultimately make you feel while sitting inside. In simple terms, it is a rich driving environment, with exceptionally comfortable seats, a functional and non-distracting dash and center console, roomy rear seating and excellent rear storage.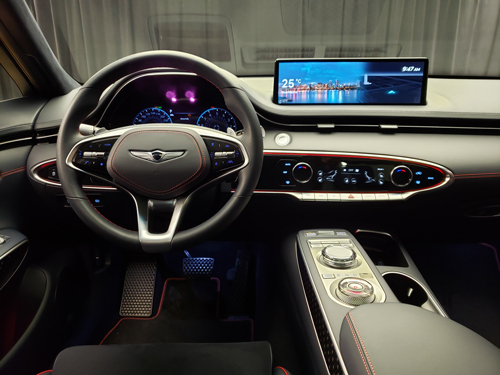 The large center screen looks to be part of the overall design theme and not an afterthought like some of its competitors. Two unique steering wheels are available depending on if you choose the 3.5T Sport or Sport Plus or the 2.5T Select, Advanced, Advanced Plus or Prestige. Rear seat headroom is also excellent as my taller frame had more that a few inches to spare.
Power options include a 2.5L DOHC 4-cylinder turbo GDI engine that produces from 300 hp and 311 lb-ft of torque. The second engine featured in the GV70 is a powerful 3.5L V6 twin-turbo GDI engine that delivers 375 hp and 391 lb-ft of torque. Both are rated using premium fuel. Similar to the new G70, all-wheel drive and an 8-speed automatic transmission are standard.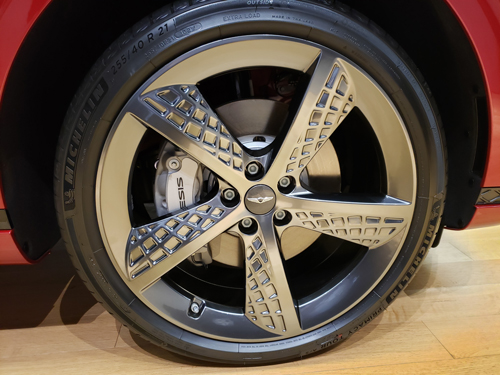 Exterior design features mimic that of the larger GV80 SUV and the sporty G70 sport sedan which can be hard to pull off, but the GV70 accomplishes it with ease. It looks aggressive and elegant, you choose to accent one or the other based on your model preference. For those seeking to take sportiness to an even higher level, the GV70 offers the option of exclusive 21-inch alloy wheels that copy the black grille and lower body treatment found in the 3.5T Sport and Sport Plus models. It's a look that is certain to start a conversation when this rolls up into your driveway.
Genesis Canada has not released pricing or specific delivery dates at this time, but it is expected they will arrive in the second half of this year.